Art Buying Tips for Anyone
Posted by Tarasa Hurley on Sunday, July 23, 2023 at 4:10:27 PM
By Tarasa Hurley / July 23, 2023
Comment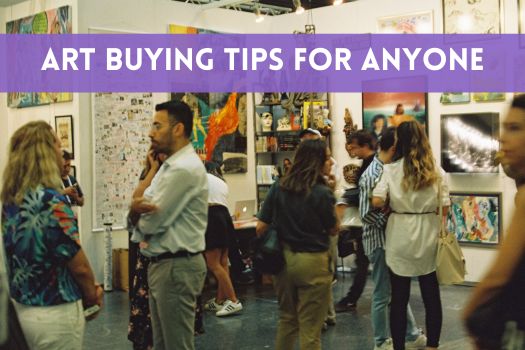 So, have you been visiting the many art festivals, events, and maker markets lately but feeling kinda overwhelmed by all the options out there? Not to mention all those Instagram posts in your feed!
It can be confusing whether you are a newbie or experienced collector, and especially if you are just looking for something special to decorate your new home that isn't WalMart art. It's okay, and it doesn't have to be intimidating at all.
Article by Joann Renner
We artists are always grateful for enthusiastic support. Artists create for many reasons. It may be just to make someone smile, or share a memory, to brighten a space with joy, or to bring awareness. Art comes from the soul. When someone buys our work, whether it is a $10 print or a $10K painting or sculpture, we dance inside. It means the collector (what we call our buyers) loved it enough to want to live with it. Big corporations don't do the happy dance with every sale. Dead artists don't do happy dances. Art is one of the few human endeavors that actually relies on human connection to exist.
There are some basic things to keep in mind as the hunt for that awesome artwork for your space begins.
Think about what you love about your space. Do you prefer Traditional, Modern, Minimalist, Pop Culture (Warhol, comics), Ethnic/Cultural identity, eclectic?
Next, attend those festivals, events, and gallery shows. Check out museum collections too. Please do not be intimidated by visiting gallery shows and the local museums. They are there for you and everyone to see and learn and enjoy. The staff is there to help you. You don't have to have super deep pockets or be a famous person to go, just get on their mailing list so you can learn about upcoming exhibitions. Go to exhibition openings and talk to the artists, visit their market booth. We LOVE to talk about our work!
Connecting with the person who actually made the artwork is the best way to decide if you want to collect their work. When you buy art, you are buying the artist's vision, joy of creating, a piece of their soul goes into everything they do. Don't look just at materials or subject matter, that's what mass-produced art in big box stores is for. Find what resonates with you on a deeper level. Does it evoke a feeling that makes you feel good inside or encourages thoughtful dialogue and consideration of a theme/viewpoint? Does it remind you of something or someone special? Maybe you just can't put your finger on it, but you love it anyway.
There are lots of artistic styles out there with all kinds of labels that can be confusing if you are fairly new to buying art.
There's abstract which is very popular with interior decorators because it can be colorful or monochromatic (one color-many variants in one painting) and it works great in a wide variety of offices, medical spaces, or home décor without controversial or possibly triggering subject matter. It uses design and color mostly as its subject. Some people prefer more traditional styles like Realism which concentrate on recognizable subject matter. This works for homes and professional offices. There is Expressionism, which uses emotional response to communicate about a subject. It sometimes uses a recognizable subject portrayed with active brushstrokes and unnatural colors to evoke feelings without trying to look like a photograph. Another favorite of many is Surrealism, which uses dreamlike images that don't make sense in a natural way. Street Art/Urban Art is influenced very heavily by graffiti. It is a huge favorite of younger collectors. Think Banksy in the UK. Ethnic/cultural identity is a great way to go for supporting artists of underserved communities and honoring your heritage. Pop culture is easy to live with and has lots of crossover appeal. Fine crafts like handmade glass art, art pottery, fiber art, handmade furnishings work well in any style and make any space truly unique. There are unlimited variations and sub-genres of each of these and we could very easily go down a rabbit hole on each one! But I hope this gives a basic idea of what is out there.
Depending on your budget, artwork ranges wildly on pricing. A student's work will be priced much less than the same type of work by a seasoned master artist with say, 40+ years of exhibition experience and sales history. If you are just starting on your art buying quest, and your budget is restricted, look for small originals or prints. And don't overlook the young emerging artists and students if you want something larger but not too high for a tight budget. If you don't have room for an original, buy a mug or notecards with that awesome image you just can't leave behind.
One really important thing to remember whether buying at an outdoor festival or a gallery, it is extremely rude to ask an artist to lower the price. The ONLY time it is acceptable to ask for a discount is on older work (10% is standard), or you are buying several pieces at one time. Artists are entrepreneurs, pay business taxes, have materials to buy (not cheap-just visit an art supply store sometime), studio rent, advertising costs, booth set up fees which often are in the hundreds, travel expenses and so on. And that doesn't even include everyday family living expenses. Never assume an artist is "starving", that's an antiquated stereotype. But we do have bills to pay. It does take dedication just like any other calling or business.
Sign up for your favorite artists' email lists. It's an easy way to get first dibs on new art releases, keep up with news and events they may have coming up, and even discounts just for their subscribers. Check out their website too if they have one. Artists with more experience usually do.
Commissions are an option too. Not every artist does them though. An artist will have a set number of commissions they can accept depending on their schedules. It is normal to have a printed and signed contract spelling out the specs of the project, timelines, and fees. In general, five is a standard number of revisions allowed without further cost to the collector. If shipping is required, it is paid for by the buyer. If you are providing reference photos, be sure that they are clear and of good quality/high resolution. Standard practice is to pay a 50% deposit up front for some project expenses like supplies, allowing the artist to get started on the project. The balance is always due on delivery. Please keep in mind that when you choose an artist for your project, that it is because you like their style of work.
Buying art for investment – okay, that's a whole different ball game. For the purpose of this post, all I will say is that any artist's work and career has the potential for secondary market price increases. It is far more enjoyable to buy art you love than to worry about investments. After all, just buying an artist's work is indeed an investment in their career, and it just might help them achieve that greater success, pushing their prices up the scale. And you will be living with it on a daily basis, so it helps to actually like it.
Maybe you don't need something for your space but you need a unique gift for someone special. Fine art or fine craft make wonderful gifts that no one else will have, so no risk of embarrassment giving the same thing as someone else! Keep in mind the recipient's tastes, interests, favorite colors and the space they might put it in. If they have a small studio apartment, a large painting might not be a good idea. Lots of artists make small works just for small spaces and they are usually affordable too.
So now that you are super-psyched to finally display that awesome find, here are a few practical tips for caring for it:
Double-check that the wall hanger/nail/floor pedestal or furniture is secure and stable, not loose or wobbly.
For prints and wall art like paintings, display on a wall that does not get direct sunlight. This could fade the artwork or create temperature fluctuations which cause cracks in paint over time, similar to how concrete sidewalks crack from years of temp changes.
For paintings like oils and acrylics which won't likely have a frame with glass, use a very soft, clean brush (don't use it for anything else), and using light, gentle strokes to dust back and forth over the surface to keep it clean. Don't use any water or solvents as they will damage the paint layers. Do the same for sculptures, you don't want to damage any protective coatings.
For glass art, pottery and such, a gentle dusting should be all you need and you can use the same brush method as well to keep from scratching the surface.
Remember, buy it because you love it!
*Joann Renner is a Pittsburgh-based artist and co-author of The Creative Life Book 2: Radical Self-Love (Aug. 2023 release).