7 Best Playgrounds in Pittsburgh
Posted by Tarasa Hurley on Saturday, May 20, 2023 at 10:43:07 PM
By Tarasa Hurley / May 20, 2023
2 Comments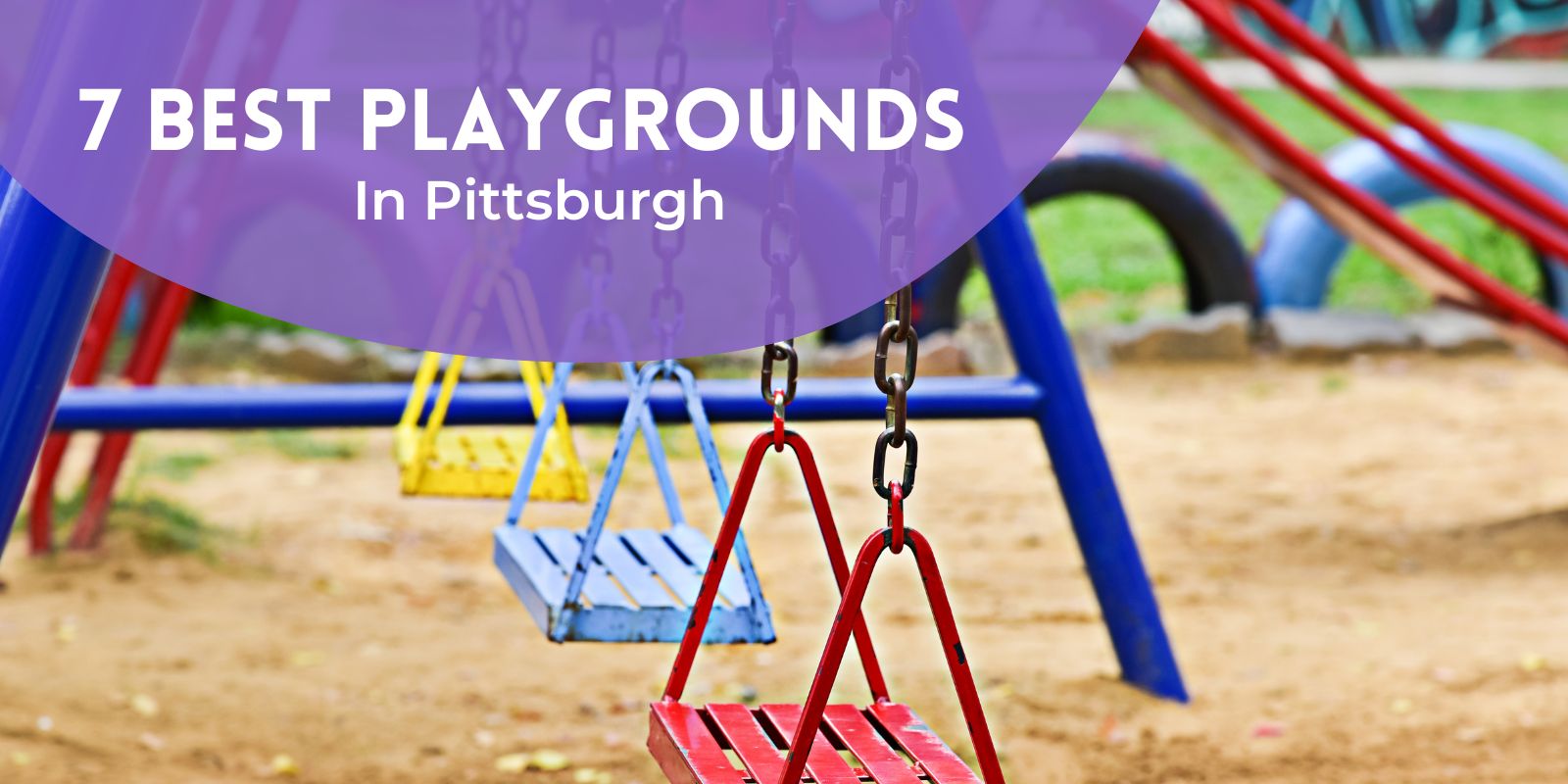 Make A Stop At One of These Fantastic Pittsburgh Playgrounds
Spring is in full swing! Make the most of the weather and spend the day playing.
School is winding down and kids are going to have a lot more free time soon. These amazing Pittsburgh playgrounds are a perfect way for your family to make memories while burning off some energy. As Fred Rogers once famously remarked, "Play is really the work of childhood." And there's no better place for kids to carry out this important work than in spaces where they can run, climb, explore and imagine. These Pittsburgh playgrounds offer all that and more.
Anderson Playground
Schenley Park, Panther Hollow Road and Boulevard of the Allies, Oakland
NOTE: Anderson Playground is currently undergoing renovation. The estimated completion date is Fall 2023.
Do you have a dino loving tot? Located in Oakland in the heart of Schenley Park, at the corner of Panther Hollow Road and Boulevard of the Allies. This Pittsburgh Citi Park is known as the "Dinosaur Playground."
This playground has two dinosaur-shaped structures, along with more traditionally shaped playground castles. The dinosaurs — a stegosaurus and a brontosaurus — offer two slides, one for younger children and one for older children. The central castle has a hollowed-out space inside perfect for secret kids' meetings, and the other castle structure has crawl tunnels and a small climbing net.
The swing sets also have a variety of sizes, with three for babies, one for toddlers, and four for larger children. The merry-go-round and twirly bars also give kids the chance to experiment with physics as they play, and the climbing semicircle dome lets kids climb up for a view of surrounding Schenley Park. The playground also has a covered picnic area and plenty of benches and uncovered picnic tables; plus, street parking is available along the cul-de-sac that wraps around the playground.
Parking is easily accessible along the side of the park. Porta John's are also located closely near the parking area. There is a shelter as well as tables and benches for seating and perfect for packed picnic lunches. There are working water fountains available. The ground under all playground equipment is a soft rubber surface.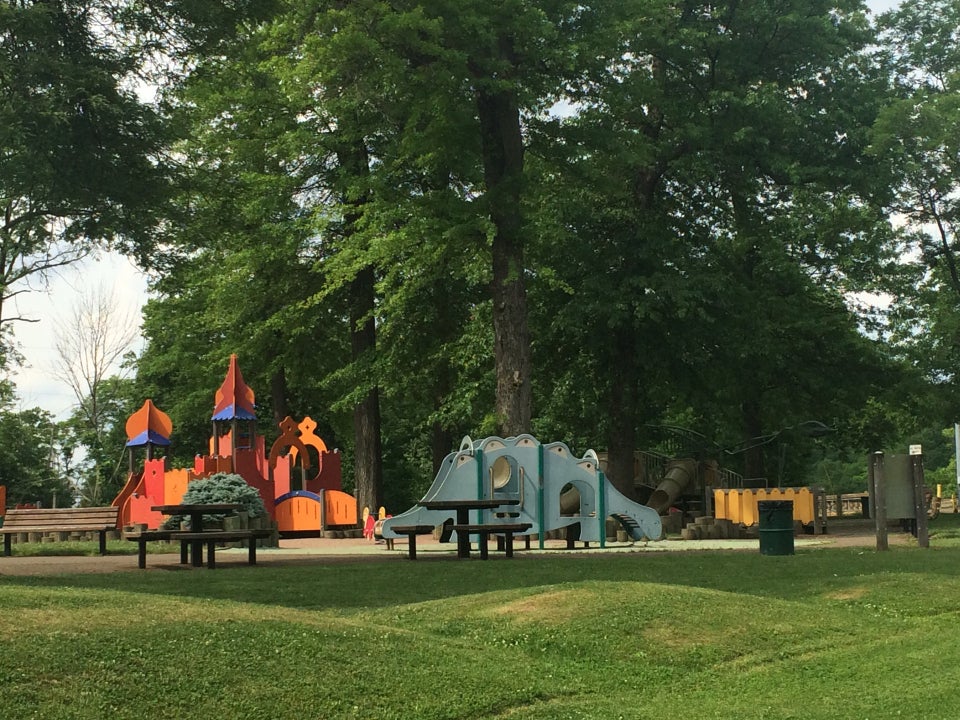 Anderson Park, Oakland, PA
Super Playground, Highland Park
Reservoir Drive, Highland Park
As the only wooden playground on the list, Super Playground offers a sprawling set of spired structures that makes one feel like they're truly running through a castle. The winding paths inside the wooden structures also add a sense of mystery and excitement for those who explore them. Between the tire bridge, monkey bars, and balancing platforms, there are many different ways to play, with the wooden structure branching to connect each part of the playground, except for the swing sets.
In 2022, the Super Playground was completely renovated. One fun, new addition to the park is the Hidden Mosiacs public art project. Twelve small mosaics will be placed around the playground space. Each mosaic will be based on ideas submitted by local residents. They are being hand-crafted by Pittsburgh Glass Center artists. These unique pieces are intended to add moments of discovery and delight for children as they explore the playground. Another new addition is a new beautiful sign, created by the Pittsburgh Glass Center, at the entrance, featuring mosaic flowers made by community members.
There are swings for children and adults of all sizes, with a dug-out section below the tallest swings allowing for maximum swinging potential along with a view of Highland Park and the Allegheny River through the trees. The park has a covered picnic area, as well as outdoor fitness equipment next to the playground for those who need a quick warm-up before attempting the monkey bars. Street parking is available, and the playground is also accessible from the 71B bus line.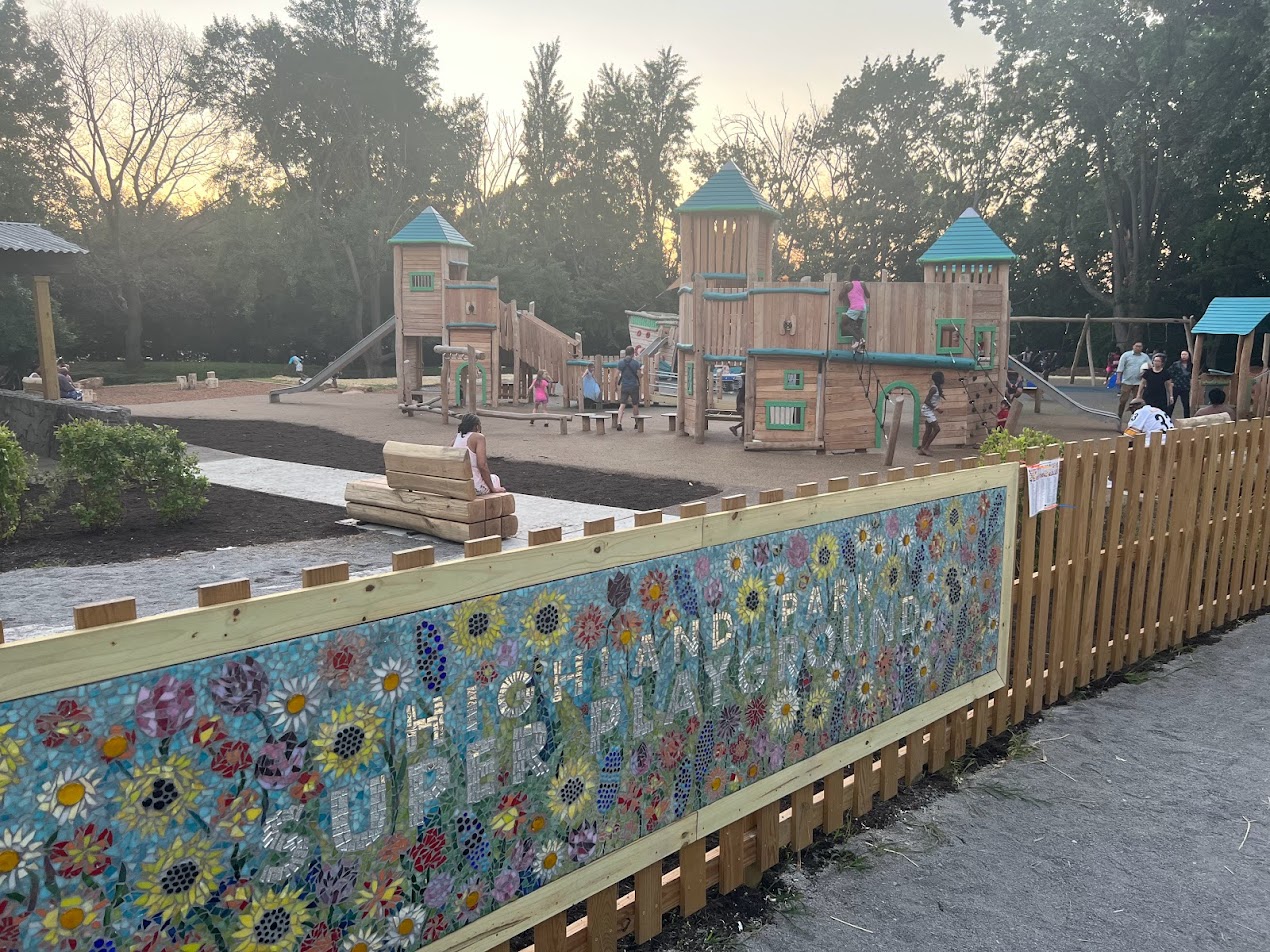 Super Playground, Highland Park, PA
Allegheny RiverTrail Park
285 River Ave., Aspinwall
Allegheny RiverTrail Park, formerly known as Aspinwall Riverfront Park, was founded in 2011. The mission of Allegheny RiverTrail Park is to enhance the quality of life for the community by providing free public access to parkland and multi-use trails along the Allegheny River. They are committed to riverfront revitalization and inclusive community engagement through recreational, educational, cultural, and social activities for a diverse population.
The first thing most visitors notice about the Allegheny RiverTrail Park is its striking "Playground" bronze sculpture. The 30-foot-by-30-foot-by-24 foot installation by artist Tom Otterness serves double-duty as a slide. The playground is open during park hours and features slides and climbing obstacles with surrounding benches and picnic tables. Try to spot the miniature characters hidden in the Tom Otterness slide sculpture!
Walk, stroll or bike the .5 mile trail that winds through the park, bordering wildflower gardens, bioswales and river views! It's a short trail,so it is perfect for kids, and there is plenty of park activity and scenery that make taking a couple loops around a very enjoyable adventure.
In the West Park area, there is a fenced in dog park. Owners are responsible for their dogs. Doggy trash bags are available throughout the park.
Bill's Dock is open during park hours and has an upper and lower deck, with seasonal chairs suspended safely over the river. Fishing is allowed with a license but no swimming or boat mooring at the dock.
River access for non-motorized craft is free, so park visitors are welcome to bring their own gear to partake in the fun, too. Enjoy the water at your own risk, and please be aware of river conditions. Kayaking, rowing or paddle boarding towards the dam is prohibited. Swimming is also prohibited. 3 Rivers Outdoor Co. Outpost offers kayak and paddleboard rentals for adventuring on the Allegheny from May-October! The outpost has retail gear and equipment available, too.
Rock the River is a free summer concert series offered at Allegheny RiverTrail Park. Grab a blanket, a bottle of wine, some friends and enjoy a magical evening of music on the River.
The park is host to a year-round drum circle, numerous free music events, Kindermusik classes for toddlers, Yoga Flow classes, Bachata dance classes, and Riverfront Theater Company seasonal productions and theater camps for middle and high schoolers. Fox Chapel Area's crew team also practices at the park and launches boats from their dedicated dock.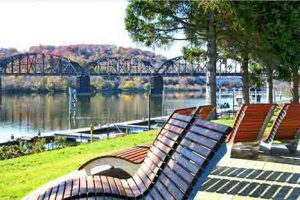 Allegheny RiverTrail Park, Aspinwall, PA
Blue Slide Park
2005 Beechwood Blvd., Squirrel Hill
The centerpiece of this Frick Park attraction is—you guessed it!—a big blue concrete slide built right into the hill. But that's not all this multilevel park has to offer.
To traverse the three sections of the park, kids wind through concrete tunnels, climb grassy hills, and swing and jump their way across several play structures separated by their age and ability level. There's a separate play area just for toddlers and a dog park and picnic area nearby.
For maximum speedon the in-ground Blue Slide,, be sure to bring along a flattened cardboard box for the slide. There are usually plenty of extras to go around if you leave yours at home.
The playground also has a variety in swingset sizes, and walking further up the hill gets you to a large climbing pyramid that overlooks the rest of the park and out across the surrounding residential Squirrel Hill neighborhood. There is a covered picnic area at the entrance of the playground, and just beyond the playground, outdoor workout equipment along Riverview Trail. Street parking is available, and the park is also accessible via the 65 and 74 bus lines.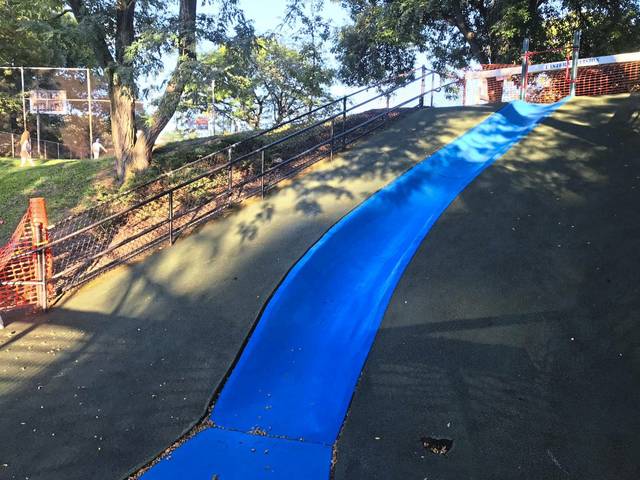 Blue Slide Park, Squirrel Hill, PA
Wightman Playground
5612 Solway St., Wightman Park, Squirrel Hill
After four years of development, Wightman Park in Squirrel Hill reopened in October 2020 with new, accessible play structures. The spacious playground has a variety of structures for play potential, from multiple climbing nets to hollow dodecagons with holes on each side that people can climb through. The largest castle structure has many climbing entrances, along with a long, twisting slide and covered crawling tunnel. There are also two smaller castle structures with their own slides.
Besides the stormwater control elements, other improvements include new play areas designed for specific age groups, a multi-use green space, and a new ballfield and half-court basketball area. The park was also designed to be as inclusive as possible by incorporating playground equipment for children of all ages and abilities, as well as for those on the autism spectrum, and new restrooms with an adult changing station touted in a press release as the first of its kind in a Pittsburgh public space.
The most fun slide is arguably the long slide that leads into the park, which is climbable via stairs and a ramp. The playground's accessibility extends to its swingsets, too, with a wheelchair-accessible swing along with swings for people of all ages. A covered picnic area is nearby, and benches around the perimeter of the play area offer ample seating and a view of sculptures by local artists Oreen Cohen and Alison Zapata. The playground has street parking and is available via the 67, 69, and 74 bus lines.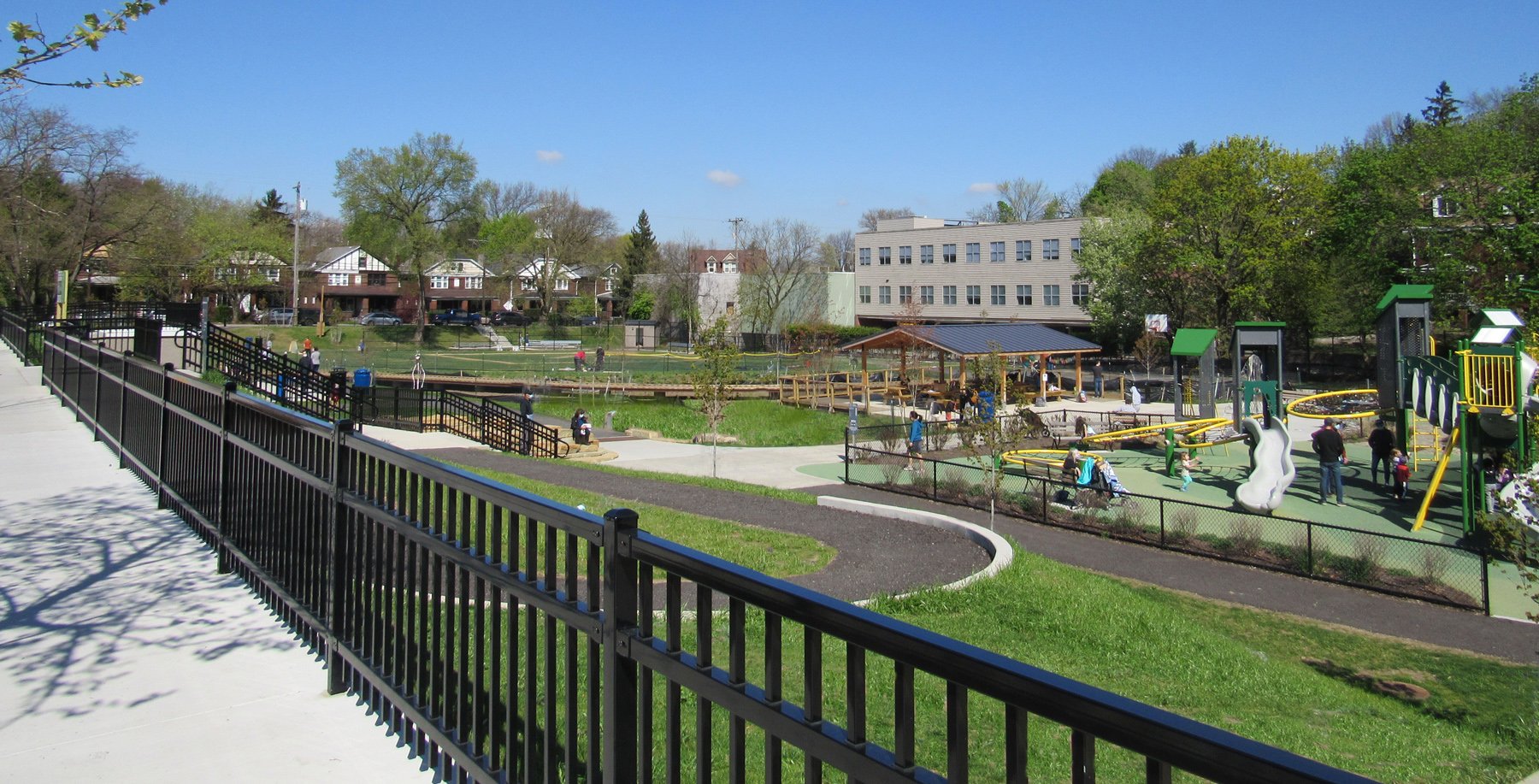 Wightman Playground, Squirrel Hill, PA
August Wilson Park Playground
1803 Cliff St., Hill District
Cliffside Park was established along Cliff Street overlooking the Allegheny River in 1975. In 2016 the park was redesigned and renamed the August Wilson Park, after the Pulitzer Prize-winning Pittsburgh playwright whose house is located nearby at 1727 Bedford Avenue.
The winding, downhill pathway leading into the playground lets the anticipation build as you descend, and it also offers abundant seating for one of the playground's best features: the view. The playground overlooks the Allegheny River, with Downtown and the Smithfield Street Bridge visible from the free telescopes that dot the playground, and there's plenty of room to sit and chat while enjoying the cityscape.
The castle structure has a climbing net and two slides, one of which leads down to a lower section of the playground. There are also horizontal monkey bars and twisting climbing structures, as well as platforms for a balancing challenge, and quotes from the famed Pittsburgh playwright August Wilson line the lower wall of the playground. The half-court and uncovered picnic tables also add some variety for potential playground activities. Street parking is available, and the playground is also accessible via the 81 and 83 bus lines.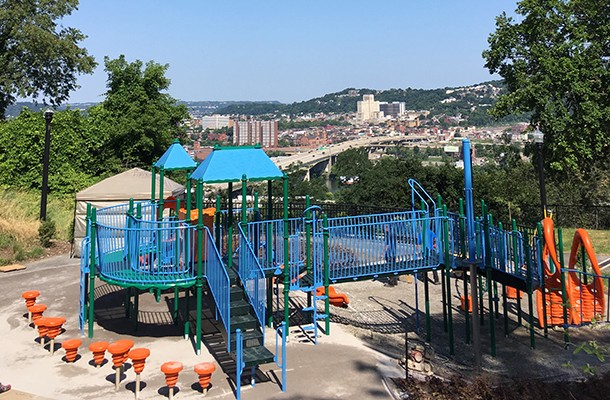 August Wilson Park Playground, Hill District, PA
Kids Castle Playground
111 Ernie Mashuda Drive, Cranberry Township
Nestled in Cranberry Township's Community Park, Kids Castle is divided into three themed areas focusing on the Cranberry of yesterday, today and tomorrow.
From classic playground equipment — swings, climbing areas, and spring-mounted riding animals — to modern amenities like a rock climbing wall and Evos arched play structures, this playground offers an array of activities for kids from 2 to 12.
Other features include fully accessible common areas, walkways and decorative pathways, terraced steps, a circular brick stage, picnic tables and benches, baseball fields, basketball courts, and restrooms.
The $500,000 project—named Cranberry's 2013 Community Project of the Year—was funded by community members and local businesses. It has been described as "a playground fit for a prince or princess."
The design of Kids Castle is intended to evoke the progress of Cranberry itself over the past 40 years. The play apparatus in each of three areas was selected to reflect the technology and culture of its time. It is open to the public, free of charge, during daylight hours all year long (weather permitting). The Past area consists of swings, climbing spaces, rolling hills, and spring-mounted riding animals. The Present area incorporates the features most requested by the students surveyed, including many of the same features found in Playground Palace. The Future area includes futuristic EVOS play structures, Mobius climbers, a bubble rider, and other leading-edge equipment.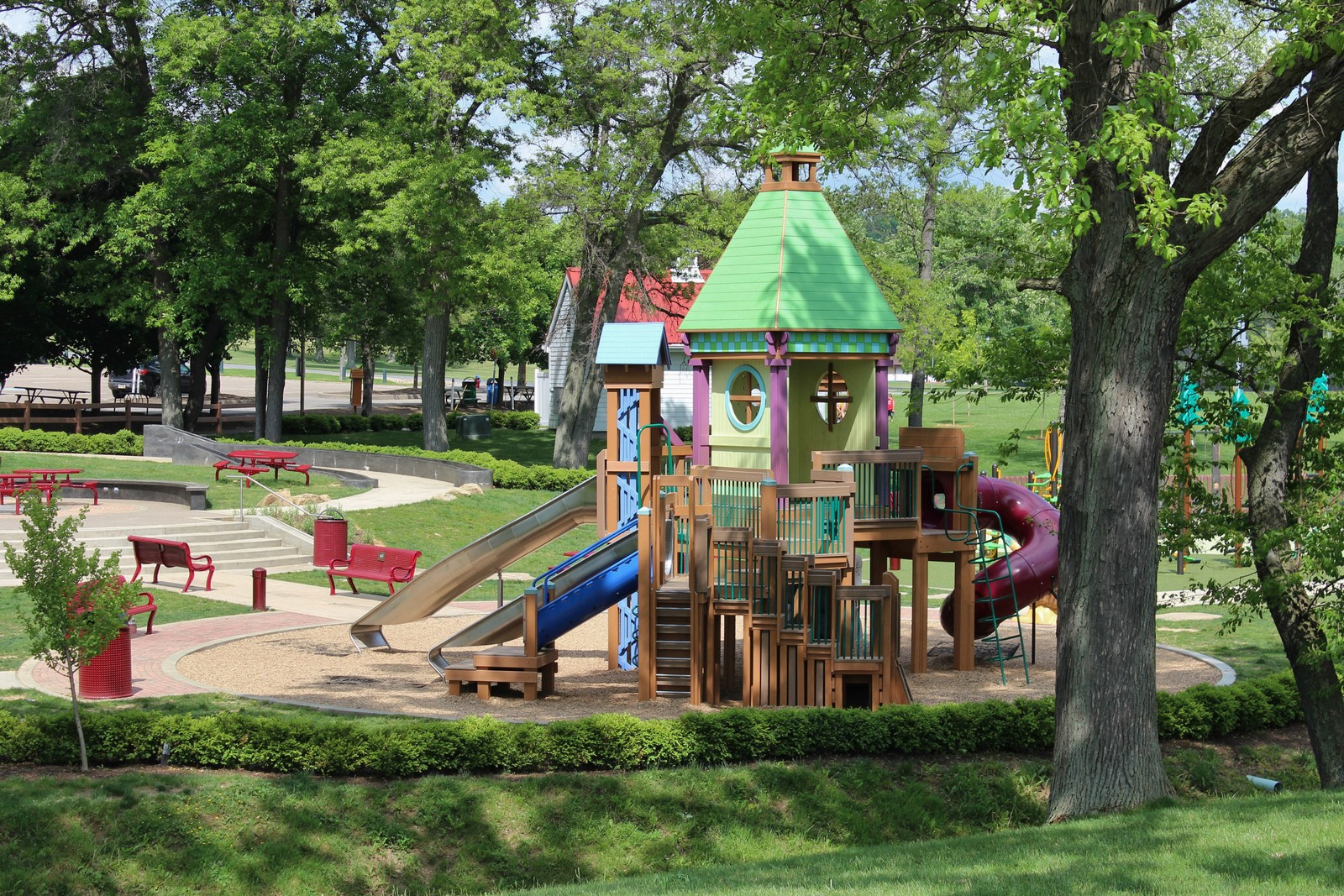 Kids Castle Playground, Cranberry Township, PA