Cool Things To Do In Pittsburgh and Unique Places to Visit
Posted by Tarasa Hurley on Thursday, May 11, 2023 at 9:08:10 PM
By Tarasa Hurley / May 11, 2023
Comment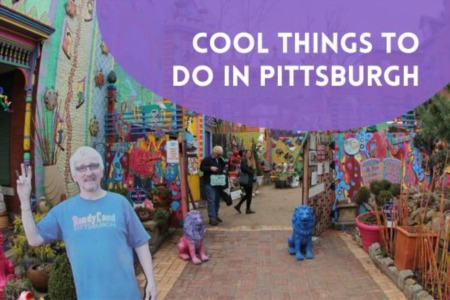 A lot of people enjoy living in Pittsburgh because it's got all the amenities of a city, while still being friendly and easy to get around. We have major league and college sports, museums, history, culture, food, and a relatively affordable cost of living…it checks all of the boxes! What takes a little longer to explore are the off-the-beaten path activities that make Pittsburgh unique. Sure, everyone's familiar with the inclines and the Strip District. They've earned their reputation as necessary places for residents and visitors alike to check out. But when you're looking for something new, know that the mysteries of Pittsburgh continue to unfold. Check out some of the cool things to do in Pittsburgh.
Author: Jessica Manack (Twitter)
Fort Pitt Museum and the Block House
The confluence of the three rivers at Pittsburgh's Point is a place where many have passed through and come together over the last centuries of human civilization. Fortunately, much work has been done to preserve some of this history and make it accessible to Pittsburgh's residents and visitors, in the Fort Pitt Museum.
You have likely driven over the Fort Pitt Museum without even realizing it, as it's located directly below the on-ramp to the outbound Fort Pitt Tunnels. But, if you've never been, you owe it to yourself to find a free afternoon to park downtown (there are often spots on Boulevard of the Allies) and walk over to Point State Park.
The fountain – a modern addition – is most folks' frame of reference, but the piece of earth between the meeting of the three rivers also holds the remnants of a 1764 British fort. The outlines of the fort are maintained on the land, and the Block House opens periodically to teach visitors about life in the region three centuries ago. Inside the museum, exhibits and artifacts educate visitors on the native peoples who lived here, and the impact the French & Indian War and American Revolution had on the area.
The Nationality Rooms pay homage to the places where our folks are from
Speaking of notable Pittsburgh landmarks, the University of Pittsburgh's Cathedral of Learning is a landmark visible from many points around the city – it's the tallest educational building in the Western Hemisphere. The towering edifice is used as classrooms and offices for various Pitt departments – but it's also a site remembering where the people who've made Pittsburgh have hailed from.
A number of the classrooms have been turned into mini-museums representing and celebrating the culture of 31 countries around the world. From Greece, to Hungary, to China, to Japan, it's possible to walk down a hallway and immerse yourself in another world for a few minutes. You can book a tour online, and specify the area of your greatest interest. You can also ride the elevator up to the observatory deck for a wonderful view of downtown and the East End. Every December, there is also an open house where all the rooms can be viewed.
Afterwards, wander across the street to replenish your energy at Schenley Plaza, one of (called, in earlier times, St. Pierre's Ravine) the few examples I can think of where a parking lot was turned into a park, instead of the other way around, where, in addition to refreshments kiosks, Porch serves delicious food indoors and outdoors, and there's a beautiful antique carousel to ride.
The Pittsburgh Vintage Grand Prix shares the breadth of auto history
Also in Oakland, the Pittsburgh Vintage Grand Prix, which aims to raise funds for a number of charities, is the nation's largest vintage street race, taking place over 10 days with races, car shows, parades and a general festival atmosphere. Featuring cars from the early 1900s up to the present day, this is a place for auto enthusiasts to see groupings of cars unrivaled by other events. Have you ever seen 250 Minis in one place, or do you want to see a selection of beautiful British models? This is not something that takes place year round, but fans know to mark their calendars for mid-July.
Fun in the North Side: Starting with Bicycle Heaven
Speaking of wheeled wonders, unique things to do in Pittsburgh abound along with curious collections, and Bicycle Heaven is a notable one. Located in an industrial park in the North Shore, it's the largest bicycle museum in the world, with over 3,000 bikes on view. Even non-riders can find beauty and history in their holdings, which include the cycle ridden by none other than Pee-Wee Herman in the film Pee-Wee's Big Adventure.
Randyland and Gus and Yia-Yias Are Other North Side Notables
Some of us refresh our space by hanging a picture on the wall or getting a colorful new runner for the hallway. Not Randy Gilson. In 1995, he decided to beautify a couple Mexican War Streets properties by painting them with intricate, brightly-colored patterns and uplifting messages…and he just never stopped. Years later, his colorful compound, known as Randyland, spans an entire corner at the intersection of Arch and Jacksonia Streets, open most days of the year, though sometimes closed when winter weather is prohibitive. Randyland is a short drive across one of downtown's Three Sisters bridges, or even walkable, for those up to the challenge. Get selfie-ready and head over to immerse yourself in this unique outdoor museum, sparkling with mirrors and vintage whimsy. This spot counts as one of the memorable, but weird things to do in Pittsburgh.
While in the North Side, another must-stop during the warm months of the year is Gus and Yiayia's ice-ball stand. Operated since 1934, this cart delivers tasty shaved ice in a format little changed since the Kalaris family started selling there in 1934. Now in his 90s, Gus Kalaris inherited the business from his parents, and has been running the show since 1951, with the pictures to prove it, though he's got help doing the heavy lifting these days. Rarely do you get a chance to participate in living history for a dollar or two. This stop is both figuratively and literally one of the cool places to go in Pittsburgh.
The Troy Hill Art Houses are a one-of-a-kind art experience
A few minutes' drive away, not too far from the Penn Brewery (which is also worth a visit – ask them about these cool places in Pittsburgh: the caves they used to store the beer in back in the day) are the Troy Hill Art Houses. Making use of reasonably-priced real estate in the neighborhood, art collector Evan Mirapaul bought three houses, then enlisted artists who turned each one into a completely immersive, one-of-a-kind art experience. The results are all-consuming, disorienting pieces of art that visitors crawl and climb through, viewing sights never seen anywhere else, and pondering the use of space. These installations are free to view, but appointments to visit must be reserved online. A fourth and final house is currently in the works, so, even if you've seen the existing installations, there will soon be more to check out.
Go on an art-spotting walk in different neighborhoods
Pittsburgh is rich in public art, with concentrations in several of its neighborhoods. While it can take some time to locate and appreciate all of it, the city's Office of Public Art has compiled maps detailing the location of a number of pieces of cool things in Pittsburgh, so that art enthusiasts (or those curious to learn) can go on strolls locating pieces. Whether looking for specific artists, from Louise Bourgeois to Jenny Holzer, or looking to expand your knowledge of art, these are a great way to see new parts of the city while appreciating creativity.
A one-of-a-kind collection of musical machines
The Bayernhof Museum is another unique place to visit in the Pittsburgh area. Just outside of the city in O'Hara Township, this former private estate has been turned into a museum showcasing the late owner's extensive, mind-boggling collection of antique music boxes and weird, wonderful music machines, such as player pianos and even player violins! The residence is majestic on its own, but taking in the world-class collection of pieces that Chuck Brown assembled is a one-of-a-kind opportunity.
Open Streets lets you explore the city at your own pace
Pittsburgh's unique topography makes it a city many choose to traverse by vehicle – for much of the year, navigating its hills and valleys is difficult, whether you're concerned with snowy slopes or sweaty treks up city steps. However, the days that our climate is temperate are, indeed, worth celebrating. Open Streets PGH, a project of BikePGH, is an event which takes place three times each summer, in which city streets are closed to vehicular traffic, to enable people to navigate on foot and bike. Featuring special performances and educational aspects like bike-riding lessons and a BMX course, it's a great chance for people of all ages to check out new neighbors and neighborhoods.
The Pittsburgh Botanic Garden builds a bright future while remembering the past
The industrial past of the Pittsburgh area is something we can be proud of, but also critical of. The price of progress was often a toll on the land as well as the people who lived there. However, a focus on remediation has taken hold in many areas formerly devoted to mining and industrial purposes.
The Pittsburgh Botanic Garden is a unique nature conservatory half an hour West of the city that represents ongoing efforts to restore 452 acres of coal mine into a thriving ecosystem full of native plants and animals living in harmony. The beautiful visitors center is a peaceful oasis overlooking the green, where visitors can enjoy a tasty lunch, take in the current art exhibition, and buy local crafts and plants. While still devoted to all things green, this is a different experience than Phipps – put on your sneakers or sandals and prepare to take some time walking the loop through the grounds, culminating at the gorgeous lotus pond.
Pittsburgh is full of color hiding behind corners, murals and mysteries that reveal themselves the more you look. Read this list not only in the context of what you might want to do, but what those who visit you might like to check out!