Coolest Neighborhoods in Pittsburgh: Discover Trendy Hotspots & Hidden Gems
Posted by Tarasa Hurley on Wednesday, May 10, 2023 at 5:58:30 PM
By Tarasa Hurley / May 10, 2023
Comment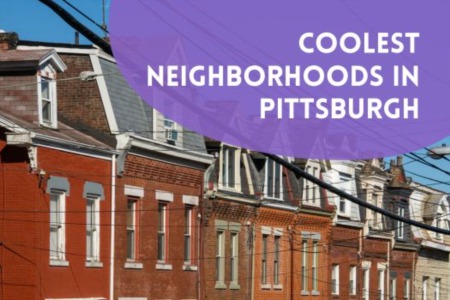 Pittsburgh, Pennsylvania, has a storied history, a thriving arts scene, and a unique blend of cultural influences. As the city has evolved and reinvented itself, so have its neighborhoods. In this article, we'll take you on a journey through the coolest neighborhoods in Pittsburgh, exploring their rich histories, fascinating architecture, and enticing dining, shopping, and entertainment options.
Criteria for selecting the trendiest neighborhoods
We've considered several factors contributing to a neighborhood's overall appeal and character to identify the hip Pittsburgh neighborhoods. These elements help create a vibrant, engaging, and enjoyable atmosphere for residents and visitors alike. Here are the criteria we've used to select the trendy neighborhoods in Pittsburgh:
Unique history and culture
Each neighborhood's distinct history and cultural background contribute to its sense of identity, creating a memorable and enriching experience for those who explore its streets.
Attractive architecture and streetscape
The visual appeal of a neighborhood, including its architectural styles, public art, and streetscape design, plays a crucial role in creating a captivating environment that invites exploration and admiration.
Variety of dining, shopping, and entertainment options
A thriving neighborhood offers a diverse selection of eateries, shops, and entertainment venues, ensuring there's always something new and exciting to experience.
Green spaces and outdoor activities
Access to parks, trails, and other outdoor attractions allows residents and visitors to enjoy fresh air, exercise, and connect with nature, contributing to a healthier and happier community.
Accessibility and public transportation
A well-connected neighborhood with convenient access to public transportation makes it easier for people to explore the city. It reduces reliance on private vehicles, contributing to a more sustainable and environmentally friendly urban environment.
Inclusive and friendly community
Lastly, a welcoming and inclusive atmosphere, where people from diverse backgrounds can feel at home, is essential to creating a hip or trendy neighborhood.
Hip Neighborhoods In Pittsburgh
Lawrenceville
Nestled along the Allegheny River, Lawrenceville is one of Pittsburgh's trendiest neighborhoods, combining a rich industrial heritage with a thriving arts scene and an eclectic mix of dining, shopping, and entertainment options. Here's what makes Lawrenceville stand out:
Rich industrial heritage
Lawrenceville was once a hub of steel mills, glass factories, and iron foundries. The neighborhood's roots are evident in its beautifully preserved industrial architecture. Adaptive reuse projects have transformed former factories and warehouses into innovative mixed-use spaces, breathing new life into the neighborhood.
Thriving arts scene
Lawrenceville has become a hotbed of creativity, boasting numerous art galleries, artist studios, and performance spaces. The annual Art All Night festival showcases local talent. He draws thousands of visitors to the neighborhood. At the same time, the monthly Butler Street Art Walk offers a chance to explore the local arts scene in a more intimate setting.
An eclectic mix of restaurants and bars
Foodies will rejoice at the diverse array of dining options in Lawrenceville, ranging from farm-to-table eateries and craft breweries to international cuisine and gourmet food trucks. The neighborhood's vibrant bar scene features everything from cozy speakeasies and dive bars to trendy cocktail lounges and rooftop patios.
Butler Street shopping
Butler Street, the neighborhood's main thoroughfare, is home to a mix of unique boutiques, vintage stores, and specialty shops that cater to a wide range of interests. Whether searching for handmade jewelry, quirky home décor, or the perfect gift, you will find something special in Lawrenceville.
Shadyside
Characterized by its beautiful Victorian architecture and tree-lined streets, Shadyside is a charming neighborhood that blends historic charm and modern amenities. Located east of downtown Pittsburgh, Shadyside boasts upscale shopping, diverse dining options, and proximity to universities and parks. Here's what makes Shadyside one of the hippest neighborhoods in the city:
Beautiful Victorian architecture
Shadyside is renowned for its stunning Victorian homes, many of which have been meticulously preserved and restored. Strolling through the neighborhood's residential streets, you'll be captivated by the intricate details, vibrant colors, and elegant designs of these historic properties.
Upscale shopping on Walnut Street
Shadyside's bustling Walnut Street is the perfect destination for a day of shopping. The street is lined with boutiques, designer stores, and local businesses. A wide range of retail options suits every taste and budget.
Dining options
Shadyside's culinary scene is diverse and delicious, featuring various restaurants, cafes, and bars to cater to every palate. From cozy coffee shops, a bakery, and casual eateries to upscale dining establishments, you'll find an enticing selection of food and drink options in this charming neighborhood.
Squirrel Hill
Squirrel Hill, located in the eastern part of Pittsburgh, is a diverse and vibrant neighborhood known for its strong sense of community, bustling commercial districts, and beautiful parks. With its rich cultural heritage and variety of events and attractions, Squirrel Hill has earned its place among the coolest neighborhoods in the city. Here's what sets Squirrel Hill apart:
Diverse community
Squirrel Hill is home to a diverse community that embraces its multicultural heritage. The neighborhood boasts a thriving Jewish community and a mix of residents from various cultural and ethnic backgrounds, fostering an inclusive and welcoming atmosphere.
Unique shopping on Forbes and Murray avenues
The commercial heart of Squirrel Hill, centered around Forbes and Murray avenues, offers a variety of locally-owned shops and boutiques. This lively district has something for everyone, from bookstores and clothing retailers to specialty food markets and gift shops.
Schenley Park and other outdoor attractions
Squirrel Hill's proximity to Schenley Park, one of Pittsburgh's largest and most beloved green spaces, provides residents and visitors easy access to nature trails, sports facilities, and picturesque picnic spots. The nearby Frick Park and its Environmental Center offer additional opportunities for outdoor recreation and environmental education.
Cultural events and festivals
Squirrel Hill hosts various cultural events and festivals annually, celebrating its diverse community. Annual events like the Squirrel Hill Night Market, Lunar New Year Parade, and Jewish Film Festival showcase the neighborhood's rich cultural tapestry and draw visitors across the city and beyond.
Strip District
Situated along the Allegheny River, just northeast of Downtown Pittsburgh, the Strip District is a historic market district that has transformed into a bustling hub of international cuisine, art galleries, and unique shopping experiences. With its lively atmosphere and proximity to the city center, the Strip District is undoubtedly one of the trendy Pittsburgh neighborhoods. Here's what makes the Strip District so unique:
Historic market district
The Strip District's roots as a wholesale produce market are still evident today, with its vibrant public markets and specialty food stores offering a cornucopia of fresh and exotic ingredients. The neighborhood's bustling markets, such as the historic Pennsylvania Macaroni Company, continue to draw crowds of locals and tourists alike.
International food scene
The Strip District is a food lover's paradise, boasting diverse international cuisine from every corner of the globe. From authentic Italian delis and Asian supermarkets to Mexican taquerias and European bakeries, the neighborhood's rich culinary landscape reflects the city's immigrant heritage. It offers a world of flavors to explore.
Art galleries and studios
The Strip District is home to numerous art galleries and artist studios, making it a thriving hub of creative expression. The neighborhood's industrial spaces have been repurposed to house cutting-edge contemporary art and provide a platform for emerging and established artists to showcase their work.
Proximity to Downtown and the Allegheny Riverfront
The Strip District's proximity to Downtown Pittsburgh and the picturesque Allegheny Riverfront makes it an ideal destination for city dwellers and visitors. Its scenic riverfront trails, parks, and public spaces offer opportunities for recreation and relaxation. At the same time, its easy access to downtown attractions ensures a constant stream of activity and excitement.
North Shore
Located across the Allegheny River from Downtown Pittsburgh, the North Shore is a vibrant sports and entertainment hub with stunning city skyline views. Featuring cultural institutions, museums, and access to beautiful riverfront trails, the North Shore has something for everyone, making it one of the coolest neighborhoods in Pittsburgh. Here's what sets the North Shore apart:
Sports and entertainment hub
The North Shore is home to two of Pittsburgh's major sports stadiums, Acrisure Stadium (home of the Pittsburgh Steelers) and PNC Park (home of the Pittsburgh Pirates). On game days, the neighborhood buzzes excitedly, drawing fans across the region to cheer on their favorite teams. The North Shore hosts various concerts and events at Stage AE and the Rivers Casino.
Access to the Great Allegheny Passage and Three Rivers Heritage Trail
Outdoor enthusiasts will appreciate the North Shore's access to the Great Allegheny Passage and the Three Rivers Heritage Trail. These interconnected trails provide miles of scenic, multi-use pathways for walking, biking, and jogging along the region's beautiful rivers and historic neighborhoods.
Museums and cultural institutions
The North Shore has several museums and cultural institutions celebrating the city's rich history and artistic achievements. Visit the Carnegie Science Center, the Andy Warhol Museum, and the Children's Museum of Pittsburgh to explore interactive exhibits, thought-provoking artwork, and hands-on learning experiences that appeal to all ages.
Honorable mentions
While the neighborhoods mentioned above are undoubtedly among the coolest in Pittsburgh, several other areas are worth exploring and deserve an honorable mention. Each of these neighborhoods offers its unique charm and attractions, contributing to the overall character of the city:
East Liberty
East Liberty has experienced a resurgence in recent years, becoming a vibrant center for arts, culture, and innovation. The neighborhood boasts historic architecture and modern development, with trendy restaurants, shops, and entertainment venues drawing visitors across the city.
Bloomfield
Known as Pittsburgh's "Little Italy," Bloomfield is a lively neighborhood with a strong sense of community and a rich culinary heritage. The area offers an array of Italian restaurants, bakeries, and markets, as well as a variety of annual events and festivals that celebrate its Italian-American roots.
South Side Flats
Located along the Monongahela River, South Side Flats is a dynamic neighborhood known for its historic architecture, bustling nightlife, and thriving arts scene. The community is home to numerous galleries, theaters, live music venues, and a diverse selection of restaurants, bars, and shops.
Mount Washington
Perched high above the city, Mount Washington offers some of the most spectacular views of Pittsburgh's skyline. The neighborhood is known for its scenic overlooks, historic inclines, and charming residential streets, making it a popular destination for tourists and locals.
Regent Square
Nestled between Frick Park and Parkway East, Regent Square is a charming, walkable neighborhood with a strong sense of community. The area boasts an eclectic mix of local shops, restaurants, and cafes, as well as beautiful tree-lined streets and easy access to the city's largest park.
Wrapping Up
Pittsburgh's coolest neighborhoods, each with its unique history, culture, and character, are a testament to its resilience, innovation, and diversity. We encourage you to explore these neighborhoods and experience firsthand the sights, sounds, and tastes that make them so unique.
As you wander the streets of the neighborhoods we discussed, you'll discover the cool things to do in Pittsburgh and other elements that define Pittsburgh's character and charm.