Getting to Know the Pittsburgh Area Through Its Parks
Posted by Tarasa Hurley on Sunday, April 23, 2023 at 2:58:33 PM
By Tarasa Hurley / April 23, 2023
2 Comments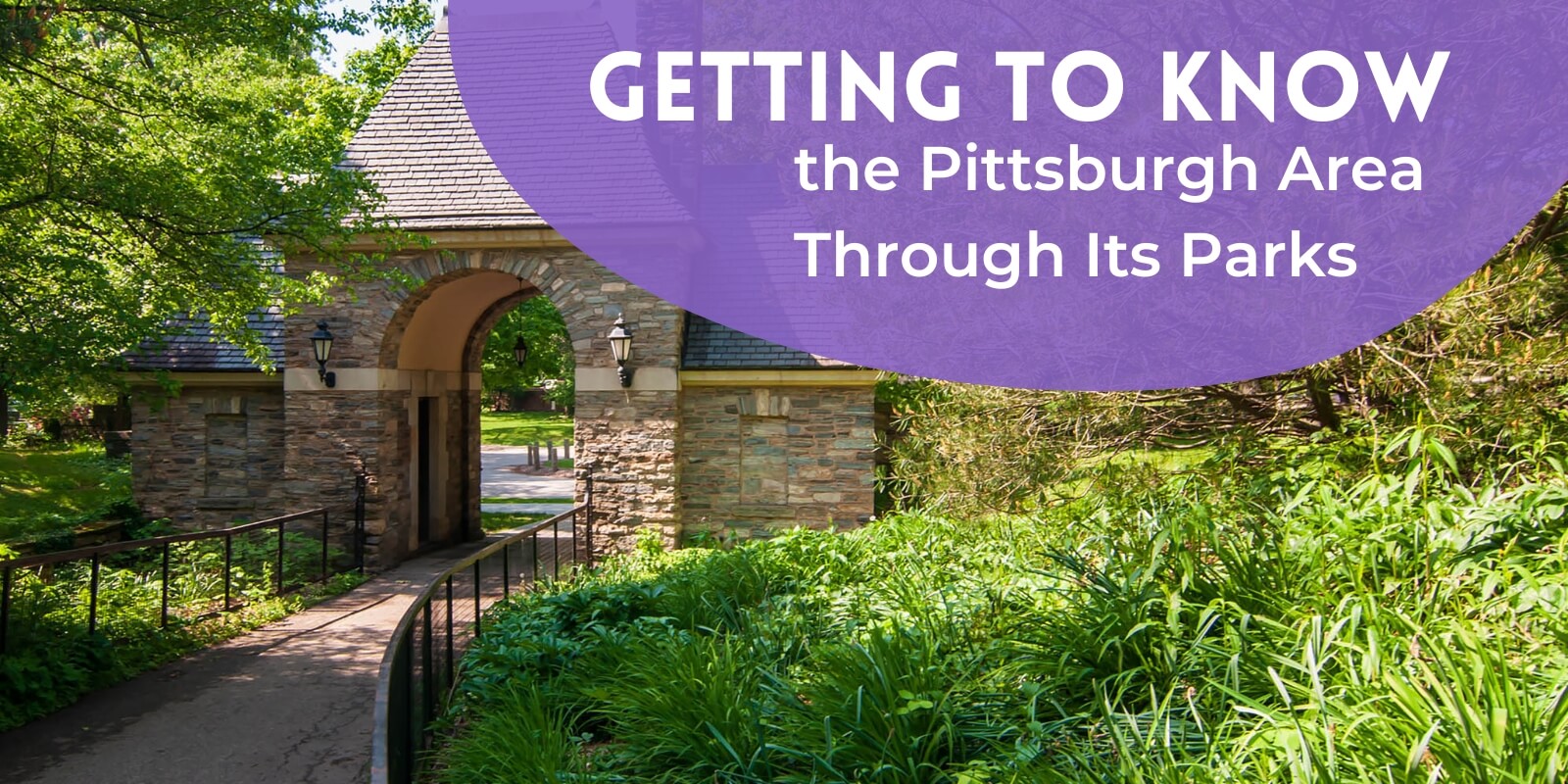 It seems like, no matter where you look, new construction is springing up almost every day. However, no matter the speed of development, our region has a large number of dedicated green spaces offering a refreshing break from the pace of progress.
Whether you're a sports aficionado or someone who enjoys a comfy chair and some live music, there is something for you to enjoy in the parks of Pittsburgh, Allegheny County and Pennsylvania.
Pittsburgh City and Neighborhood Parks Offer A Broad Range of Amenities
The City of Pittsburgh is host to a wide network of parks – 163 in all, totaling 3,800 acres – overseen by the Pittsburgh Parks Conservancy. From Frick Park, to Schenley Park, to Allegheny Commons, each has its own unique geography and amenities. From letting your kids expend their energy at a playground, to socializing your pups at a dog run, to checking out a new trail on foot or bike, there are lots of ways to integrate parks into your daily life and wellness strategy.
In addition to exercising, many people make use of city park spaces to host memorable picnics and parties. There are a number of unique rentable spaces in the city's parks, on top of the usual covered shelters. Riverview Park in the North Side includes its Chapel building, which hosts intimate wedding celebrations every year, and their Activities Building can host up to 300 guests with a full kitchen. To rent spaces in the city parks, click here.
The temperate summer months bring additional special events. A number of the city's parks feature pools of different sizes, with free admission for small children. The Dollar Bank Cinema in the Park series presents films weekly after dark on summer evenings. Some parks also offer free concerts, which can be a great way to learn about different kinds of music. At Mellon Park, visitors can bring a brunch and enjoy classical music accompaniment. At Highland Park and Riverview Park, patrons can enjoy live jazz. Bring a blanket and a picnic, and make an evening of it!
The city parks also offer a great deal of sporting opportunities – some that you might not expect. Schenley Park, bordering Oakland, Greenfield and Squirrel Hill, features everything from an ice-skating rink to 18-hole disc golf course. Fans of pickleball can get their game on in a number of outdoor courts, and opportunities to play inside, during the cold months.
For fans of history and astronomy, Riverview Park is also home to the historic aluminum-domed Allegheny Observatory, which can still be visited today. Call to book a tour.
Allegheny County Parks – Surprises to the North, South, East and West
Allegheny County also maintains nine major parks outside of the city, each with its own unique features. These parks include affordable shelters and buildings rentable for parties and picnics, some with electricity for having fun year-round (we recently attended a winter birthday party that included a snowy hike, with hot chocolate and space heaters to warm our hands afterwards). In addition, a number of the parks include special elements making use of the natural landscape.
North Park is home to a small lake, which makes for great birdwatching, with rentable kayaks during the warm months. An ice rink offers skating the rest of the year. There's also restaurant OTB at the North Park Boathouse, for refueling after a good workout.
The rolling hills of South Park are great for horseback riding, with a ring for lessons and exhibitions. In addition, the hilly landscape is the perfect landscape for an amphitheater hosting summer concerts.
North and South Park also both have 18-hole golf courses, open every day in good weather.
Named for a 1780s log home that still stands today, Settlers Cabin Park, to the west, near the large shopping complex in Robinson, offers one of the county's three wave pools (the others being at South Park and Boyce Park) where skilled swimmers can ride the biggest waves we may see this far inland.
Boyce Park – East of the City near Murrysville, Boyce Park makes use of a large natural hill to offer skiing, snowboarding and tubing practice in the cold months, complete with lifts, the only location offering this in Allegheny County. The rest of the year, the Lodge is a rentable event space suitable for larger events like weddings.
Hartwood Acres – This lush expanse northeast of Pittsburgh is well-known for its summer concert series, bringing national acts to our area for free shows making use of the lush, peaceful landscape. More recently, they opened a Sculpture Garden. The Mansion at Hartwood Acres also offers daily tours and a program of special events year-round, such as themed and holiday teas.
The county parks also offer different community services and events throughout the year. For example, the Pennsylvania Resources Council periodically hosts Hard To Recycle events, with a drive-through collection of items which should not be disposed of in landfills, such as televisions and fluorescent light bulbs.
The county parks also offer an annual marbles tournament, free for children ages 14 and under. Culminating in a match at the Allegheny County Courthouse, the winner proceeds to the National Marbles Championship.
Pennsylvania State Parks Are a Fun Day Trip from Pittsburgh
Pennsylvania is home to 124 state parks, totaling 300,000 acres of land, many of which are located in our Western half of the state. These large expanses of land give the same opportunities for outdoor recreation, but on a larger scale, with longer trails to hike, and lakes instead of ponds.
Moraine State Park – This park, north of Pittsburgh, features the manmade Lake Arthur, where visitors can enjoy a day of swimming, kayaking, canoeing, or fishing: you might spot largemouth bass, crappie, sunfish, walleye and others! A requisite stop on a trip to Moraine is local legend The Snowman (open on weekends and sometimes on location at other local events), for ice cream and other cool treats.
Ohiopyle State Park - Southeast of Pittsburgh, in the Laurel Highlands, this unmissable beauty spot may be best known for its natural waterslides, soothing to look at and irresistible on a hot summer day.
Raccoon Creek State Park– This park, west of Pittsburgh, not too far from The Pavilion at Star Lake, also offers trails, kayak rentals and lake swimming with a concession stand for ice-cream breaks.
Cook Forest State Park – 1.5 hours north of Pittsburgh, this park includes a protected area of virgin forest containing centuries-old trees, some of the oldest in the Eastern United States. Visiting the "Forest Cathedral" area, with the canopy of large hemlocks over your heads and the fragrant piney air, is a truly meditative experience, one connecting you with the history of this land. Those in the mood for a view can climb to the top of Seneca Point Overlook.
Of course, you don't need to visit on a day trip – these parks offer ample opportunities to camp or rent cabins, too. Especially in the rural Forest County, the home of Cook Forest, the little-developed means that the natural diversions are numerous.
Many Other Municipalities in the Pittsburgh Area Have Interesting Parks
Fall Run Park is a 90+ acre park located in a residential neighborhood in Shaler, northeast of Pittsburgh. This dramatic landscape includes a mile-long nature trail featuring rocky hills and streams, all easily navigable thanks to well-maintained paths and wooden bridges. On hot days, you'll have to line up for your chance to zoom down the natural waterslide.
The Montour Trail is an extensive network of rail line-turned-bike and walking path. The longest suburban rail trail in the United States, it includes 25 different access points, so those in a number of towns can hop on for a little activity. Check out the Enlow Tunnel in Coraopolis, and maybe you'll spot some orioles or red-winged blackbirds on the way.
Mingo Creek County Park is a large park in Washington County, south of Pittsburgh, with miles of trails, the promised creeks, and a broad-ranging annual program of events featuring topics from geocaching to stargazing, to searching for the delicious-yet-elusive morel mushrooms.
Enjoy the Unique Landscapes of Pennsylvania in Your Own Way
Of course, the beauty of parks is that there are so many ways to enjoy them. Depending on the weather, you might spend some time with a frisbee or kite. You might bring a ball and racket to one of the courts and see who's up for a game of tennis. You can also enjoy diversions like geocaching or nature journaling.
Parks are a great way to break out of a rut, or check out a new area without making a big financial investment. They can help you support ongoing goals, like wellness and stress reduction, or even savings goals, if you think of these spaces as a gym without a membership fee.
The good news is the parks of our region have space for all these activities. The only limitation is how much you can fit in a day! Set yourself a challenge to visit one or two new parks before the end of this year. Which one will you start with?
Author: Jessica Manack (Twitter)