3 Home Renovations That Boost Your Pittsburgh Home's Value
Posted by Tarasa Hurley on Sunday, September 17, 2023 at 3:02:35 PM
By Tarasa Hurley / September 17, 2023
Comment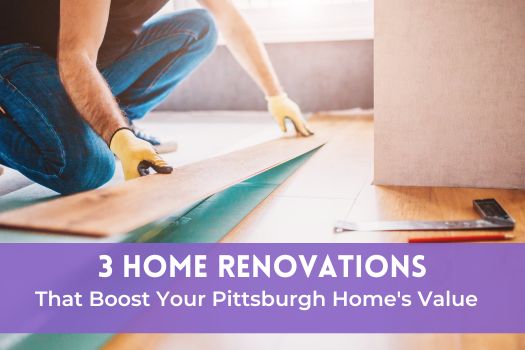 Strategically renovating your home can significantly enhance its market value, especially in Pittsburgh's evolving real estate landscape. While some home improvements might only offer marginal value, others can provide a commendable return on investment. In this article, we'll explore three home renovations that consistently elevate the value of Pittsburgh homes.
Bathroom Renovations
A revamped bathroom can make all the difference. Apart from its essential function, a well-fitted bathroom exudes style and modernity. If your bathroom seems dated or requires repairs, it can affect your property's overall appeal. Minor updates like fresh paint, new fixtures, and flooring can boost your home's resale potential. However, for those eyeing a more substantial appreciation, consider upscale features – perhaps heated floors, a rainfall showerhead, or transforming an extra space into an additional bathroom.
Kitchen Renovations
Kitchens often serve as the heart of a Pittsburgh area home, echoing the city's love for family gatherings and good food. A kitchen that needs to be updated or in disrepair can deter potential buyers. Changes like new paint, modern countertops, or energy-efficient appliances can substantially lift your home's resale value. If you're thinking bigger, contemplate expanding the kitchen area or integrating high-end elements like granite countertops or stainless steel appliances, blending tradition and modernity.
Flooring Renovations
Homes deserve flooring that stands the test of time. Old, worn-out floors can be a red flag for potential buyers. Transitioning from tired carpeting to timeless hardwood or contemporary tiles can enhance your home's market appeal. If you have hardwood floors that are structurally sound but appear aged, consider refinishing them. This approach is often more economical than a complete replacement and can significantly uplift your home's resale prospects.
Conclusion
In the dynamic Pittsburgh real estate market, making renovation choices that resonate with local tastes and preferences is essential. As you embark on your home improvement journey, remember:
Prioritize critical areas like bathrooms and kitchens.
Opt for top-notch materials that captivate potential buyers.
Avoid over-personalized modifications that might not align with broad buyer preferences.
By adhering to these principles, you'll be primed to enhance your Pittsburgh home's resale value effectively. Happy renovating!