Live Music Venues in Pittsburgh – There's Something For Everyone
Posted by Tarasa Hurley on Sunday, July 23, 2023 at 2:59:54 PM
By Tarasa Hurley / July 23, 2023
Comment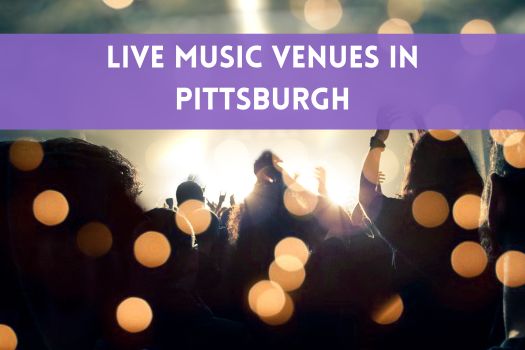 Pittsburgh has a long history of supporting the performing arts, with music being one of the most prominent of these. From its native children Martha Graham, Gene Kelly, Billy Strayhorn and BIlly Porter, or Stephen Foster, whose songs are still sung today, nearly 200 years before he was born, it's proven fertile ground for creative types to hone their craft before becoming known in the wider world.
We're also no strangers to spectacle – since the 1800s, sites like Exposition Park have held space for the masses to gather and enjoy entertainment on a large scale. Today, our sports venues provide a stage for the world's biggest acts to wow crowds, along with a selection of smaller live music venues allowing audiences to get closer to the action.
Author: Jessica Manack (Twitter)
Pittsburgh Concert Venues Come in All Shapes and Sizes
One of the best things about living in Pittsburgh is that it offers the amenities of a city while still feeling accessible, and easy to get around. Our stadiums ensure that many of today's large touring acts make a stop in Pittsburgh.
On the mega-venue side, we have Acrisure Stadium, the home of the Steelers, the Penguins' lair, PPG Paints Arena, Stage AE on the North Side, and Pitt's Petersen Events Center. We recently got to test Pittsburgh's handling of major audiences during Taylor Swift's two-night engagement, breaking records at over 73,000 fans in attendance, and learned that Pittsburgh could accommodate such crowds, as fans of the Rolling Stones and U2 already know. Thanks to the unique positioning of Heinz Field, boaters can even hear music from the water, while enjoying a night on the three rivers.
Stage AE in particular is a unique venue, in that it actually holds shows in three different-capacity spaces – up to 5,500 people outside, 2,400 indoors, and even more up-close-and-personal shows in the space's night club. Located near the many restaurants on the North Shore, this American Eagle-sponsored space reminds us that Pittsburghers work hard and play hard.
Pittsburgh Theaters Offer Access To Next-Tier Rock Shows as Well as Cultural Events
The stadium mega-shows are not for everyone. Even the most tightly-run ship can require a good hour of getting in and out, getting back to your vehicle, and getting on the road. When in the mood for a little less of an undertaking, consider the Pittsburgh Cultural Trust. They operate a number of venues Downtown, from grand theaters like the Byham to intimate spaces like Liberty Magic. These Pittsburgh live music venues offer the chance to see national music acts in a slightly toned-down format, while still boasting excellent production quality. Their website compiles the events at all of these venues into one easily-navigated list.
Deeper into the city, in Oakland, the Trust operates the 1900-seat Carnegie Music Hall, in the same complex housing the Carnegie Museums of Art and History, which hosts many concerts and lectures throughout the year.
The Pittsburgh Symphony Orchestra, Pittsburgh Ballet Theater, and Pittsburgh Opera are just some of the companies producing work here in the city.
Pittsburgh Offers A Number of Mid-sized Venues for Rock Shows
It's a fact that a number of the city's beloved bars and dives were hit hard by the pandemic, with a number shutting their doors for good in the past few years. However, plenty remain – and showing support is a great way to be sure that Pittsburgh live music venues stay strong in the years to come.
Mr. Smalls Theater – This converted church in Millvale, just across the river from Lawrenceville, opened in 2002 and hosts a regular roster of touring acts from across the United States, in a large main theater space accommodating 800 people, as well as The Funhouse, a smaller room holding up to 175.
Thunderbird Cafe & Music Hall – This beloved bar in Lawrenceville, open since 2000, underwent a major renovation in 2019, doubling its space and enabling national and regional touring shows to make a stop inPittsburgh. Local acts also perform here, in a range of genres from funk, to soul, to burlesque.
Roxian Theatre – A couple of minutes southwest of Pittsburgh in McKees Rocks, this theater, originally built in 1929, recently underwent a full renovation.
City Winery –- This brand-new venue is part of the major redevelopment occurring in the Strip District in the last couple of years, including the establishment of tech employers like Meta and Argo AI, as well as the creation of several blocks of new housing.
The Warhol Museum – Far from being just a home for visual art, this institution honors the performances Warhol used to host in his New York studio with their Sound Series, an offering of live performances throughout the year, in the museum's intimate theater space, or in the museum's art-filled atrium.
Further afield, some venues outside of the city are worth keeping your eye on.
The Carnegie Library of Homestead features a grand stage from the days when libraries were the largest community gathering spaces, where touring acts like Sufjan Stevens, Joanna Newsom, Ms. Lauryn Hill and others perform.
The Palace Theatre in Greensburg, 30 minutes east of the city, is another spot where national touring acts pass through. Often the site hosts classic rock acts, including Jeff Beck and King Crimson.
The Pavilion at Star Lake in Burgettstown, west of the city, is a sprawling outdoor showcase hosting everything from contemporary stars to the mainstays of the jam band circuit.
Rock and Jazz Clubs Allow You To Get Up Close and Personal
The live music bars in Pittsburgh are a great place to catch familiar artists or find a new favorite. The city has a number of spots regularly showcasing live music, where you can get up close and personal with the artists.
Club Cafe - This South Side institution has quietly been doing its thing since being revived, from its former lives as a marketplace and a dive bar, since 1999. If an artist you appreciate is on the calendar there, you know you'll have a great show, in this small venue with no bad seat in the house.
Jergel's Rhythm Grille – North of the city, and great for a group of friends or girls' night, this bar and restaurant has a capacity of 500-plus, with two viewing levels, for regional acts, and cover bands like Meet Loaf and The McCartney Experience, as well as karaoke nights.
City of Asylum – Jazz has a long history in Pittsburgh's North Side. While the James Street Gastropub and Speakeasy is no longer around, City of Asylum is a local organization committed to being a home for regular jazz shows. Their compound, known as Alphabet City, houses a full bookstore, as well as the bar/restaurant 40 North, so it's possible to stimulate all your senses with an evening here.
New Hazlett Theater, also in the North Side, offers a robust offering of plays, dance and musical performances for all ages. Their CSA – Community Supported Art – series offers the chance to subscribe to a group of performances, allowing local performers a guaranteed audience to launch new works and establish a following.
Hard Rock Cafe – Also in the South Side, at Station Square, this venue offers the trademark food and atmosphere known to fans around the world, along with a regular schedule of events.
For those enjoying grittier scenes, Lawrenceville is home to beloved bars Brillobox and Spirit, both periodically hosting live shows and dance nights, and punk club Gooski's is considered by many to be the CBGB's of the Steel City.
There are also a number of one-off and seasonal opportunities to catch performances, sometimes for free. The Allegheny County Parks host local and national acts every summer, along with the Three Rivers Arts Festival. Yes, some days our weather forecast leaves something to be desired, but the days that are beautiful are really, really beautiful – so grab the bug spray and a blanket and enjoy some tunes with a backdrop of birdsong.
Keeping up with The Pittsburgh Music Scene
It can feel a little hard to keep up with, only because there's a lot going on – a testament to the resilience of Pittsburgh, and the city's commitment to enjoying live entertainment. Local independent radio mainstay WYEP maintains a calendar of upcoming shows around the city on their site. You can also follow the City Paper, and the sites of promoters, including Drusky Entertainment and Opus One Productions.
For many, the fun in checking out Pittsburgh live music venues is in finding their niche, the space that feels most comfortable to them – whether moshing is the way you escape the stresses of the world, or whether you want to get off your feet and get a glass of wine. For others, the diversity of what our city offers is the appeal – the fact that it's as easy to see a symphony orchestra as it is to pogo to a punk band.
It's really up to you! Where have you been so far? What venue will you check out next?