Living in Sewickley: A Comprehensive Guide to a Charming Borough
Posted by Tarasa Hurley on Thursday, November 16, 2023 at 12:05:57 AM
By Tarasa Hurley / November 16, 2023
Comment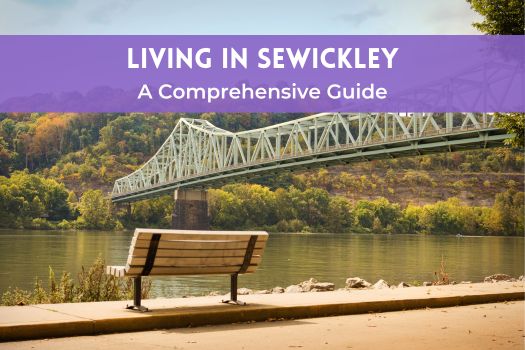 Nestled along the Ohio River, about 12 miles northwest of downtown Pittsburgh, lies the quaint borough of Sewickley. A 20-minute drive from Pittsburgh and 15 minutes from Pittsburgh International Airport, the community of Sewickley is a gem, covering just over one square mile and housing around 4,000 residents. Surrounded by Edgeworth, Sewickley Heights, and Glen Osborne, this comprehensive guide offers an insightful glimpse into life in Sewickley, blending historic charm with modern amenities and revealing why it's more than just a place to live. Residents describe Sewickley as a quaint, quiet little town, likening it to a 'Hallmark town' from the movies, emphasizing its safety and peaceful atmosphere.
Historical Roots
The name "Sewickley" originates in the mid-1700s and is derived from a Native American word for 'Sweet Water.' Its history is a tapestry of transformation, from the displacement of native Americans to the establishment of European settlers who introduced farms, taverns, and inns. The 1850s brought significant changes, with the introduction of a railway line and the incorporation of Sewickley as a borough, marking the beginning of its evolution into the thriving community it is today.
Vibrant Business District
The heart of Sewickley is its business district, affectionately known as 'the village.' This bustling area, characterized by tree-lined streets laid out in a grid pattern, hosts over a hundred businesses and services. The village is a hub of activity and community interaction, from restaurants and gift shops to high-end boutiques, specialty stores, and spas.
Amenities and Lifestyle
Numerous amenities enhance Sewickley's charm. The community offers playgrounds, ball fields, and parks such as Riverfront Park and War Memorial Park, fostering a vibrant outdoor culture. The Sewickley Public Library and Sewickley YMCA are central pillars, providing resources and activities for all ages. Additionally, as the largest employer, Sewickley Valley Hospital underscores the borough's emphasis on health and well-being.
Year-Round Events
Various events dot the borough's calendar, ranging from light-up night parades and sidewalk sales to farmers' markets and fun runs. Notable annual events include the Owen Galuzzo Memorial Picnic and Wiffle Ball Classic at War Memorial Park, highlighting Sewickley's community spirit and love for sports and recreation.
Educational Excellence
Sewickley is part of the Quaker Valley School District, known for its top-notch educational offerings. The district includes two elementary schools, Osborne and Edgeworth, and plans for a new high school facility by 2027. Additionally, Sewickley Academy, a renowned private school, adds to the educational prestige of the borough.
Housing Market and Architecture
The housing market in Sewickley is as diverse as it is historic. With a median home price of $530,000 as of late 2022, the borough offers a mix of Victorian and Colonial architecture. These homes blend historic charm with modern comforts like central air conditioning and open-concept kitchens. The real estate landscape ranges from charming cottages to luxurious estates, reflecting Sewickley's eclectic and upscale nature. The market includes condos, freestanding homes, and luxury estates, with features like large acreages and custom construction in higher-priced houses. Properties are available in various price ranges, with luxury properties from $900,000 to over $5 million, featuring upscale amenities like dedicated offices, movie rooms, and expansive outdoor areas.
Walkability and Dining
One of Sewickley's most attractive features is its walkability. Tree-lined streets lead to a vibrant central business area where residents and visitors can enjoy cafes, restaurants, and shops without relying on cars. Dining options like Sewickley Tavern, Mambo Italia, Vivo Kitchen, and the Slippery Mermaid cater to diverse palates. At the same time, cafes like Mediterra and Cafe Des Amis offer relaxed environments for a light lunch or coffee break. Other local favorites are the Ultimate Pastry Shop and Crazy Mocha.
Shopping and Recreation
Shopping in Sewickley is a unique experience, with locally-owned boutique shops offering an array of clothing and gifts. Home stores like House 15143 and Gather add to the borough's charm, offering monogrammed items and Pittsburgh-themed gifts. For outdoor enthusiasts, parks like Triangle Park and Walker Park provide perfect spots for families, dog owners, and those seeking a connection with nature.
Country Clubs and Community Feel
Sewickley's country clubs, such as Sewickley Heights and Allegheny Country Club, are not just about golf; they're social hubs that enhance the community's tight-knit feel. Residents describe Sewickley as supportive and engaging, with a strong sense of belonging and community involvement.
Challenges and Considerations
Despite its many positives, Sewickley does have its challenges. Some perceive it as a bubble, potentially unwelcoming to newcomers. The social atmosphere may feel competitive, and the high cost of living, including expensive real estate and taxes, can be daunting. Limited parking, yard space, and the absence of mainstream stores are other considerations for potential residents. Homes closer to major thoroughfares like Route 65 might have lower values due to noise or safety concerns.
Healthcare and Wellness
Healthcare services in Sewickley are top-notch, with facilities like the Heritage Valley Sewickley Hospital providing residents with excellent medical care. This emphasis on health and wellness is a cornerstone of life in Sewickley, ensuring that residents have access to the best medical services.
Architectural Splendor and Historic Preservation
The Sewickley Historic District, part of the National Register of Historic Places, showcases the borough's commitment to preserving its architectural heritage. Victorian-era homes and buildings are meticulously maintained, offering a window into the past while serving as beloved homes and businesses.
Conclusion: A Borough of Unmatched Charm
In conclusion, Sewickley is more than just a place on the map. It's a community that weaves the threads of history, luxury, and community spirit into a tapestry of unmatched charm. If you find yourself attracted to its historic architecture, thriving cultural scene, or the warm embrace of its tight-knit community, you'll discover that Sewickley offers a unique blend of the traditional and the modern, making it an ideal place to call home.
From its tree-lined streets and bustling village to the serene parks and top-tier schools, Sewickley embodies the essence of a community where life is not just lived but cherished. For those seeking an upscale, culturally rich, and community-oriented lifestyle, Sewickley represents a destination and a journey into a life of quality, warmth, and enduring charm.