Living in Wexford, PA: An In-Depth Guide
Posted by Tarasa Hurley on Tuesday, October 31, 2023 at 12:04:34 PM
By Tarasa Hurley / October 31, 2023
Comment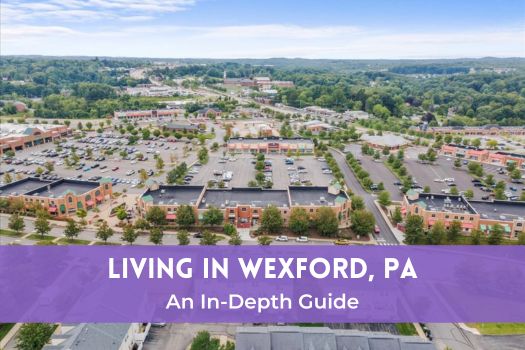 Wexford, Pennsylvania, a picturesque suburb in the north hills of Pittsburgh, has become a sought-after destination for families, professionals, and retirees. With its top-tier schools, modern housing, and many amenities, it's no wonder Wexford is on the radar of many looking to relocate. In this comprehensive guide, we delve deep into what makes Wexford tick and why it is the perfect place for you.
Location and Geography
Wexford is an unincorporated suburban community of Pittsburgh, PA. Wexford has no municipal government of its own. In fact Wexford is split among multiple municipalities: Franklin Park, Pine Township, Marshall Township, and McCandless. Thus, Wexford is really just a friendly name for the 15090 zip code.
Wexford is located in northern Allegheny County, just south of Warrendale and with Cranberry Township, where Cranberry marks the start of Butler County. Wexford is close to downtown Pittsburgh (about 24-30 minutes away by car) and the airport (about 30 minutes away). Major highways running through Wexford include the Pennsylvania Turnpike (I-76), I-79, I-279, Route 19 (Perry Highway).
Population of Wexford, PA
The population of Weford, PA is 24,985. This number comes from the most recent 2020 decennial census data by the United State Census Bureau.
Education: The Cornerstone of Wexford
Wexford's reputation for educational excellence is well-deserved. The suburb boasts some of the best school districts not only in Western Pennsylvania but also on a national scale.
North Allegheny School District: According to Niche.com, North Allegheny School District is number one ranked in Western Pennsylvania. North Allegheny serves around 8,500 students, making it comparable to a small college. Its size and reputation have attracted many, including some Pittsburgh Steelers players, who have chosen to enroll their children here. The student to teacher ratio here is 16 to 1.
Pine Richland School District: Another feather in Wexford's educational cap is the Pine Richland School District, which caters to approximately 4,500 students. Its size, combined with its reputation for excellence, has made it a top choice for families in the region. The student to teacher ratio is 15 to 1. PRSD is also highly ranked by Niche.com.
Modern Living: Housing in Wexford
Wexford's housing landscape is predominantly modern, with most properties and neighborhoods being 20-30 years old. This modernity offers several advantages:
New Construction: The area is witnessing a surge in new construction, offering residents modern amenities and larger acreage lots, a rarity in many other suburbs.
Community Amenities: Many properties come with modern amenities and Homeowners' Associations (HOAs) that handle outdoor maintenance, ensuring that neighborhoods remain pristine. Additionally, Wexford offers community swimming pools, further enhancing its appeal.
Comparative Advantage: Compared to older areas like the South Hills, Wexford offers larger acreage lots, making it ideal for those who value space.
A Culinary and Shopping Haven
Route 19 in Wexford is not just a road; it's a bustling hub for restaurants, shopping, entertainment, spas, and other businesses. The diverse range of establishments ensures that residents and visitors alike have a plethora of options to choose from.
Totin's Diner: A staple in Wexford, Totin's Diner offers a classic diner experience.
Patron's Mexican Grill: For those craving authentic Mexican flavors, Patron's Mexican Grill does not disappoint. With its vibrant ambiance and extensive menu, it's a favorite among many.
Napa Prime: If upscale dining is what you seek, Napa Prime offers a sophisticated setting with a menu that features gourmet dishes perfect for special occasions or a romantic night out.
The Village at Pine: This shopping center is a significant attraction in Wexford. It houses a variety of shops, eateries, and services that cater to a wide range of preferences. The Village at Pine also is a thriving housing community.
Bartram Bakery: Is a popular local bakery and restaurant known for its delectable baked goods, meals, and coffee.
Giant Eagle Market District: More than just a grocery store, the Giant Eagle Market District is a food lover's paradise. It offers a vast selection of gourmet foods, a bakery, a deli, and even a café. The store often hosts events and cooking demonstrations, making it a community hub.
Whole Foods Market: Whole Foods Market is an organic grocery store that offers a wide range of organic and natural products. It's one of the few locations in the greater Pittsburgh area.
Graeter's Ice Cream: Graeter's is renowned for its unique French Pot ice cream-making method, crafting just 2 1/2 gallons at a time. This location of this Ohio famous ice cream chain was the first in Pennsylvania.
Walnut Grill: A blend of casual and upscale dining, Walnut Grill offers a diverse menu that caters to various palates. From salads and sandwiches to steaks and seafood, dining here is always a delightful experience.
Ichiban Hibachi & Sushi Bar: Renowned for its sushi and hibachi, Ichiban provides an authentic Japanese dining experience.
Cenci's Pizza: A family-friendly Italian restaurant, Cenci's offers a range of classic Italian dishes. From pizzas to pasta, the menu is diverse, ensuring something for everyone.
Monte Cello's: A local favorite, Monte Cello's is known for its delicious pizzas and Italian dishes. The cozy setting and friendly staff make it a popular choice for dine-in and takeout. Our favorite is Joe's Special Pizza.
Sheetz: A convenience store chain known for its expansive selection of made-to-order foods and beverages, has a notable presence in Wexford, PA. This location was so populated and rebuilt to improve it just a few years ago.
Chick-fil-A: Known for its delicious chicken sandwiches and exceptional customer service, Chick-fil-A is very popular in Wexford. Whether grabbing a quick lunch or enjoying a family meal, Chick-fil-A's menu has something for everyone.
The Wexford Flats
The "Wexford Flats" in Wexford, PA, refers to a specific section of Route 19 that runs through the heart of Wexford. This area is known for its commercial establishments, including various shops, restaurants, and businesses. The term "flats" indicates the relatively flat terrain in this particular stretch of the highway, making it suitable for commercial development. More specifically, the flats stretch between the Ingomar Volunteer Fire Company in the south and the edge of the Village of Pine shopping center in the north.
Commute: Smooth Sailing
One of the often-overlooked advantages of living in Wexford is the ease of commute. The North Hills area, which encompasses Wexford, offers a direct route to the city, devoid of tunnels. This location ensures a smoother, more predictable commute, a boon for daily office-goers Downtown or elsewhere in the city. Further, it's an easy 30 minute drive to the Pittsburgh International Airport as well.
Recreation: The Marvel of North Park
Spanning over 3,000 acres, North Park is an outdoor enthusiast's dream. From mountain biking trails to kayaking adventures, from leisurely walks around its lake to golfing sessions, North Park offers many activities. And for those who want to combine recreation with dining, the OTB (Over the Bar) restaurant provides delicious meals with a view.
Farms in Wexford, PA
Wexford, PA, with its rich agricultural history and picturesque landscapes, is home to several renowned farms that have served the community for generations. These farms not only offer fresh produce but also provide a range of activities and events that make them popular destinations for both locals and visitors. Here's a closer look at some of the standout farms in Wexford:
Shenot Farm
History: Established in the 1850s, Shenot Farm has been a family-run operation for over 150 years.
Offerings: Shenot Farm is known for its wide variety of fresh produce, including fruits, vegetables, and famous sweet corn. They also have a market that sells homemade jams, jellies, and baked goods.
Unique Attractions: In the fall, the farm transforms into a festive destination with hayrides, pumpkin picking, and a challenging corn maze. Their annual Fall Festival is a highlight for many families.
Soergel Orchards
History: Soergel Orchards began in the mid-1800s and has grown into a sprawling farm and market complex. Like Shenot, it has remained in the family for generations.
Offerings: The farm is known for its vast orchards, producing a variety of fruits, especially apples. The on-site market offers these fresh fruits along with vegetables, baked goods, dairy products, and an impressive selection of organic and gluten-free products.
Unique Attractions: Soergel Orchards hosts numerous events throughout the year, from strawberry festivals in the summer to apple festivals in the fall. Their country store, gift barn, and bakery are favorite stops for visitors. For the younger crowd, there's a play area and opportunities to interact with farm animals.
Healthcare in Wexford: A New Era with AHN
Wexford, PA, has always been a hub of modern amenities and top-tier services, and when it comes to healthcare, the community is second to none. The Allegheny Health Network (AHN) Health Pavilion and the recently opened AHN Wexford Hospital have further elevated the healthcare landscape in the region.
AHN Health Pavilion
The AHN Health Pavilion in Wexford is a state-of-the-art facility that offers a comprehensive range of medical services. From drop-in care to primary care to specialty services, the Pavilion ensures that residents have access to top-notch healthcare without the need to travel far. The facility boasts advanced diagnostic and treatment options, ensuring patients receive the best care possible.
AHN Wexford Hospital
The newly built AHN Wexford Hospital is a beacon of modern regional healthcare. This state-of-the-art hospital is equipped with the latest medical technologies and offers various services, from emergency care to surgical procedures. The hospital is designed with patient comfort in mind, with spacious rooms, advanced facilities, and a team of highly trained medical professionals ready to provide care. One of the standout features of the AHN Wexford Hospital is its focus on holistic care, ensuring that patients not only receive medical treatment but also support for their overall well-being.
The Financial Aspect: Cost of Living in Wexford
While Wexford offers numerous advantages, it's essential to consider the financial implications of living here:
Housing Costs: Wexford is an upscale area, reflected in its housing prices. The average purchase price of homes hovers between $450,000 and $475,000, significantly higher than the Western Pennsylvania average.
Property Taxes: The superior school districts come with higher property taxes. For a house valued at $400,000, annual property taxes can range from $10,000 to $12,000.
Traffic Concerns: The increasing popularity of Wexford has led to traffic congestion, especially on Route 19. This congestion can lead to longer commute times, especially during peak hours.
Neighborhoods in Wexford
Wexford boasts a variety of neighborhoods, each offering its unique charm and appeal. Here are a few of these neighborhoods:
Ridge at Manor: This upscale neighborhood is known for its custom-built homes constructed between 2014 and 2019. The properties here are modern and picturesque.
North Park Manor: An exclusive community with expensive homes on large home sites built in 1994 and continued up to 2013. It offers proximity to Pine Community Park.
Villas of English Farms: A recent addition to Wexford's neighborhoods, it provides homes with a modern farmhouse aesthetic and is close to various amenities in the Village of Pine.
Georgetown Court: Known for its upscale townhomes.
Tanglewood: A Ryan Homes community built in the early 2000s with a blend of house styles and sizes. It is a short walk from the Village of Pine.
Pinewood Manor: A newer development of Eddy Homes that connects Tanglewood to Cloverdale Estates.
Cloverdale Estates
Brookfield Estates
Fox Meadow
Oak Haven
The Village at Pine: This neighborhood is designed around a town square concept, offering a mix of housing options and amenities at the residents' doorstep.
The Village at Pine: A Microcosm of Wexford
The Village at Pine offers a blend of city-like living with suburban charm. From single-level patio homes to townhouses and single-family homes, there's a variety of housing options. The neighborhood is peppered with restaurants, playgrounds, fitness trails, and the Oxford Athletic Club, ensuring residents never have a dull moment.
Churches in Wexford, PA
Wexford, PA, is home to a variety of churches, each offering unique services and community engagement. Some of the notable churches in the area include:
Catholic Churches
Saint Alexis Church: Part of the Saint Aidan Parish, Saint Alexis Church is located at 10090 Old Perry Highway, Wexford, PA 15090. They offer a Saturday Vigil at 4:00 p.m. and Sunday Masses at 10:00 a.m. and 5:00 p.m. Weekday morning masses are also available from Monday to Saturday at 8:00 a.m.
Saint Alphonsus Church: Also under the Saint Aidan Parish, Saint Alphonsus Church is located at 201 Church Road, Wexford, PA 15090. They offer Sunday Masses at 7:30 a.m., 9:30 a.m., and 11:30 a.m., along with weekday masses at noon on Monday, Wednesday, and Friday.
Other Christian Churches
Trinity Evangelical Lutheran Church: This church has been serving the community for over 155 years. It's not only a place of worship but also actively participates in social service organizations.
Wexford Community Presbyterian Church: Known for its friendly and inviting congregation, this church offers two worship services every Sunday at 8:45 AM and 11 AM. It is located in the North Hills of Pittsburgh and focuses on knowing God more, loving others, and responding to God's grace with joyful hearts.
New Horizon Church: A Baptist church in Wexford, PA, New Horizon Church aims to bring new hope and purpose to every life through Jesus. They conduct their services on Sundays at 10:30 AM at the Camelot on Swinderman Rd.
Salem United Methodist Church: This congregation welcomes all with open hearts, minds, and doors. Their faith is deeply rooted in the Methodist tradition of social justice, and they support the inclusion of all God's beloved children in the life of the church.
North Way Christian Community: This is a significant non-denominational church. It is also the home of Eden Christian Academy.
Why Wexford?
From its top school districts, sports teams, and proximity to the city to its shopping and dining options, newer housing, absence of tunnels, and the presence of pro athletes, Wexford offers a lifestyle that's hard to resist. The expansive North Park adds charm, making it a haven for outdoor enthusiasts.
In Conclusion
Wexford, PA, is more than just a suburb; it's a community that offers a high quality of life. With its modern amenities, top-tier schools, and beautiful landscapes, it's a place that many are proud to call home. Whether you're a young professional, a family with kids, or someone looking to retire in a peaceful yet vibrant community, Wexford has something for everyone.
About the Author
Tarasa Hurley is a distinguished top Realtor and Team Lead based in Wexford, PA. With advanced degrees in psychology and human development, and a background in clinical counseling, Tarasa brings a unique perspective to the real estate industry. Her expertise is further solidified by her accolades, including being featured on HGTV's House Hunters, Pittsburgh Real Producers Magazine and RealTrends. As a proud resident of Wexford, Tarasa not only works in the community but also calls it home, making her deeply familiar with the area's nuances. Her commitment to her clients and the community showcases her as a trusted and authoritative figure in Wexford's real estate scene.