Make A Marc Exhibition Part 2 - Art's Powerful Impact
Posted by Tarasa Hurley on Friday, April 7, 2023 at 1:10:23 PM
By Tarasa Hurley / April 7, 2023
Comment
The Make A Marc exhibition may have only lasted for one day, but its powerful impact will be felt for a long time. And not just locally here in the 'Burgh, but nationally and internationally as well. The goal of the exhibit was to bring awareness to the unjust incarceration of Pittsburgh area teacher, 61-year-old Marc Fogel and others. He was detained in Russia in 2021 for possession of a small amount of medical marijuana, prescribed by his doctor for chronic pain. He was sentenced to 14 years in a Russian prison.
The event, organized by Pittsburgh artist, Tom Mosser, Mara Lorusso, and the Fogel family attorney, Sasha Phillips, was very well-attended by 1000+ people at the Brightspace Room at the Energy Innovation Center on Bedford Ave. in downtown Pittsburgh. There were two openings, one from noon-3pm and 5-9pm. Family members and friends of Marc were in attendance, as were politicians and local media. I also understand that the BBC and the Washington Post were also tweeting about it or covering it in some way.
Everything about this exhibition is absolutely stunning! It was the first time that I had participated in a show focusing on advocacy instead of a commercial exhibit. I was simply not prepared for the emotional effect it would have on me and indeed everyone I spoke to. To see original art in person, created by hand and heart, is to connect to the artist's vision in a way that cannot be duplicated online.
The works were not for sale during the event, but from what I understand is that some may be available directly through the artists themselves. Every single piece of work was of the highest quality of craftsmanship and deep heartfelt expression. To have my painting included with such amazing talent in total support of such an important cause is humbling, an honor and reinforces my determination to be completely dedicated to my own life's work.
The Art and Artists
Most of the work presented was created by Pittsburgh area artists with some pieces by friends and family of Marc.
The best word to describe the show is Wow!! You walk down this long corridor to the Brightspace Room at the Energy Innovation Center. There were TV screens along the way featuring photos and statements from all of the participating artists. Visitors were also greeted by several artworks, paintings, mixed media, photography of Marc, tables of information, and a place where one could write a letter of encouragement to Marc.
Then you enter the Brightspace Room with hardwood floors, very high ceilings and huge windows with sweeping views of the city. Natural light floods the space. The first piece to greet you was an interactive large-scale portrait of Marc where everyone was encouraged to use a Sharpie and write his name. By the end of the night, the portrait, created by Tom Mosser and Mara Lorusso, was full. The space was filled by works by about 110 emerging and established artists: paintings, mixed media, sculpture, photography created specifically for this event. The styles ranged from realistic portraits, to graffiti/street art, to Expressionism, to images mixed with words, to political and social commentary, to images of hope and unity. The art was displayed on the artists' own easels, giving visitors personal interaction and immediate connection with each and every piece of artwork.
The result was a cohesive collection of art, created by people united in a most worthy cause of bringing attention to the horrid situation of Russian detention of Americans to be used as political leverage. It is no small feat to bring together a large number of diverse people from different backgrounds, socio-economic status, cultural heritage, and political views. This exhibition represents what can be accomplished when people put aside their egos and their differences and unite for positive change.
I had the privilege of speaking with Marc's cousin while looking at some paintings. She spoke lovingly of their close-knit family, and their strength, resilience, and love for each other. She said that the exhibit means so much to them, to have so many selflessly come together to show their support for someone very few of us know. We shared some tears, and I was so moved that personally, I gained an immense respect and empathy for those affected by these absurd circumstances.
The disconnect when we watch TV news or read articles online was obliterated with viewing an exhibit in-person such as this. Human connection is what is needed to affect change for the better. There is a distinct possibility that this exhibition will be a model for similar events around the country. Art is an agent for change, and here it is for peaceful and actionable change.
One of the main reasons I brought my family to Pittsburgh 16 years ago was the people. I have lived in several other places and travelled to others. This is the only city where I found people who actually cared about each other, even strangers. Maybe I simply was not around the right kind of people in those other places, or maybe it's the influence of Mr. Rogers Neighborhood. But others have expressed the same feeling about Pittsburghers. Despite our differences, problems, and disagreements, we come together when the need arises and support each other. That Pittsburgh spirit was on full display April 1st.
An upcoming major Pittsburgh art event, Art All Night, is considering a Make A Marc section for their event. Dates, location TBA soon.
This exhibition is also an excellent example of why the arts are so important to our culture and day-to-day lives. A few of the artists are students, and I would like to encourage anyone considering a career in the arts to please do so. We need your voice! The arts are one of the most effective communication means that we have transcending languages, cultural differences, and geo-political boundaries. As such, it is absolutely imperative that the arts are given priority status and funding in schools from the pre-school level through to high school and beyond.
Let's bring Marc home!
Media Links for Make A Marc
Jill Farrar Photography-exhibition photos
https://jillfarrarphotography.pixieset.com/makeamarcevent/
Artist Studio Visit photos: https://jillfarrarphotography.pixieset.com/makeamarc/
Olga Nevzorova exhibition photos:
https://olgabrandphotography.pic-time.com/-makemark/gallery
Here is a 15-minute in-studio KDKA radio interview that Tom Mosser did the day before the event:
https://www.audacy.com/_pages/clfx8a380000001n55hj1bx8l.html?fbclid=IwAR13gk3pI52yNBziu8z92gFgQgrPL9csonHgEOEmdojnfYxs5ta0AyJ8iPM
Two WTAE TV pieces and articles:
https://www.wtae.com/article/art-advocacy-event-highlights-butler-county-native-in-russian-prison/43471251
Several on-line newspaper articles:
Cranberry Eagle:
https://www.cranberryeagle.com/2023/04/03/raising-awareness/
https://www.cranberryeagle.com/2023/03/01/art-show-aims-to-shed-light-on-marc-fogel-others-wrongfully-incarcerated-in-russia/
Trib Live (Pittsburgh Tribune Review)
https://triblive.com/local/pittsburgh-artists-rally-in-support-of-marc-fogel-others-detained-in-russia/
Local Pittsburgh:
https://local-pittsburgh.com/arts/localpittsburgh-gallery-roundup-april-2023/
https://localtoday.news/pa/pittsburgh-artists-rally-in-support-of-marc-fogel-and-others-imprisoned-in-russia-240333.html
Here is a walking tour of the Brightspace Room, Energy Innovation Center to scroll thru:
https://www.youtube.com/watch?v=3oXjBBzluvk
Instagram post by @tommosserdesign of podcast interview The 1028 Podcast "This is Art" podcast with hosts and Make a Marc creatives Corey Ochai and Malcolm Xavier: https://www.youtube.com/watch?v=p9Uk0fh3-zo
#talkthattalk @malcolmxavier7 @muve_78 #marcfogel #makeamarc
James Protin Podcast interview
https://www.youtube.com/watch?v=Eb_k-UDSFi0
List of Participating Artists (I apologize for any duplicates)
1. Tom Mosser
2. Sasha Phillips
3. Mia Tarducci
4. Jesse Best
5. James Simon
6. Jill Farrar / photographer
7. Chris Boring
8. Jannick Wildberg
9. Olga Mendenhall-Blinova
10. Tim Kelly
11. Andrea Echavarria
12. Yelena Lamm
13. Olena Abakumova
14. Amy Clark
15. Cameron Schmidt
16. Mellow Threads
18. Rick Claravel
19. Michel Demetria Tsouris
20. Corey Ochai
21. Duensing Anette
22. Josh Gates / photographer / is going to help us set up…shoot a bit
23. Dennis Keyes
24. Debra Platt
25. Marlon Gist
26. Gaby Ortiz
27. Maikhoi Donguyen
28. Michel Demetria Tsouris
29. Zac Rutter
30. Arlene Holtz
31. Cue Perry
32. Sophia Williams
33. Camo Nesbit
34. Cindy Engler
35. Josh Mitchel
36. Jesse Best
37. Kellie Snider
38. Muldoon John
39. Gregg Valley
40. Tim Engelhardt
41. Luanne Haak
41. Danny Overdorff
42. Mara Lorusso
43. Sam Pejack
44. Jaime Bird
45. Ebtehal Badawi
46. Stacie Lawrence
47. Bonnie Seifers
48. Melissa Baker
49. Robert Strovers
50. Susanna Weyandt
51. Dan Wintermantel
52. Monica Cervone McElwain
53. Lauren Lampe
54. Mara Ragos
55. Carolyn Perrotti
56. Bob Freyer
57. Kathy Safchick
58. Malcolm Xavier
59. Cara Lavario
60. Phil Seth
61. Tim Engelhardt
62. Emily Armstrong
63. Jessica Geyer
64. Schmidt Cameron
65. Connie Merriman
66. Aimee Bungard
67. Elizabeth Santos
68. Larry Bridgett
69. Jeremy Raymer
70. Annette Johnson Jackson
71. Anna Bogh
72. Josh Snider
73. Donnie Day Pomeroy
74. Suzanne Werder
75. Grace Evans
76. Kim Breit
77. Gadi Leshem
78. DÏ ARTIST
79. Scott Gilday / SG Artworxs
80. Clare Stefanini
81. Kristen Miller
82. Karen Larson
83. LeDonne Seth
84. Marci Moon / Creating Time Instagram
85. Kim Denne
86. Latifah Shay
87. Svetlana Trofimova
88. Shauna Ferris
89. Josh Leffel
90. Svetlana Trofimova
91. Lynn Ratkovich
92. Art Vasbinder
93. Kimberly Manno
94. Olga Nevzorova Olga
95. Masha Geht
96. Eric Falk
97. Wagner Susan
98. Kristy Dubinsky
99. Leffel Josh
100. Marie Jesse
101. Moshe Sherman
102. The Rev. Daisher Rocket
103. Adam Panek
104. Oleksandra Pasichnyk
105. Cole Williams
106. Sophia Williams
107. Joann Renner
108. Rev. Daisher Rocket
109. Randy Backes
110. Josh Mitchell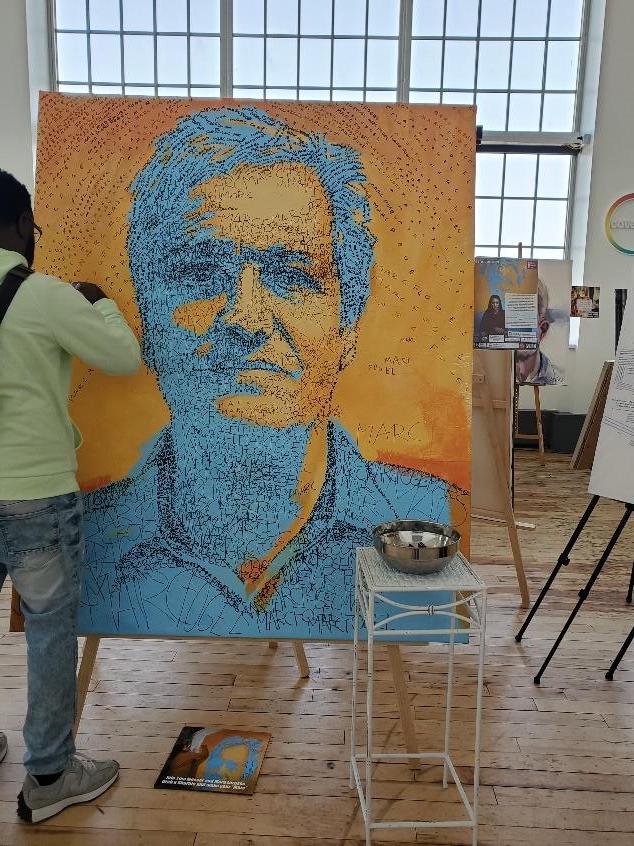 Photo by Joann Renner
Marc's 94 yr. old mom
Photo credit: Olga Nevzorova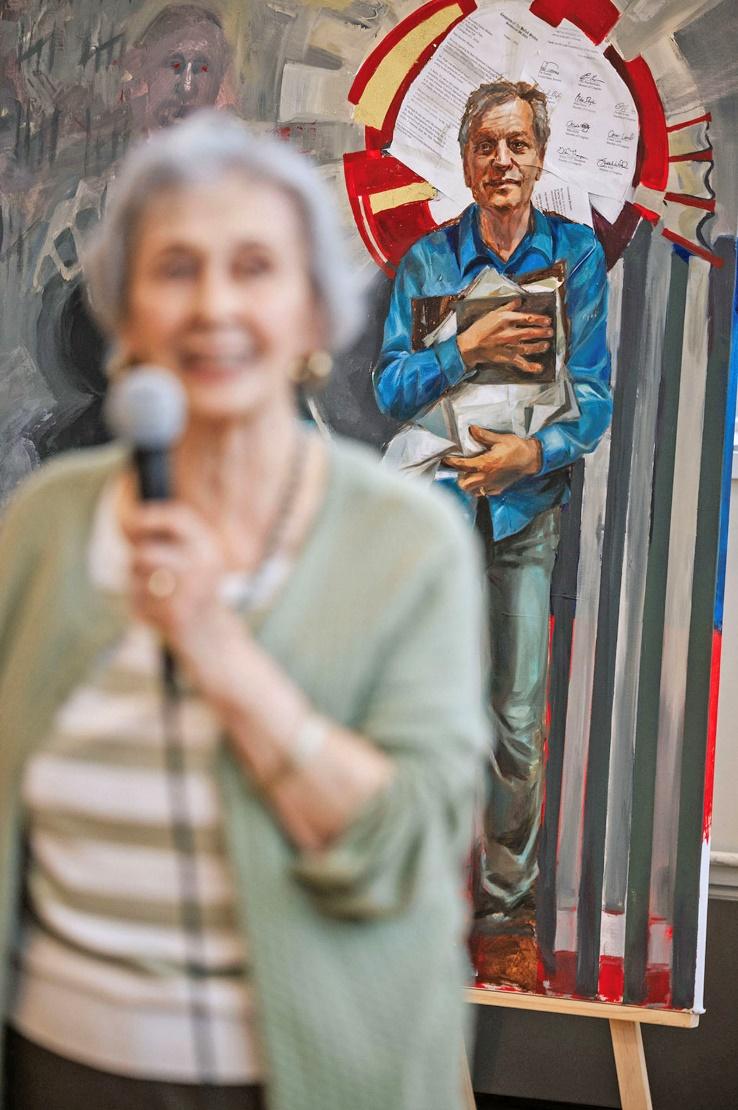 Marc's mom signing his portrait by Tom Mosser and Mara Lorusso
Photo credit: Mara Lorusso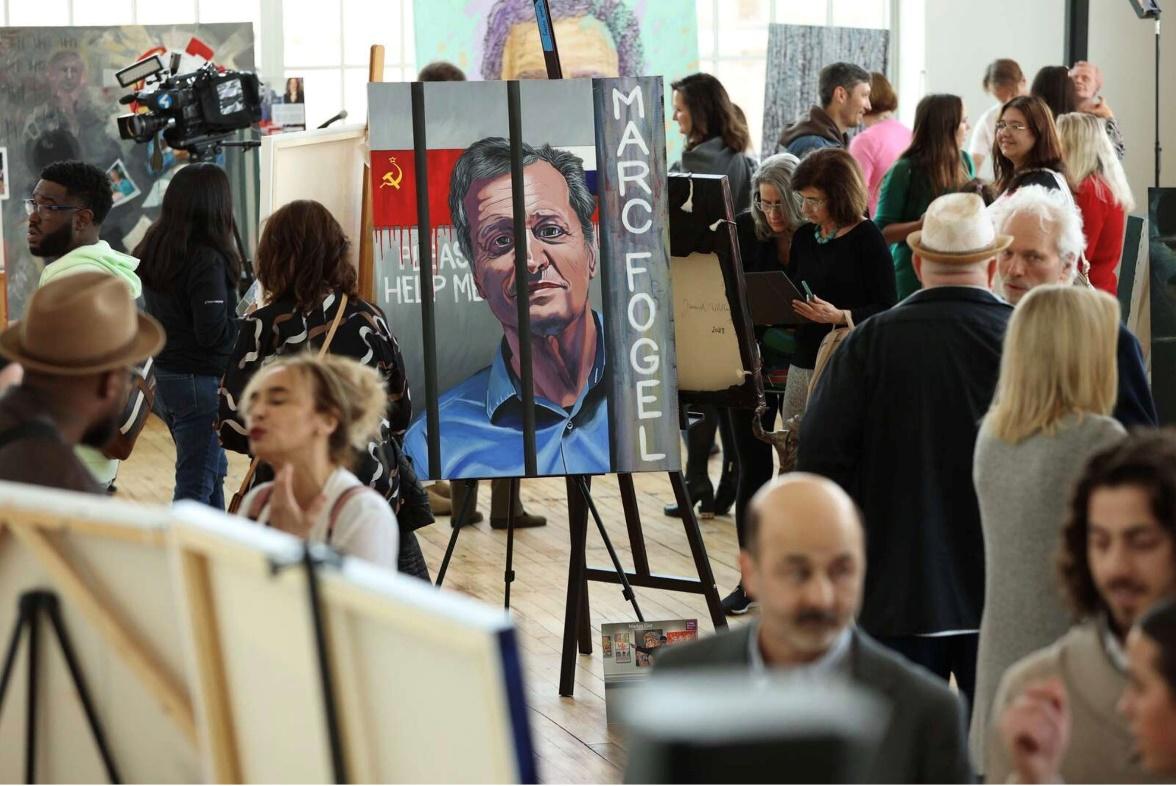 Photo credit: Seb Foltz
Article Author: Joann Renner