Moving To & Living In Pittsburgh: The Ultimate Guide
Posted by Tarasa Hurley on Friday, April 21, 2023 at 10:11:02 PM
By Tarasa Hurley / April 21, 2023
Comment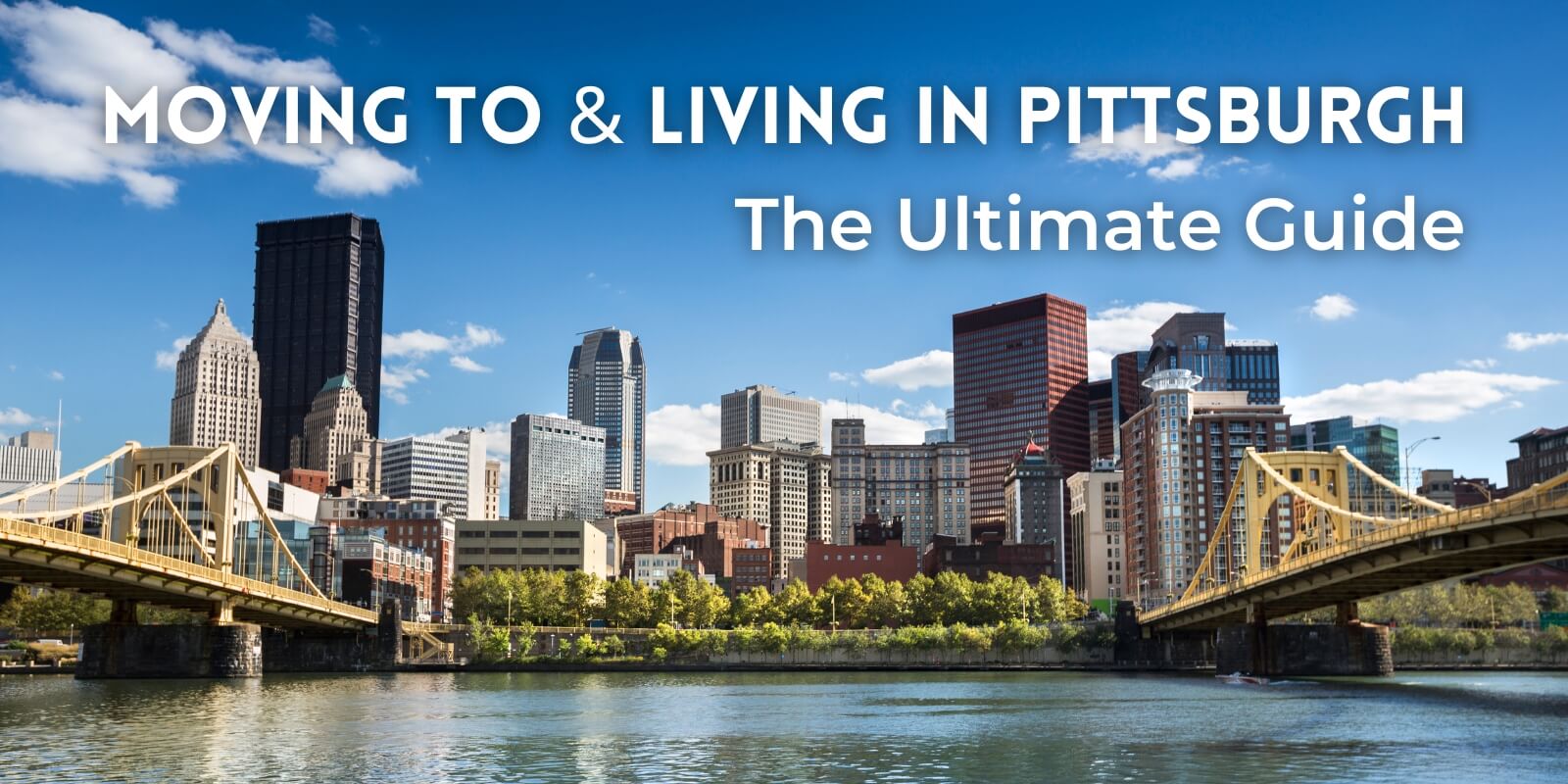 Welcome to Pittsburgh, the ultimate city guide for those looking to move to and live in western Pennsylvania! Nestled at the confluence of three rivers, Pittsburgh offers a unique landscape and a welcoming atmosphere. But don't be fooled by its small-town charm—Pittsburgh packs a punch with its affordable housing, lively nightlife, and diverse job opportunities.
Whether you're looking for a career in technology, healthcare, or education, this city has something for everyone. And let's not forget about the roaring sports teams that bring the city together. From the Pirates to the Steelers, the passion of Pittsburgh's fans is unmatched.
Plus, you won't have to break the bank to experience all the big-city energy that Pittsburgh has to offer. So, what are you waiting for? Come discover the magic of living in Pittsburgh for yourself!
Living in Pittsburgh, PA
Nestled in the heart of Pennsylvania, Pittsburgh is a city that truly has it all. Known as "The City of Bridges," this captivating American metropolis boasts unparalleled architecture, enchanting neighborhoods, world-renowned museums, and mouth-watering cuisine. With a population of around 300,000, Pittsburgh's most picturesque panoramas can be found atop Mt. Washington, offering awe-inspiring vistas of the city skyline.
No matter the season, whether you're seeking to brave the frosty winter chill in January or bask in the scorching summer sun in July, Pittsburgh offers something thrilling to behold in every chapter of the year. With its multifaceted cultural scene and irresistible urban ambiance, it's no wonder why Pittsburgh has cemented itself as a top-tier destination for both long-time residents and newcomers alike.
Homes For Sale in Pittsburgh, PA
Pittsburgh's real estate market is ripe with opportunity, ranking among the best cities in America for making money on real estate investments. With a cost of living that's lower than the national average, Pittsburgh provides an excellent investment opportunity for those looking to get into the real estate market. The city boasts a range of housing styles, from charming cottage-style homes to Victorian, ranch, Cape Cod, and contemporary designs, allowing for a variety of housing options to meet diverse preferences.
The average home value in Pittsburgh is around $212,000, making it an affordable choice for those looking to purchase property with a low initial investment. Despite the pandemic, Pittsburgh's real estate market remains one of the strongest seller's markets in the country, with demand continuing to exceed supply. Investors, house flippers, first- and second-time homebuyers, and working professionals are among the majority of people moving to Pittsburgh to take advantage of the city's vibrant real estate market.
Whatever your real estate goals may be, Pittsburgh's dynamic housing market is sure to offer plenty of opportunities. There a over 90 great neighborhoods in Pittsburgh to choose from if you're interested in the city itself. However there are also many greate suburbs.
Some of the top Pittsburgh, PA suburbs include:
Cranberry Township - Cranberry Township is a thriving suburb located just 20 miles north of Pittsburgh, offering the perfect blend of urban convenience and suburban tranquility. With a median home value of around $293,500, this community is an attractive option for those seeking an affordable yet desirable living environment.
Life in Cranberry is undoubtedly sweet, thanks to its flourishing community, several parks, including a water park and a skate park, and a strong education system that fosters an atmosphere of learning and growth.
McCandless - McCandless is a bustling township with over 28,000 residents and a reputation for exceptional schools, earning an A+ rating. The community is enriched with a variety of retail shops and restaurants, making it a convenient destination for everyday needs. The median home value in McCandless is around $239,500, which is why it's become a popular destination for first-time homebuyers.
Moon Township - Moon Township is a prime location situated just 17 miles northwest of Pittsburgh's city center, and conveniently close to the Pittsburgh International Airport. The community has a median home value of approximately $213,300 and is home to just over 25,000 residents.
In addition to its fantastic location, Moon Township boasts a variety of amenities including shopping centers, restaurants, and The Dependable Drive-In Theater, providing residents with plenty of entertainment options.
Mt. Lebanon - Located just 8 miles south of downtown Pittsburgh, Mt. Lebanon is a charming township in Allegheny County that is home to over 31,000 full-time residents. The area prides itself on its top-rated schools, walkability, and small community feel with big city amenities. With a median home value of around $252,500, Mt. Lebanon has quickly become one of the most sought-after Pittsburgh suburbs.
Education in Pittsburgh, PA
Pittsburgh, PA takes education seriously and goes above and beyond to provide quality education to its students. The public K-12 schools in Pittsburgh are known for being above average for the country, with a focus on educational equity and supporting the well-being of all students, regardless of their background. This commitment to education is reflected in the city's impressive graduation rates and student achievements.
Alongside its strong public school system, Pittsburgh is also known for its higher education opportunities. Renowned institutions such as Carnegie Mellon University and the University of Pittsburgh attract students from all over the world, offering a diverse and intellectually stimulating academic environment. With a deep commitment to education at all levels, Pittsburgh is a city that values learning and intellectual growth.
Several outstanding school districts serve the Pittsburgh, PA area some of which include:
Things to Do in Pittsburgh, PA
Discovering all that Pittsburgh, PA has to offer can be an exciting, albeit overwhelming, task. Whether you're a lifelong resident or just visiting, you'll quickly discover that the city is famed for a wealth of things. From its rich history and legendary sports teams to its thriving cultural scene, there is no shortage of things to do and see.
You'll be spoiled for choice when it comes to shopping, dining, nature, and entertainment, making it easy to find something to suit your interests. And one of the best things about the Pittsburgh experience is that every resident or visitor can customize it to meet their needs and preferences.
Family-Friendly Outings
Pittsburgh Zoo & Aquarium - This is hands down one of the best family-friendly spots in Pittsburgh, PA. It's home to thousands of animals from all over the world, including polar bears, tigers, and elephants. The zoo also has an immersive rainforest experience that allows guests to explore different habitats and observe primates up close.
PNC Park - The home of the Pittsburgh Pirates is an absolute must-visit for baseball fans. This iconic stadium offers a one-of-a-kind experience, with stunning views of the city and plenty of exciting games to choose from.
Market Square - This vibrant public square in downtown Pittsburgh is the perfect spot for a family outing. With its diverse shops, eateries, and regular performances, it's a great place to soak up the city's atmosphere.
Kennywood Amusement Park - Another classic Pittsburgh activity, Kennywood Amusement Park has it all: roller coasters, water rides, and plenty of other fun attractions. As one of America's finest traditional amusement parks, it's guaranteed to provide thrills for the whole family.
The Great Outdoors
If anyone truly knows Pittsburgh, PA it's that the city has some of the most stunning outdoor spaces in the country. Some of the most popular outdoor spots in Pittsburgh include:
Phipps Conservatory and Botanical Gardens

Point State Park

National Aviary

North Park
Each of these outdoor options offers visitors a chance to explore and experience the beauty of Pittsburgh.
Arts & Culture
Duquesne Incline - This historic cable car is an iconic part of Pittsburgh's skyline. It offers stunning views of the city and its rivers, with a stop at the top for visitors to enjoy the scenery.
Carnegie Museum of Natural History - This comprehensive museum is dedicated to the study of natural history. It houses vast collections of artifacts and specimens, making it a fascinating spot for visitors of all ages.
Carnegie Museum of Art - While many museums are devoted to the history of art, this one takes a forward-thinking approach. It features works by acclaimed contemporary artists from around the world, providing a glimpse into some of the most exciting new trends in art.
Andy Warhol Museum - Pay homage to one of the world's most groundbreaking artists by taking a trip to the Andy Warhol Museum. Here you'll find a rotating selection of Warhol's works, as well as exhibitions and interactive activities.
The Frick - This museum and gallery is dedicated to the study of fine art from all over the world. Here, you can explore classic masterpieces from various eras in a beautiful building that opened its doors in 1970.
Pittsburgh's culture-rich environment enables all visitors to explore its unique offerings and encourages a type of exploration that's both fun and educational.
So if you're looking to build a life in "The City of Bridges" then moving to Pittsburgh will be one of the best decisions you ever make. Start your journey with a visit to any of Pittsburgh's top destinations and before you know it, you'll be calling it home.