Pittsburgh: A Home for the Arts Part 1 and Upcoming Events
Posted by Tarasa Hurley on Thursday, April 27, 2023 at 11:16:20 PM
By Tarasa Hurley / April 27, 2023
Comment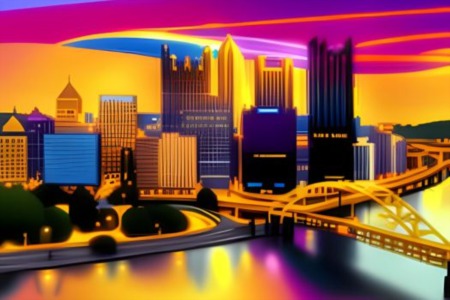 What comes to mind when we think of Pittsburgh? Many of us may think of the industrial legacy and history of innovation that is second to none. Or perhaps our famous sports teams, the challenging topography and climate, possibly the medical, educational, and technological hubs of today. Many may not think of the arts.
Author: Joann Renner
The arts and entertainment sectors are alive and well here in the 'Burgh as well! For those of us who are looking for diversions other than sports, there is plenty to do all year long. Naturally, the spring, summer and fall are the busiest seasons for the arts. There are numerous wonderful indoor options as well with world-class museums such as the Carnegie Museum of Art and the Natural History Museum (perfect for kids of all ages who LOVE dinosaurs!), the Andy Warhol Museum and the Carnegie Science Center. The Children's Museum on the North Side of the city has numerous options for families. The Heinz History Center in the Strip District end of Downtown is a great way for new residents and visitors to become familiar with Pittsburgh's history and all the things that make this region so unique. The Carnegie International, held at the CMOA every four years, just ended this month but is always a must-see to look forward to. The August Wilson African American Cultural Center is located in the Cultural District downtown and provides a wide variety of exhibitions and events for all ages and is not to be missed. There are so many more that I will devote a full article on the museums and permanent venues later.
Spring Art Events in Pittsburgh
Spring is in her full glory now and Pittsburgh is its most beautiful at this time of year. It is certainly my favorite! Art events, exhibitions, and festivals are gearing up to make this year a spectacular rebound from the pandemic isolation and boredom of the past three years.
Every week is filled with arts events and festivals with something for every taste and budget. Almost every neighborhood has a small street festival showcasing the small businesses and resident artists. There are mid-sized events with a mix of music concerts of regional talent and artists markets. Then there are the big events like Art All Night this coming weekend, the Pittsburgh Fringe Festival also next weekend, and the Dollar Bank Three Rivers Arts Festival and Juneteenth Homecoming Celebration coming up in June, to mention only a few.
Art All Night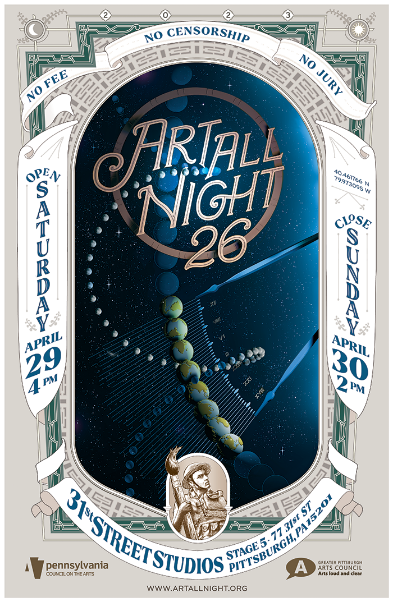 Art All Night Pittsburgh is a volunteer-run, totally free celebration of the arts. Artists, musicians, performance artists and more participate in this unique format of 22 hours of continuous festivities showcasing original work and film by regional artists. It is free to attend, free to exhibit, no censorship, no jury. Most works will be for sale, so please consider making someone's day by purchasing a piece of art. Not-safe-for-work artworks will be in a sectioned off area separate from everything else so families may enjoy without the "Oops!" factor. There will also be live painting to enjoy and interactive activities for all ages. If you can't make it in-person, there is an online event also at the same time. It's perfect too for artists to get their work seen whether they are students, amateurs or seasoned professionals. Everyone is welcome!
The festival will be held April 29-30, 2023 inside at the 31st Street Studios in the Lawrenceville neighborhood. Address is 77 31st St., Pittsburgh, PA 15201.
The Strip District is very close by, as are the shops and restaurants in Lawrenceville, so it's a great way to spend the weekend!
2023 Pittsburgh Fringe Festival
https://www.pittsburghfringe.org/
Pittsburgh Fringe is back as an in-person event this year after being only virtual during the pandemic. It will have its virtual shows as well. The in-person venues will be along Penn Ave. in the Bloomfield, Garfield, East Liberty and Friendship neighborhoods, where there are galleries, alternative spaces, restaurants, and other venues where you can find everything from visual arts, theater, poetry, comedy, puppetry, dance and so much more. Ticket prices are very reasonable, so it is an affordable option for date night or just to go and enjoy Pittsburgh's East End.
The festival is being held April 26-30, 2023 all along Penn Ave..
The Fringe is modelled after the Edinburgh Fringe in Scotland. It is all-inclusive and is meant to give artists and performers a chance to showcase their work who otherwise may not have multiple opportunities to do so. I haven't tried this one yet, but it sounds like so much fun and what better way to shake off those pandemic cobwebs?
Rivers of Steel
May is the start of programs, exhibits and tours season for Rivers of Steel, an organization devoted to preserving the industrial heritage of Pittsburgh. This is a group I am particularly fond of since one of my favorite subjects to paint are the steel mills. This is not a boring lecture type of museum.
It's a non-profit group that is working as hard as any steelworker to preserve the Carrie Furnaces, a National Heritage site, educate and encourage visitors with Carrie Furnace tours (built in the 1880's), riverboat tours with the National Aviary (look for the bald eagles!), events like the Beers of the 'Burgh Festival, hands-on workshops like Bladesmithing, Grafitti and Style-Writing, and learn metal-casting with the Doodle Bowl Experience.
Be sure to subscribe to their newsletter packed full of history and events for everyone.
Misc.
*Not associated with any organization-If you want to view some cool local graffiti/street art anytime-not for the kiddos though, check out the graffiti walk along the Mon River on the SouthSide at the end of 9th St.-you have to walk across the RR tracks to get to it and I would not go at night. I'm not sure how to access it otherwise but I have seen people biking and walking along it.
Dollar Bank Three Rivers Arts Festival
This is one of the biggest festivals of the year in downtown Pittsburgh, running from June 2-11, 2023 for a full ten days of visual arts, music, installation art, and performance art. It is a family-friendly event, free to attend. For the past few years, it went from all virtual to a scaled down hybrid of in-person and virtual events. This year though it is back at full scale both in-person and virtual. There are hands-on creative activities for all ages, a juried indoor exhibition for artists from within 150 miles of the city, a juried Artists Market, and concerts featuring a wide variety of genres including Appalachian and folk music, the Pittsburgh Symphony Orchestra, indie rock, R & B with Grammy winner Corinne Bailey Rae, rap, hip-hop, blues and more. *Juried means the artists are selected by an arts professional juror, but not all are accepted into the exhibition/market.
The Artists Market has something for every budget, and features mostly Pittsburgh regional artists. My favorite feature is the Emerging Artist Award, where the festival awards a set number of "scholarships" for artists who are not yet established in their careers so they can present their work in the Market without the high cost of booth rental, canopy, and displays. It has proven to be an excellent launching pad for several successful artists' careers.
The festival is HUGE, so wear comfy walking shoes and it is usually very hot. I always carry an extra bottle of water or cold beverage along. Parking can be a challenge but check their website for parking locations and advice. The mass transit buses are a handy option for getting to the festival without the headaches of parking.
It is well-worth spending a full day or a few days so you can enjoy the many offerings by the artists, which change over the course of the ten days. There's something new to see every few days.
Juneteenth Homecoming Celebration 2023
https://www.stoptheviolencepgh.com/wpa-juneteenth/
Another big festival is being held June 16-19, 2023 downtown in Point State Park and Market Square to celebrate the official end of slavery in the US. It is also a full celebration of African-American arts and culture in the Pittsburgh region, with a black tie gala, concerts, speakers and educational activities, local vendors and artists, and of course amazing food!
It is free to the public, all are welcome, and is family-friendly. On Saturday, June 17th, the Juneteenth Voting Rights Parade will be happening downtown to reenact the Jubilee of Freemen Parade from 1870 and the Women's Suffrage Parade of 1914. Take along a folding chair and enjoy all the festival has to offer. Point State Park has plenty of room for kids to stretch their legs and play too. I haven't had a chance to visit this event yet, but I plan to this year. The entertainment lineup hasn't been announced yet.
Websites for Finding Arts Events in Pittsburgh
Arts events and festivals are an easy way to become familiar with a new area, and Pittsburgh with the surrounding counties have so much to offer. After my family and I moved here, we went to many small and large events which let us learn about and appreciate the vibrant, diverse communities and neighborhoods here. I've met so many lovely and talented people from across the world in this city with its signature blend of cultures. It has broadened my outlook on life and even helped me develop my artwork in new directions.
These websites have excellent newsletters to help you make plans and keep updated on events of all kinds in the Pittsburgh region. There is never a lack of things to do here, whether you prefer small gatherings, the nightclub scene, private galleries and small events, or mid-sized events in neighborhoods where you can actually go out and meet your neighbors, or the large festivals with their full scale lineups of entertainment. Part 2 of this post will highlight some lesser known venues and events, and maybe a few larger ones too.
Check these resources as an easy way to plan your outings. In Pittsburgh, we like to take advantage of the good weather as much as possible. There is so much to do here!
https://www.visitpittsburgh.com/
https://www.bizjournals.com/pittsburgh/ (Pittsburgh Business Times)