Pittsburgh: A Home for the Arts Part 2 and Upcoming Events
Posted by Tarasa Hurley on Tuesday, June 13, 2023 at 7:18:06 PM
By Tarasa Hurley / June 13, 2023
Comment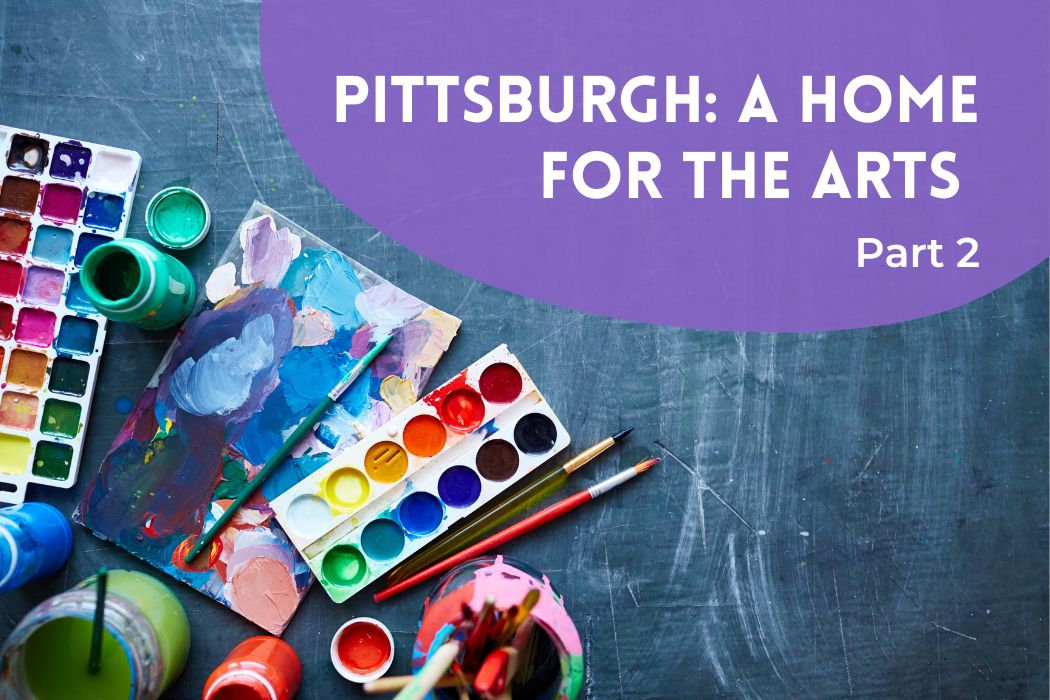 Summer seems to be upon us here in Pittsburgh even if it's not official on the calendar yet. Lots of sunshine, warm temps and loads of artsy things to do. We cherish good weather and any opportunity to get out there and enjoy!
Article by Joann Renner
That being said, you can find just about any type or size arts event in any neighborhood at any given time. It's an excellent way to connect with people and discover the amazing and diverse array of talented artists showcasing their work. You can find work at every price point and in every style by internationally and nationally acclaimed fine artists who use Pittsburgh as their home base, to mid-career and emerging artists to young art students testing the waters.
Why would any artist choose Pittsburgh as a home base? Why not New York City, Los Angeles, Chicago, or go abroad? While all of those are certainly goals for many of us artists, many factors come into play. I have discussed this at length with several artists I know over the past several years. The reasons I gave for bringing my family here reflected their reasoning for either returning from other areas of the country or simply not leaving. The reasons given include: cost of living in Pittsburgh compared to the biggest cities which is high on the list, family connections to this area, a growing and thriving arts community throughout the region especially in the city, and the city's geographical location makes it easy to access any area of the country or abroad for travelling to exhibition opportunities.
Many also teach at all levels, from the youngest in day care to university level and beyond. Plenty of places to do that here! The Internet has certainly made networking so much easier for artists, allowing them to work virtually from areas like Pittsburgh, making career growth faster and more accessible like never before. One can easily apply to competitions, festivals and galleries across the world without leaving home. Another easy way for artists to connect to collectors is to exhibit in virtual exhibitions and apply for features in online arts magazines such as Create! Magazine specializing in women artists. Instagram is the preferred social media platform for artists. Use the hashtag #pittsburghartist to find local artists collectives and local independent artists. They will be very appreciative of your support!
Here's a tip for any level of art buyer/collector-buy what you love, buy what you connect with, and learn about the artist. Every work of art is a part of the artist's soul, their vision, and their love of creating and bringing joy to others. The greatest joy an artist can have is to connect with a buyer who wants to live with their work. And yes, it is possible to make a sustainable living as an artist just as it is for any entrepreneur.
Thank you for supporting local, living artists, because the dead ones don't have bills to pay!
Upcoming Events
In my last blog post, there were some events coming up in June as well as May.
Even more so now!
While some events and festivals are happening soon have non-art themes such as the Pride Festival for example, there are so many events large and small where you can find local art for your home, any style, any price range.
Dollar Bank Three Rivers Arts Festival
Of course the biggest is this one. Located in downtown Pittsburgh, the festival runs from June 2-11, 2023 for a full ten days of visual arts, music, installation art, and performance art. It is a family-friendly event, free to everyone to attend. This year it is at full scale both in-person and virtual. There are hands-on creative activities for all ages, a juried indoor exhibition for artists from within 150 miles of the city, a juried Artists Market, and concerts featuring a wide variety of genres including Appalachian and folk music, the Pittsburgh Symphony Orchestra, indie rock, R & B with Grammy winner Corinne Bailey Rae, rap, hip-hop, blues and more. *Juried means the artists are selected by an arts professional juror, but not all who applied were accepted into the exhibition/market.
The Artists Market has something for every budget, and features mostly Pittsburgh regional artists. My favorite feature is the Emerging Artist Award, where the festival awards a set number of "scholarships" for artists who are not yet established in their careers so they can present their work in the Market without the high cost of booth rental, canopy, and displays. It has proven to be an excellent launching pad for several successful artists' careers.
The festival is HUGE, so wear comfy walking shoes and it is usually very hot. I always carry an extra bottle of water or cold beverage along. Parking can be a challenge but check their website for parking locations and advice. The mass transit buses are a handy option for getting to the festival without the headaches of parking.
It is well-worth spending a full day or a few days so you can enjoy the many offerings by the artists, which change over the course of the ten days. There's always something new to see every few days.
One cool feature is the hands-on activities area. This is perfect for all ages! My favorite is the booth set up by the Pittsburgh Center for Creative Reuse https://pccr.org/ . They provide the materials and guidance for free for creative projects that you can make and take home. Even if you haven't tried your hand at a creative project since grade school, why not stop by their booth and give it a go? There are several other organizations there too but you will have to go and see for yourself. I don't want to spoil all the surprises for you!
The Touchstone Center for Crafts
https://www.touchstonecrafts.org/
While I haven't visited this organization yet, they have a lot going on that might interest anyone living near or visiting Fayette County. It is located near Fallingwater (another amazing must-visit!), Nemacolin Resort and Ohiopyle State Park. They partner with Rivers of Steel for blacksmithing classes, and offer classes in ceramics, glass, jewelry and much more. There are exhibitions, community events, facility rentals, etc. Check them out for your next day trip plans out of the city.
The Sweetwater Center for the Arts
https://sweetwaterartcenter.org/
Towards the northwestern end of Allegheny County is the Sweetwater Center for the Arts, located in the village of Sewickley. They are a well-rounded cultural center offering creative classes for all ages, exhibitions, a holiday market, workshops, lectures, and the Mavuno Festival featuring artwork by black artists, and a jazz festival.
There is an upcoming members exhibition of the Pittsburgh Watercolor Society opening June 16th.
This is another must-visit venue that is family-friendly and welcoming to everyone.
North Hills Art Center
https://www.northhillsartcenter.org/
This gem is located on Babcock Blvd., so it is easily accessible from the city. I have visited this wonderfully intimate facility, and it has a beautiful, well-lit gallery space. It has a welcoming vibe that is professional without being intimidating.
They offer classes for all ages, summer arts camps, exhibitions, and have a fiber arts group. Community outreach is an important part of their mission. The programs Healing Power of Art and ArtReach, along with public art displays in the North Hills area, connect senior care residents and others with arts activities and benefit art shows for helping local animal shelters and the Crisis Center North.
An upcoming exhibition, called Pure Color 2023, is a member's exhibition for the Pittsburgh Pastel Artists League. It runs May 27-June 16, 2023. It is a medium not as many people are as familiar with, as say, watercolors or acrylics. So if you would like to learn more about painting with pure pigment, it is worth the drive over.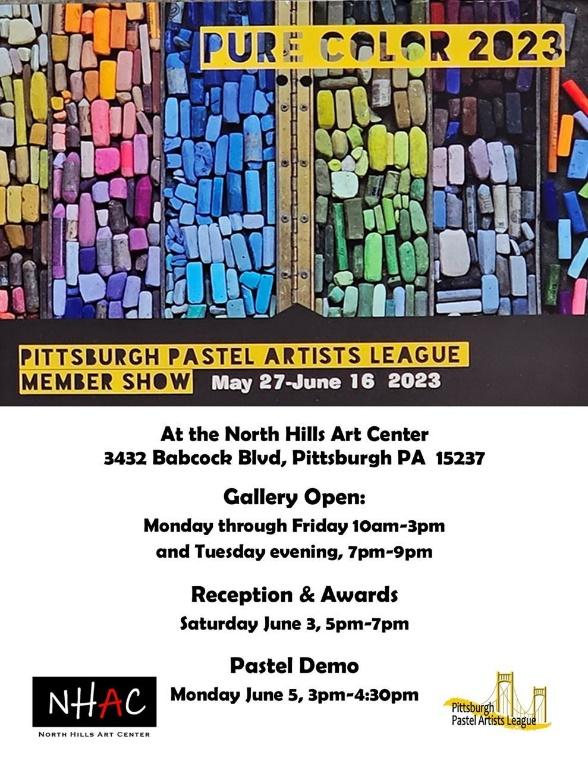 Unblurred: Penn Ave. First Fridays
https://bloomfield-garfield.org/penn-ave/unblurred/
Looking for something artsy to do in the city? Unblurred is an art crawl running most of the length of Penn Ave. in the Bloomfield/Garfield neighborhoods of Pittsburgh. It is organized by the Penn Avenue Arts Initiative. It happens every First Friday, all day until late night, where visitors can see art exhibitions, demonstrations, dance, performances, music, and can check out a myriad of small businesses that make the area so desirable. And this summer marks the return of the Garfield Night Market since the pandemic. It's a nighttime market with local vendors, artists and artisans, music, kids activities and awesome food vendors for a
nighttime snack. It is free to attend and is part of Unblurred. I have attended this one and set up there as well. It is the best of a true community-focused market and very well-organized. The atmosphere is relaxed, family-friendly, welcoming for all, and enjoyable for all ages. Visit their Facebook page for more info.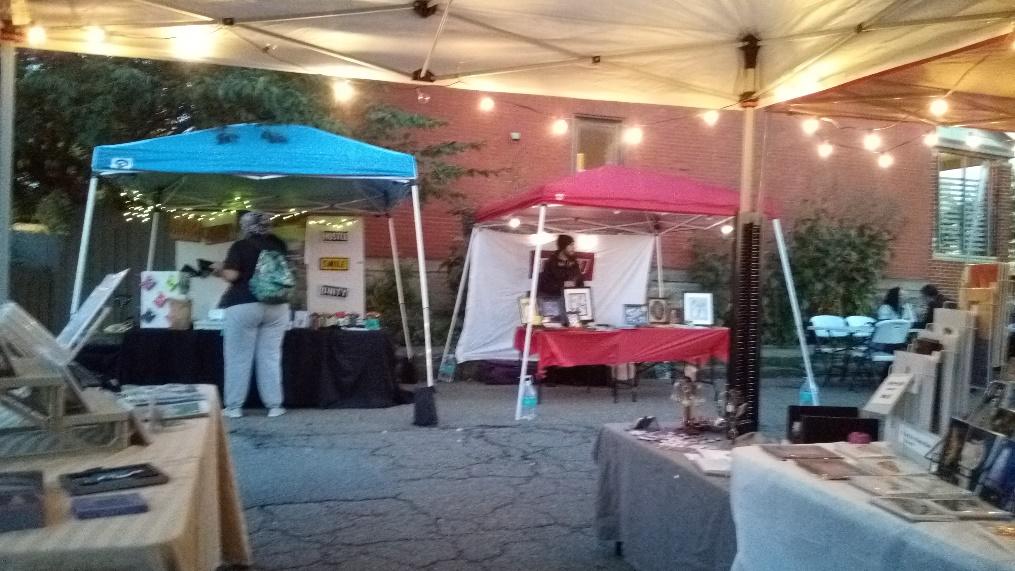 photo credit: Joann Renner
There are so many ways to enjoy art here in Pittsburgh and the surrounding region. If you see something you love, buy it. That empty space on your wall wants it. Just moved in to a new home? Art makes it feel like home. Take a workshop or class. Creativity is essential.
Go explore, enjoy!