Pittsburgh, A Home for the Arts Part 3: Collaborations and Upcoming Events
Posted by Tarasa Hurley on Saturday, September 9, 2023 at 4:04:07 PM
By Tarasa Hurley / September 9, 2023
Comment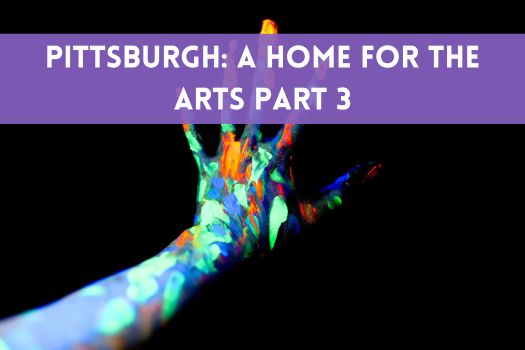 Summer is flying by so quickly this year!
There has been so much to see and do this year and it doesn't seem to be slowing up anytime soon. The kiddos will soon be back in school, college students are moving in again, and us grown-ups will have a chance to check out some things we like for a change (without the eyerolls!). Cold weather will soon be here, so get out and enjoy those outdoor events.
Before I highlight some excellent events and collaborations that I have found, I have been noticing that the Pittsburgh region has become an incubator for collaboration between the arts, communities, and organizations recently. I am seeing more projects where artists and arts groups are working to uplift communities. The results are immeasurable at a nominal cost. By brightening neglected areas, celebrating neighborhoods, history and culture, the arts have a ripple effect of bringing people together for positive change, building neighborhood pride, and restoring hope and job/wealth-building opportunities. When it is done with sensitivity and not gentrification, these things can help reduce crime, blight, and population loss.
Author: Joann Renner
Some Pittsburgh Artists Making a Difference Through Collabs
Instagram is an excellent resource for finding Pittsburgh area artists and their current projects. Whether you are looking for a favorite style, commissions, or to follow an individual's career, it can help you quickly find artists to connect with.
Some of these folks I know personally, some more so online. Not one has asked me to promote them in any way, and most don't even know I like to write as well as paint.
Two artists, Tom Mosser of @tommosserdesigns and Mara Lorusso, who in a previous blog post "Make A Marc", collaborated with over 100 artists to pull together an amazing exhibition last April to bring awareness to the wrongful detention of Pittsburgh teacher, Marc Fogel, by the Russian government. A rally was held in Washington, DC in July with meetings with government officials. Efforts are still ongoing. Change does take time unfortunately.
Korey Edmonson @koreytheartist is a highly skilled portraitist and painter who is currently working on community murals. One is a collab with Korey and two other amazing artists, @tylerpodomik and @jouirnoe with the space provided by @baron_batch @studioampgh. It is located at 2798 Sidney St, Pittsburgh PA next to the Cheesecake Factory. His latest project I think is called "Underwater" but I don't have any details yet as it is still in progress. Follow Korey and his colleagues on IG so you can stay updated on all of their projects. You can also see his work over at Color Park on the South Side.
There are many others doing amazing work for their communities. As I get more info on their projects, I'll write about them in upcoming articles, or if you know of any, please let me know so that I can highlight their efforts @joannrennervisualartist. Be sure to look for them in your neighborhood!
Upcoming Art Events
The days are getting shorter, and soon the outdoor markets will close for the winter months. This is only a tiny sampling of all the arts related events coming up this fall. Now is the perfect time to get your outdoor event fix before the snow flies, and a fun way to get an early start on holiday shopping!
Markets at the Terminal, Strip District
https://www.stripdistrictterminal.com/happenings/2023-terminal-markets-aug26
Markets at the Terminal take place every Saturday from May through October from 10 AM - 2 PM. You can find local artists and vendors, music is provided by DJ Breis Gordan. The vendor list changes regularly and there is a wonderfully eclectic mix of styles, products and gift ideas.
The market is located outside of the 18th St. Passageway at the historic Produce Terminal on Smallman Street from 16th to 21st Street in Pittsburgh.
They also have the Women Who Rock Terminal Market Take Over on Saturday Sept. 16th from 10am – 2pm, with live music and local vendors.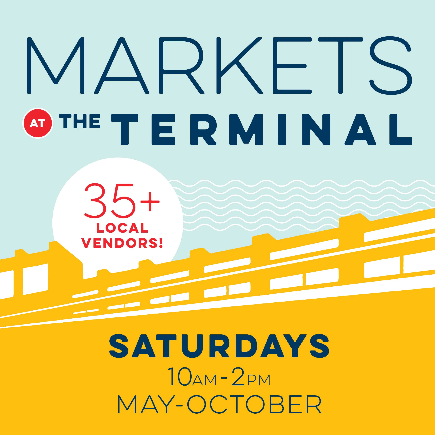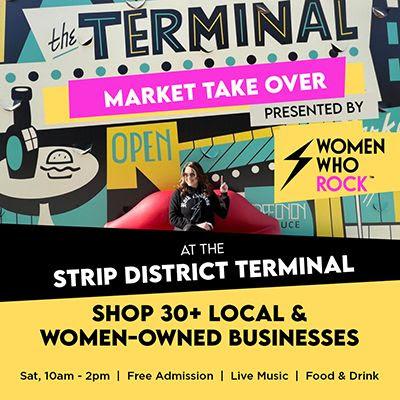 Rivers of Steel events
https://riversofsteel.com/experiences/exhibitions/exhibitions-at-the-bost-building/gledaj-the-gaze-of-maxo-vanka/
GLEDAJ! THE GAZE OF MAXO VANKA
If you are a longtime resident of Pittsburgh, you may be familiar with the Croatian artist, Maxo Vanka. He created the famous murals in St. Nicholas Croatian Catholic Church in Millvale.
This exhibition, a collaboration between The Society to Preserve the Millvale Murals of Maxo Vanka and Rivers of Steel, has been extended through Oct.26, 2023, so there is still time to visit. It is on view at the Bost Building, 623 E. Eighth Avenue, Homestead, PA 15120. There is free parking for visitors in the lot behind the building, enter from Heisel Street.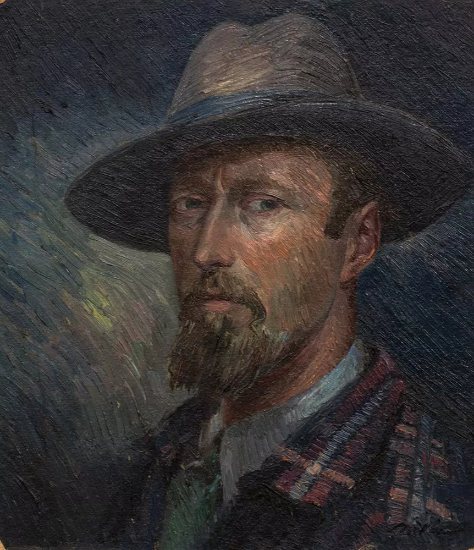 Self-Portrait by Maxo Vanka
The artwork being exhibited is from a gift from his granddaughter, Marya Halderman, and her husband John to the Society to Preserve the Millvale Murals of Maxo Vanka. These original sketches and drawings were completed in 1935 and 1937 of the Pittsburgh region.
Be sure to subscribe to their newsletter packed full of history and events for everyone so you don't miss any of their unique events and exhibits, some of which continue throughout the year.
Pittsburgh Artists Resources - Real Estate Essentials for Nonprofits-Virtual Information Session
Friday, September 1, 2023, at 12 pm
The following is from an email I received from Pittsburgh Artists Resources, a project of the Greater Pittsburgh Arts Council. I thought someone who is involved with nonprofit organizations might be interested.
"Considering purchasing real estate for your nonprofit and unsure of all that ownership entails? Already own a facility and looking for more knowledge on how to manage and sustain the property? Join us for a virtual info session to learn more about how Real Estate Essentials for Nonprofits can help. Registration is required to attend.
Now accepting applications for the series August 15th - September 15th!"
https://www.bridgewaycapital.org/entrepreneurship-hub/bid/real-estate-essentials-for-nonprofits/?utm_source=Bridgeway+Newsletter+Subscribers&utm_campaign=65b7867070-EMAIL_CAMPAIGN_2019_10_30_06_26_COPY_01&utm_medium=email&utm_term=0_d3703e0a31-65b7867070-440412817
"The workshop series will help nonprofits:
Efficiently own, operate, and manage their current facilities.
Determine if building ownership is a good fit when considering real estate acquisitions.
Develop the skills needed to start the real estate process, from acquisition to grand opening.
Access Bridgeway's real estate loans and the opportunity to opt into the Rainy Day Relief Fund, a 0% interest fund that enrolled nonprofits can tap into when capital is needed to tackle unforeseen repairs."
Quoted Source: email from https://www.pittsburghartistresources.org/ Sign up for their newsletter to receive more information like this.
RAD Days and 3 For Free
https://www.radworkshere.org/events
This has to be THE motherload of arts and cultural events for the upcoming fall months!
First of all, it is 3 For Free. RAD is the Allegheny Regional Asset District, a nonprofit that distributes taxpayer funds to parks, trails, libraries, arts and cultural groups, and other nonprofit regional groups. So the 3 for Free is simply free admission to the Children's Museum (also Sept. 10), Senator John Heinz History Center (also Oct.1), and the Andy Warhol Museum (also Sept. 25) until the end of August 2023. You do have to register for timed tickets. It is well worth the day out to enjoy these gems and kindly support local businesses after your visit. Perfect for families too, especially for those on a tight budget.
RAD Days 2023 is 40 days of more than 70 free events at various venues, some do require registering for timed tickets. It lasts from Friday, September 8 through Tuesday, October 17.
Some events include:
Phipps Conservatory and Botanical Gardens (Sept. 8)
Soldiers & Sailors Memorial Hall and Museum (Sept. 12 & Oct. 10)
Pittsburgh Botanic Garden (Sept. 14)
Carnegie Museums of Art and Natural History (Sept. 30)
National Aviary (Oct. 1 & 2)
Mattress Factory (Oct. 4)
The Frick Pittsburgh (Oct. 14)
Fort Pitt Museum (Oct. 14)
Carnegie Science Center (Oct. 15)
Pittsburgh Zoo & PPG Aquarium (Oct. 15)
And some free performances can be found at:
Manchester Craftsmen's Guild (Sept. 9)
Allegheny County Parks (Saturdays, Sept. 16-Oct. 7)
Pittsburgh Opera (Sept. 21, 23, 28, 30)
Hill Dance Academy Theatre (Sept. 22)
South Park Theatre (Sept. 22)
City Theatre (Sept. 23 & 24)
Squonk (Sept. 26)
Pittsburgh Savoyards (Oct. 9)
Pittsburgh Symphony Orchestra (Oct. 10)
The full calendar is at https://radworkshere.us20.list-manage.com/track/click?u=43d2aeb8f7b0f7809a661de9c&id=bb351c9442&e=34876620b4 or you can check the individual organizations websites for more information. There are so many possibilities and a wide variety for every interest and taste, definitely check it out before the snow starts flying again! It would be a fun way for dating couples to learn what they each enjoy too!
Asian Lantern Festival-Pittsburgh Zoo and Aquarium
https://www.pittsburghzoo.org/event-asian-lantern-festival-walk-thru/
Friday, August 11 through Sunday, October 29, 2023
If you are looking for something a bit more monumental in scale, the Asian Lantern Festival at the Pittsburgh Zoo and Aquarium is up and running. You can opt for a drive-thru version or walk-thru tour, and you do have to register for timed tickets ahead of your visit. All of the details and options are on their website. My family and I plan on going this year since we were able to actually get everyone's schedules coordinated! It is totally immersive and a cultural treat with performances along the way.
Art on Fire – Pittsburgh Glass Center
https://www.pittsburghglasscenter.org/art-on-fire/
For something to warm you up as the early fall nights start to cool down, consider Art on Fire, a fundraiser for the Pittsburgh Glass Center. According to their website, it's a celebration party and live auction of 100+ one-of-a-kind glass artworks, featuring work by Honorary Artist Mel Douglas and many other international and local artists. The online silent auction and live auction is open to anyone. Tickets can be purchased online through the website. You can bid in the silent auction online using a tablet, computer, or mobile phone, and the artworks up for bidding can be viewed online or at the Hodge Gallery located at the PGC, 5472 Penn Avenue, Pittsburgh, PA 15206.
What many may not know is that Pittsburgh was an industrial hub for glass manufacturing, starting before the steel industry took over. At the start of the 20th century, there were 150+ glass factories in the tri-state region and 80% of American glass was made here by 1920. Your family just might have some Pittsburgh glass as family heirlooms! One of my mom's favorite pieces was a frosted blue candy dish with painted daisies on made by Westmoreland Glass Company.
PGC has classes for adults and youth, events, exhibitions and wonderful facilities for glass artists to create and teach.

There are so many opportunities for discovering something artfully new in the Pittsburgh area. So get out there and enjoy the beautiful fall months coming up!
Here are some good regional sources of arts and cultural events: