Calling All Connoisseurs: The Pittsburgh Art Scene
Posted by Tarasa Hurley on Friday, April 7, 2023 at 12:48:40 PM
By Tarasa Hurley / April 7, 2023
Comment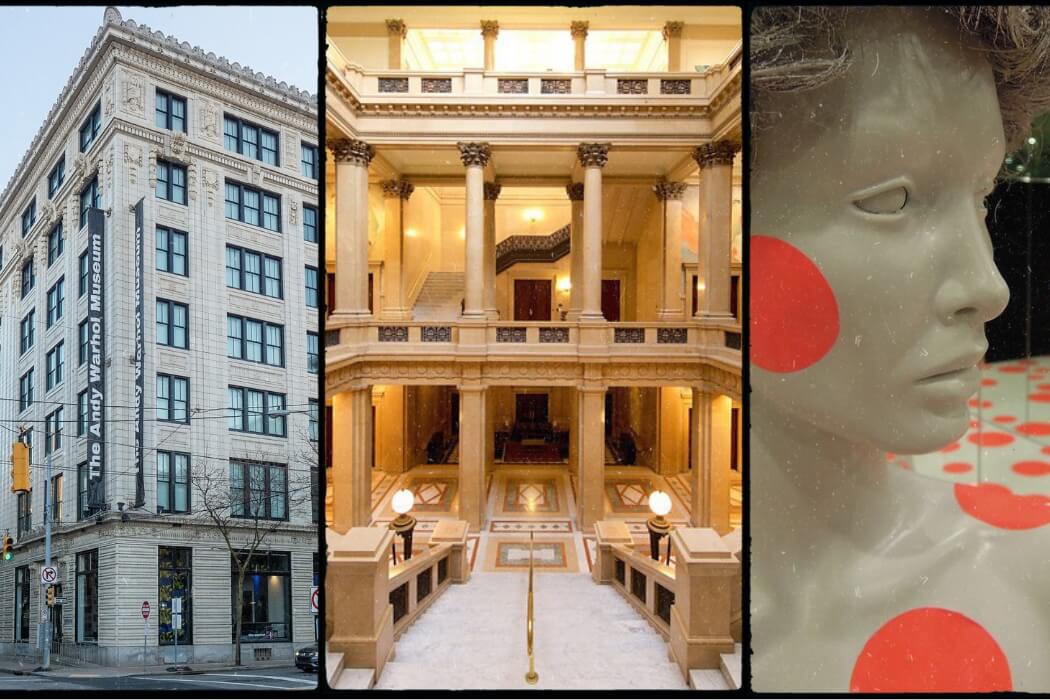 Are you an artist or lover of art looking to indulge yourself in the art scene in Pittsburgh? Stay tuned to this read and learn about the history behind the art movement in the Steel City, the culture, and the great local hangout spots in the burgh area.
Author: Savannah Jackson
Fashion-Graphic Designer & Writer
Andy Warhol: A Pittsburgh Icon
When you think of Pittsburgh's art history, you naturally think of the impact Andy Warhol had on the community. Andy Warhol was a visual artist, film director, and producer of the 1960s. Andy Warhol was a leading figure in the visual art movement known as pop art. Being a native of Pittsburgh has influenced many past, present, and future artists. Without Andy Warhol we would not have the huge pop art culture today. Andy Warhol's impact on the art industry has developed into 17 galleries in one of the largest museums in North America devoted to a single artist, the Andy Warhol Museum.
Interesting facts about Pittsburgh's Art & Architectural History
Did you know the Carnegie Museum of Art was the world's first Modern art museum? Many museums have been created following a similar concept.
Pittsburgh has contributed to more than 80% of glass made in the United States.
Mr. Roger's Neighborhood was filmed in the Pittsburgh area.
In 1905, Pittsburgh became home to the first Nickelodeon modern movie theater.
Pittsburgh has 446 bridges, more than Vence, Italy, or any other city worldwide.
The first T-Rex skeleton was displayed at the Carnegie Museum of Natural History.
The Culture Scene of the Steel City
Pittsburgh is a trendy city with a wide cultural scene. There are always events throughout the year in different areas in the Pittsburgh region.
Pittsburgh Museums
The Mattress Factory located in the Northside of Pittsburgh has a huge expedition. Different new and upcoming artists are always featured in this Museum year long.
Don't forget to check out the Frick Museum of art. Located on the attractive Frick Pittsburgh campus, the museum houses Helen Clay Frick's fine and decorative arts collection and hosts a diverse array of creatively curated exhibitions.
Kelso Museum of Near Eastern Archaeology, located in the Pittsburgh Theological Seminary, covers an array of archaeological finds from modern-day Israel, the West Bank, and Jordan.
Pittsburgh For Nature Lovers
Want to take a walk through nature? Then you should check out Phipps Conservatory and Botanical Gardens, Located in the heart of Oakland. Phipps is one of the hot spots to check out seasonally. They always have a special event for each season, such as the amazing Christmas display with lights and decorations.
Consider a boat ride to enjoy all the activities Pittsburgh's three rivers allow, or visit a waterfront restaurant in the Pittsburgh area to soak up the views of three of Pittsburgh's natural wonders.
Nature lovers spend a carefree day at South Park, one of Allegheny County's largest parks. Sprawling over 2,000 acres, South Park features plenty of lush green, winding trails, and a nature center where visitors can learn more about Southwestern Pennsylvania's environmental history.
Pittsburgh Animal Attractions
Take a walk on the wild side and explore the National Aviary. Soar to new heights, where you can meet tropical birds, owls, other winged species, penguins, and a sloth.
Want more animal interaction to get some inspiration? Check out the local Pittsburgh Zoo & PPG Aquarium. Explore the animal kingdom on land and under the sea while strolling through this major zoo and aquarium that offers educational opportunities and several close-up encounters.
Are you a cat lover? You should check out the Black Cat Market at 5135 Penn Ave in Garfield. Meet a new furry friend at this locally owned and run cat cafe, where you can interact with adoptable felines, enjoy a cup of coffee, and buy fun cat-themed merchandise.
Music in Pittsburgh
Want to listen to some music? Check out the Pittsburgh Symphony Orchestra. The city's Grammy award-winning symphony orchestra celebrated its 125th anniversary in February. After a year of virtual performances, it returns to in-person productions this summer at Hartwood Acres Park. In non-pandemic times, you can find the orchestra performing at Downtown's beautiful Heinz Hall. Want more music culture scenes? The MCG Jazzhttps://www.manchesterbidwell.org/mcg-jazz is the longest-running subscription jazz series in the country, presenting an eclectic mix of musicians and vocalists of the genre.
You Can Count On Having a Good Time at Pittsburgh Parades
Want to be a part of the parades? Get proactive by joining Dick's Sporting Goods Marathon Run with over 40,000 runners of all ages and abilities. This Marathon happens throughout the year.
Pittsburgh's Pride Revolution Parade: Kick off Pride month with a celebration in Pittsburgh! Pittsburgh Pride Revolution will feature performances, vendors, a community march, and free concerts featuring performances by local, national, and international artists.
The annual Dollar Bank Three Rivers Arts Festival is back! Featuring 400+ artists and musicians over ten days, this Only In Pittsburgh festival is one of the best ways to start your summer. The best part? The Three Rivers Arts Festival is FREE!
Looking to network and connect with other artists and art lovers?
Social media is a powerful tool. Get connected with other artists on Facebook, Instagram, and Twitter. You will be quite surprised by how many groups there are for local art events. For example, check out the Pittsburgh Happenings Group on Facebook. The Pittsburgh Happenings Group always posts local artsy events for many people, like festivals, theater, concerts, and art shows. This Facebook group is worth checking out to stay updated on upcoming local events.
Are you a makeup artist, and you're looking to network? Be sure to check out the Pittsburgh Make Up group. The Pittsburgh Make Up group has local makeup shows. They also help showcase upcoming talented makeup artists as well. You want to take advantage of these opportunities.
Are you looking to volunteer? Join the Art All Night: Pittsburgh Facebook Group. The Art All Night group helps local churches, events, and museums with their art attraction.
Are you looking to help nonprofit organizations? You should check out the Pittsburgh Center for Arts & Media. The Pittsburgh Center for Arts & Media is a contemporary visual and media arts nonprofit organization. They have been offering art education for 75 years now. The PCAM provides various art programs, including photography, film, and pottery. They're also a mentorship program that helps people enhance their art skills and networking.
If you want to be more specific about what you're looking for when you're networking to meet other fellow artists or wanting to attend events. There's this handy site called meetup.com. This site allows you to be more specific in the search engine. This website allows you to put your location and exactly what you're looking for, which cuts down on the time of searching.
What's your inspiration?
You may want to avoid going to a museum or local art events. Here are some public places where you can draw inspiration for your artwork. Point Park in downtown Pittsburgh this area is by far the best view in the downtown Pittsburgh area. You could do this all year long. I recommend doing this in the spring, summer, and fall seasons. Relax, grab your favorite beverage, sit down, and enjoy the great view.
Are you looking to view the whole city of downtown Pittsburgh? Take the Duquesne Incline or Monongahela Incline to observation decks and restaurant areas. This area is the best option to see the whole view of the city. For you photographer lovers, this is a great place to take photos. This location would make a stellar shot.
Want another place to explore nature? Consider going for a hike through Ohiopyle State Park. It is located about an hour in a half past downtown Pittsburgh. A 20,000-acre natural wonderland features 79 miles of hiking, 27 miles of biking, and 11 miles of horse riding trails. There are two majestic waterfalls (Cucumber Falls and Ohiopyle Falls) and a natural water slide.
People who love adventure and exploring should check out Laurel Caverns. Go deep underground at Laurel Caverns, Pennsylvania's largest cave. Follow a guide for a tour of the caverns or learn cave rappelling from a seasoned instructor. Experienced climbers might also want to try spelunking at this natural wonder.
Pittsburgh Mural Art
Are you feeling on the edgy side? Be sure to pay close attention to Pittsburgh, PA's art & graffiti scene. Pittsburgh is home to a diverse arts and culture scene, which includes an eclectic collection of fantastic murals throughout the city's 90 unique neighborhoods. There are so many great spots to enjoy the graffiti art scene. I highly recommend some great spots if you want inspiration from graffiti art. Here's a new graffiti art taking the steel city graffiti art by storm: check out the Mac Miller, August Wilson & Strawberry Way design. Near ID Lab in Etna, where Mac Miller recorded his songs, the artist who made this unique art name is Gustavo Zermeño Jr. Even though the artist Gustavo Zermeño Jr is a California native, it is clear Mac Miller was one of his inspirations.
Just created in July 2022, James "Yaya" Hough's A Gift to the Hill District" celebrates the historic neighborhood with a tableau of evocative scenes and words that challenge the viewer. The backstory of this art symbolizes the Pittsburgh community of self-awareness of things people deal with daily within the community. Take time to stroll through the Liberty and Strawberry way. This design had 40-grade school kids contribute to this masterpiece.
Jason Voorhees's graffiti art snatches viewers' attention in Lawrenceville. Horror icon Tom Savini, aka Jason Voorhees, holds his iconic mask in this design. The artist Jeremy Raymer has done a fantastic job capturing Tom Savini in the design. The subject matter takes up about 2,000 square feet. Be sure to check out the cool design in Lawrenceville.
The story of Wilkinsburg is depicted in this mural that runs along the east busway. Kyle Holbrook worked with kids from the local Boys and Girls Club to create this vision of what the area has been about throughout its existence. This piece was one of Mr. Holbrook's earlier murals in the area. Since creating this in 2004, many more public artworks have been done with either the KH or MLK Community Mural Project signatures. Kyle Holbrook founded MLK (Moving the Lives of Kids) Community Mural Project in 2007, and the project has spread to several other states plus some international locations. Professional artists team with disadvantaged kids to create something beautiful in often blighted areas. We've seen a lot of these murals around town. In this particular mural, the history of the Wilkinsburg area is depicted with a lot of detail.
Closing Thoughts
The Steel City has a huge enriching art history being explored by many community members. Even if you're not a Pittsburgh, PA, area local, you should still check out these hot spots. Not only have many events inspired various types of artists in the Pittsburgh region but around the globe. The art scene has affected many other places and continues to grow. Without the Pittsburgh art scene, it would be like living in a world where we only see black & gray. But the art world is meant to be shared with others.
Encourage your friends and family to explore the art scene in the area!