Pittsburgh's Richest Neighborhoods | Top 3 From 2022
Posted by Tarasa Hurley on Tuesday, May 2, 2023 at 9:04:30 PM
By Tarasa Hurley / May 2, 2023
Comment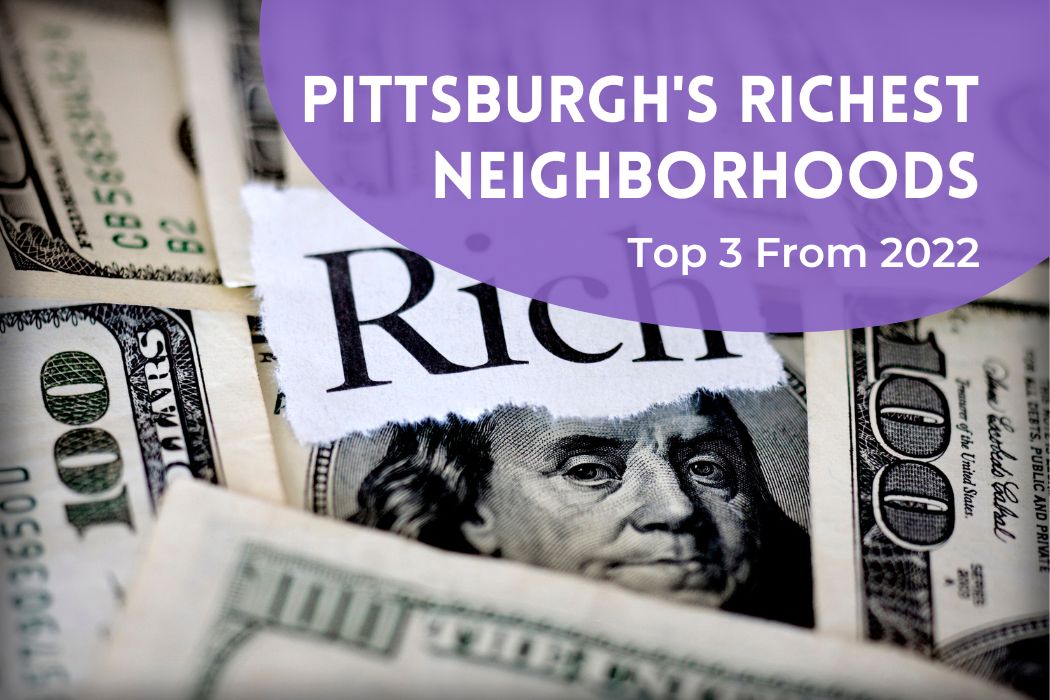 The Richest Neighorhood In Pittsburgh
Shadyside is Pittsburgh's richest neighborhood.
How to Determine Richness
There are so many ways to determine the rich neighborhoods in Pittsburgh, but this is a real estate website, so we will use real estate sales data. We define "rich" as the purchase of luxury properties. Luxury homes are usually the top 5% most expensive properties in an area.
Looking at all the sales data for the previous year, 2022, we can see that over 3300 homes listed on the WestPenn MLS sold within Pittsburgh. Taking the top 5% of each neighborhood and sorting from top to bottom, we can find the sales prices where luxury properties start in each neighborhood.
Other Rich Neighborhoods in Pittsburgh, PA
In order, the top 3 most rich neighborhoods in Pittsburgh are Shadyside, Squirrel Hill, and Point Breeze. These areas are all adjacent and cement the east end of Pittsburgh as a prime location for wealth in Pittsburgh. All of these areas have some of the most expensives homes in Pittsburgh with uxury home prices over 1 million dollars.

The Most Expensive Neighborhood In Pittsburgh
The most expensive neighborhood in Pittsburgh is Point Breeze. The typical sales price of a home in Point Breeze ranges from $450,000 to $650,000. This is significantly higher than other Pittsburgh neighborhoods.
Other instances of Pittsburgh's most expensive neighborhoods are Highland Park, Friendship Park, Squirrel Hill, and Shadyside.
Data for Pittsburgh: Richest Neighborhoods and Most Expensive Neighborhoods
Below is the data for neighborhoods where ten or more properties sold in 2022, rounded to the nearest multiple of $50,000.
The "Luxury Sales Price" represents the 95th percentile sales price and above. Above this price is a "rich" property.

The "Typical Sales Price" represents the 35th to 65th percentiles. This price is what most people can expect to pay when buying a property in a neighborhood.

The "Number Sold" is the number of properties sold in 2022 in a neighborhood.
| Neighborhood | Luxury Sales Price | Typical Sales Price | Number Sold |
| --- | --- | --- | --- |
| Shadyside | $1,600,000 | $300,000 - $600,000 | 188 |
| Squirrel Hill | $1,300,000 | $350,000 - $550,000 | 247 |
| Point Breeze | $1,100,000 | $450,000 - $650,000 | 60 |
| Highland Park | $850,000 | $400,000 - $550,000 | 57 |
| East Liberty | $750,000 | $200,000 - $600,000 | 47 |
| Downtown Pgh | $750,000 | $250,000 - $350,000 | 104 |
| Lawrenceville | $750,000 | $300,000 - $450,000 | 259 |
| Friendship Park | $700,000 | $400,000 - $500,000 | 21 |
| Mt Washington | $700,000 | $200,000 - $300,000 | 187 |
| Central North Side | $650,000 | $300,000 - $450,000 | 83 |
| Oakland | $600,000 | $150,000 - $250,000 | 131 |
| Regent Square | $550,000 | $400,000 - $500,000 | 15 |
| Garfield | $500,000 | $200,000 - $350,000 | 25 |
| East Allegheny | $500,000 | $350,000 - $400,000 | 18 |
| South Side | $500,000 | $200,000 - $300,000 | 175 |
| Bloomfield | $450,000 | $250,000 - $300,000 | 54 |
| Manchester | $450,000 | $200,000 - $250,000 | 31 |
| Brighton Heights | $400,000 | $200,000 - $250,000 | 106 |
| Stanton Heights | $400,000 | $200,000 - $300,000 | 55 |
| Morningside | $400,000 | $250,000 - $300,000 | 50 |
| Troy Hill | $350,000 | $150,000 - $300,000 | 46 |
| Polish Hill | $350,000 | $200,000 - $250,000 | 12 |
| Greenfield | $350,000 | $200,000 - $250,000 | 106 |
| Observatory Hill | $350,000 | $150,000 - $200,000 | 44 |
| Summer Hill | $300,000 | $150,000 - $200,000 | 12 |
| Hill District | $300,000 | $100,000 - $200,000 | 18 |
| Banksville/Westwood | $300,000 | $150,000 - $200,000 | 105 |
| Brookline | $300,000 | $200,000 - $200,000 | 227 |
| Lincoln Place | $250,000 | $150,000 - $200,000 | 54 |
| Fineview | $250,000 | $150,000 - $200,000 | 17 |
| Beechview | $250,000 | $150,000 - $200,000 | 92 |
| Chartiers City | $250,000 | $150,000 - $150,000 | 10 |
| Spring Hill | $250,000 | $100,000 - $150,000 | 32 |
| Perry Hilltop | $250,000 | $100,000 - $100,000 | 23 |
| Overbrook | $250,000 | $150,000 - $150,000 | 49 |
| Hazelwood | $250,000 | $50,000 - $100,000 | 15 |
| Crafton Heights | $250,000 | $150,000 - $200,000 | 50 |
| Elliott | $250,000 | $50,000 - $100,000 | 27 |
| Lincoln-Larimer | $200,000 | $50,000 - $100,000 | 23 |
| Marshall Shadeland | $200,000 | $50,000 - $150,000 | 35 |
| Carrick | $200,000 | $100,000 - $150,000 | 115 |
| Sheraden | $200,000 | $50,000 - $100,000 | 75 |
| Mt Oliver | $200,000 | $50,000 - $150,000 | 40 |
| Allentown | $150,000 | $50,000 - $100,000 | 11 |
| Beltzhoover | $150,000 | $50,000 - $100,000 | 12 |
| Arlington | $150,000 | $100,000 - $100,000 | 10 |
| Homewood-Brushton | $150,000 | $50,000 - $50,000 | 18 |
| Knoxville | $150,000 | $50,000 - $100,000 | 33 |