Visual Treats in a Nutshell: Pittsburgh's Independent Small, Tiny Galleries, And an Unusual Upcoming Art Event: Part One
Posted by Tarasa Hurley on Thursday, October 19, 2023 at 10:19:51 PM
By Tarasa Hurley / October 19, 2023
Comment

Who says fine art has to be big to be amazing?
The fall and winter seasons are a lovely time to slow down the hectic pace of large summer events and festivals, to enjoy the changing scenery and prepare for the holidays.
In the last blog post, I highlighted some larger scale events or venues that were a wonderful way to close out the summer arts season. So why not give a shout-out to smaller scale events and venues which are just as noteworthy as their bigger counterparts?
Small art and tiny art are essential for decorating small spaces, like that blank narrow wall in your home office, some older homes and city apartments. Wall space is often at a premium, so finding a lovely piece to fit can be challenging. Small, independent brick-and-mortar galleries are a staple of the local art scene, offering event space rentals, educational classes and events, collaborations between artists and other practitioners like wellness experts, and of course top-notch exhibitions!
If you would like to experience art in a more intimate setting with people who are truly passionate in their vision of promoting art, artists, and their communities, Pittsburgh has some wonderful small, independent art galleries and even tiny ones. You can find high quality artwork from local, regional and internationally exhibiting artists. Some are new, some were lost to the economic ravages of the pandemic, and some have survived to become strong advocates for the arts in their communities.
You can find artist collectives, commercial galleries, pop-ups, and tiny galleries throughout the city and surrounding areas. There are far more than I expected to find, so this will be at least a two-parter. Some small galleries and organizations I have mentioned in previous posts but am including them too as a refresher.
And Pittsburgh has LOTS to discover!
Article By Joann Renner 10/14/2023
Upcoming Event: Art Battle Pittsburgh!
https://artbattle.com/events/ab2641-pittsburgh/
This is a fun new live art event this year so I just had to include it!
It will take place at the Bulgarian Macedonian Cultural Center, 449 W. 8th Avenue, West Homestead, Pittsburgh, PA on Nov. 16th. Tickets are available at https://www.eventbrite.com/e/art-battle-pittsburgh-november-16-2023-tickets-722290950677 It is for 21+ only, and sounds like a really unique date night!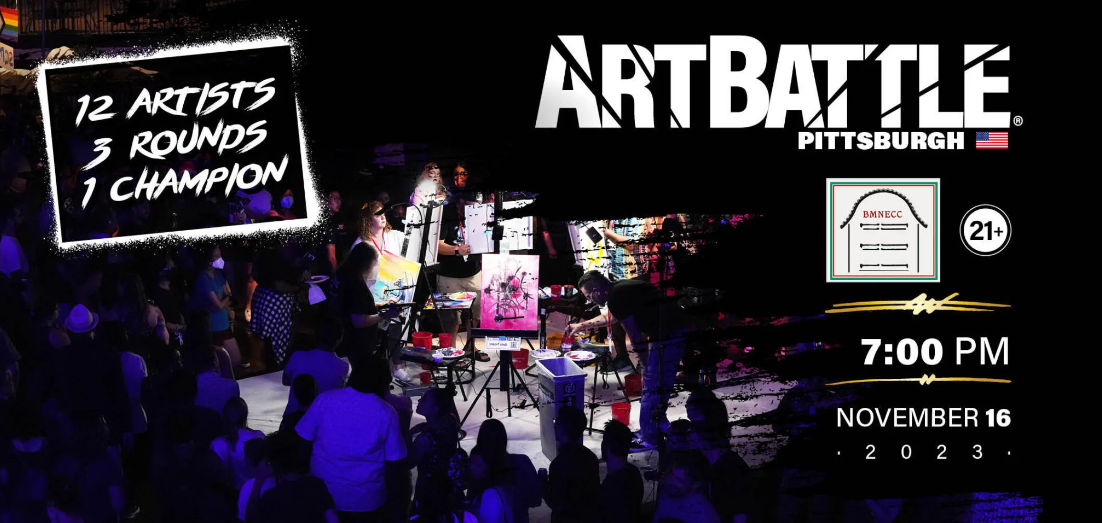 Photo credit: ArtBattle website
From their website: "Assemble your squad and get ready for a night of epic creativity! Watch as talented artists battle it out in three rounds of 20-minute masterpieces, all created with open materials.
The pieces will be auctioned off and the crowd will crown the ultimate champion of the night.
Be a part of the fun as a spectator or participate as one of the featured artists by applying online at www.artbattle.com/artists!"
Tiny Galleries
My favorite are the tiny galleries, but I was only able to find two in Pittsburgh. If you know of any others, please let me know because I would love to visit them and I'll gladly highlight them in another blog post.
Free Little Art Gallery, Sharpsburg
https://flagsharpsburg.wixsite.com/website/
The first one is the Free Little Art Gallery (@flagsharpsburg on Instagram), located at 713 Main Street, Sharpsburg, PA 15215, across the street and up a bit from Ketchup City Creative. The idea is similar to the little free libraries found in many cities and towns, where small art is displayed instead of books for the community to enjoy.
So how does it work?
Anyone is welcome to leave artwork in the gallery. You are also welcome to take any piece of artwork for free. It's that simple!
They do ask that you take photos of your donations or art that you've collected and share them on Instagram. Use #flagsharpsburg or tag @flagsharpsburg.
And please don't take the interior permanent display stuff like easels, figures, and shelves. ​
The selection is constantly changing, so it's a fun, easy way to start a collection by local artists! You never know what you will find there. I've seen collage, handmade cards, mini paintings, watercolors, drawings, just to name a few. It's a great way for the kids to show off their creations without fear of judgement or have them start their own art collections without any investment. And it's a wonderful opportunity for artists of all levels to just enjoy sharing their work for the sheer love of creating. I have a small collection of pieces I found there in my studio to remind me of the rich variety of artists in this area. I like to leave small pieces there too whenever I go to Sharpsburg.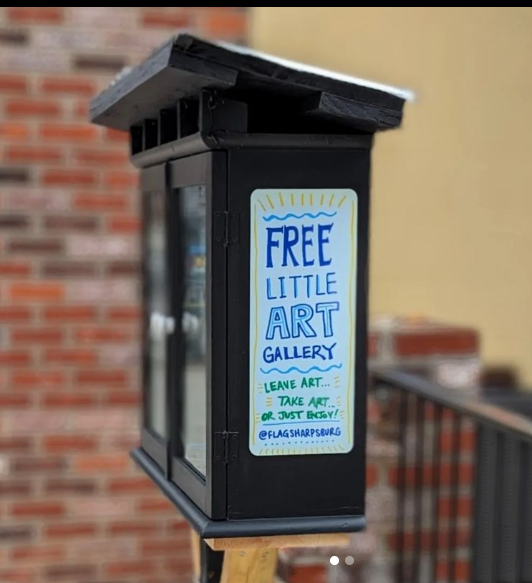 Photo Credit: @flagsharpsburg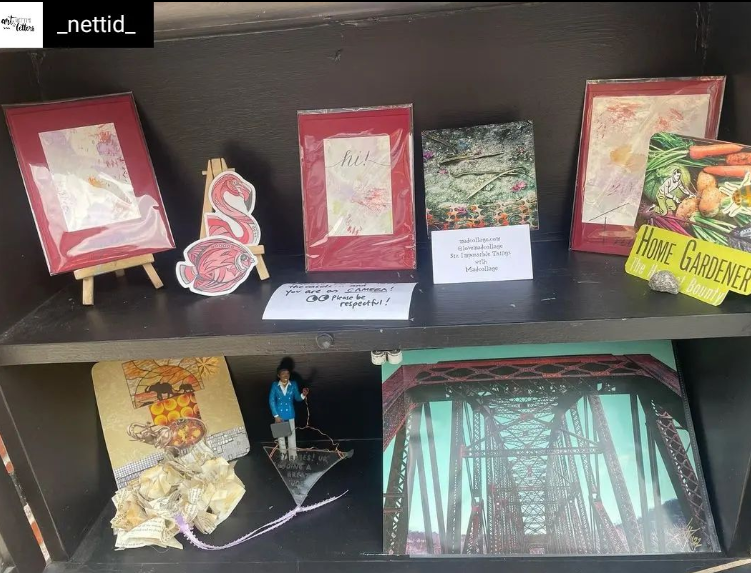 Photo credit: @flagsharpsburg and @_nettid_ (the artist who donated the hand lettered watercolors on the top shelf)
The Silver Apple Gallery
Instagram @silverapplegallery
https://pittsburghorbit.com/2023/02/12/a-window-of-whispers-one-year-at-silver-apple-gallery/
The Silver Apple Gallery is located at 255 Main St., in a residential part of Pittsburgh's Lawrenceville neighborhood. Like the Free Little Art Gallery, it is tiny. It is different though in that there are rotating exhibitions 2x every even month featuring tiny works by individual artists and the art is for sale, just like in a traditional brick-and-mortar gallery. The odd months feature the give-and-take along model of the Sharpsburg gallery where artwork is free.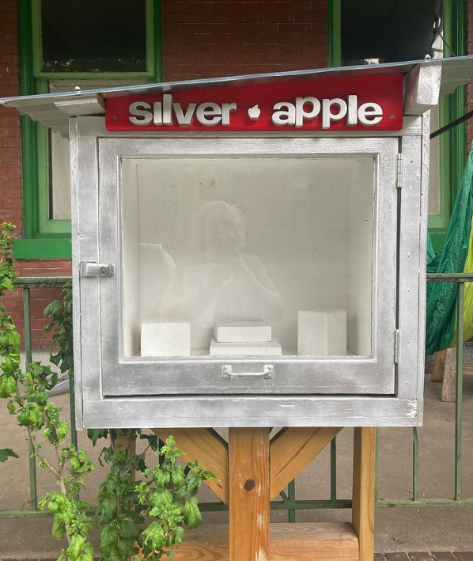 Photo credit: Silver Apple Gallery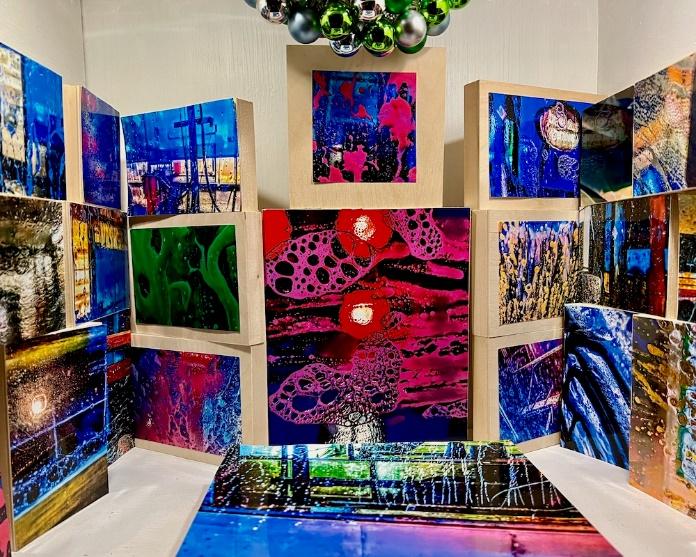 Photo credit: Silver Apple Gallery, Paintings by Suzanne Werder "Car Wash" Feb 1-14, 2022
If you are an artist looking to have an exhibition at Silver Apple, you can DM them on Instagram @silverapplegallery or contact them through the Pittsburgh Orbit website link above.
I could not find any other similar galleries in Pittsburgh, but if you find any, I would love to hear about them!
Small Independent Galleries
Now this turned out to be a much bigger list than I anticipated, so my next post will continue on with the theme. I don't want to deprive anyone of the chance to visit these gems in our area.
When #ShopSmall, #ArtistsSunday and #SmallBusinessSaturday come around, please support these wonderful entrepreneurs, and not just for the holidays. Art is an easy way for you to refresh your space all year long!
Atithi Studios, Sharpsburg
https://www.atithistudios.com/
Since we started off with Sharpsburg, let's visit there again for Atithi Studios, located at 1020 N Canal St., Sharpsburg, PA 15215, close to Ketchup City Creative.
"Atithi, Bengali for guest, is an ode to Rabindranath Tagore's story about a boy who chooses the life of a wanderer. It's a gift to the artist community of Pittsburgh — respite for the artist soul. A place to give & take; to inspire & be inspired."
-Atithi Studios website
It is housed in a three-story former office building wih private artist studios, a gorgeous light-filled modern gallery for exhibitions and events, and a podcast studio. The space is available for event rentals, offers creative programming, and the podcast studio is also available to rent for aspiring podcasters. I've been to the space, and it is a testament to what can be done to renovate older buildings into up-to-date venues which uplift established neighborhoods while retaining the community's unique character.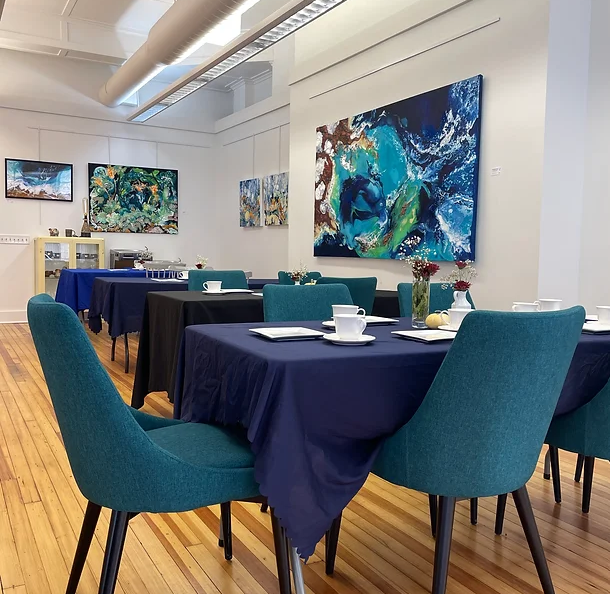 Photo credit: Atithi Studios website
Ketchup City Creative
Ketchup City Creative is located at 612 Main Street in Sharpsburg (Pittsburgh, PA 15215). Another lovely venue in a renovated older building, it is a little smaller than Atithi but the director, Nanci Goldberg, has a huge heart for making a welcoming space for artists and art lovers alike. Her goal is to make art accessible, affordable and engaging for the entire community. I did exhibit in a group show there last spring, and it was a wonderful experience with professional yet authentic people.
The exhibitions are short in duration, usually over a weekend, because the director also works full-time. So when you see an event that you want to attend, be sure to get there on those days. Their website does have a calendar and an email list you can subscribe to.
They also offer space rental for events, private classes, art shows by private curators and certainly opportunities for artists of all career levels.
And just in case you are new to Pittsburgh, Sharpsburg is where H.J. Heinz grew up and started his business by selling bottled horseradish.
Zynka Gallery
Since we seem to be on a roll with Sharpsburg for now, we can check out The Zynka Gallery, an independent contemporary fine art gallery located at 904 Main Street, Pittsburgh, PA 15215 (Sharpsburg).
It is also in an older renovated building with completely updated lighting and gallery rooms which remind you of New York galleries. They are mostly working with Pittsburgh artists as well as "art in situ", which means that the artwork is made for and installed in a specific place or site. Much like installations or sculptures created for someone's garden, for example.
This gallery is highly regarded for professional standards and for representing some of the best artists in the 'Burgh. They are an excellent source of high quality, regional art and for finding art in situ to make your property stand out from the rest!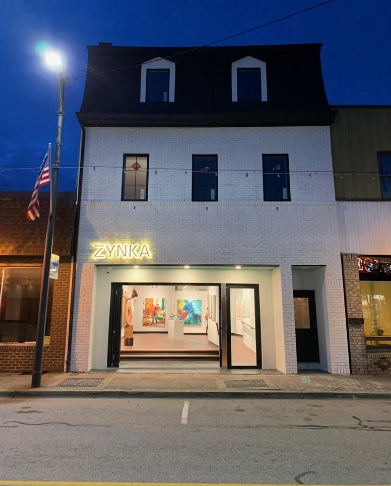 Photo Credit: Zynka Gallery website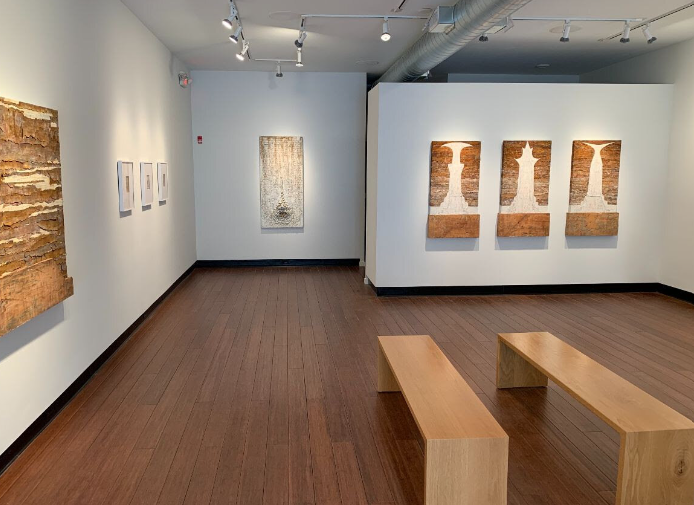 Photo credit: Zynka Gallery website, pghmuseums.org and
artwork by Brenda Stumpf
The Manos Gallery
https://themanosgallery.webflow.io/
Located at 320 E 5th Ave. in Tarentum, The Manos Gallery is the dream of Ernesto Camacho, an artist originally from the Philadelphia area who is now living in Pittsburgh, and Brian DeFelices, a real estate investor who purchased and renovated the former Manos Theater building in Tarentum.
The space has been renovated with apartments upstairs, the gallery space for exhibitions, and rooms to rent for events and classes like kids birthday paint parties. Now that would be a fun B-day party!
They hope to make it a destination for art while helping to rebuild the Tarentum community and the Allegheny-Kiski Valley region. All it takes is one to get revitalization started!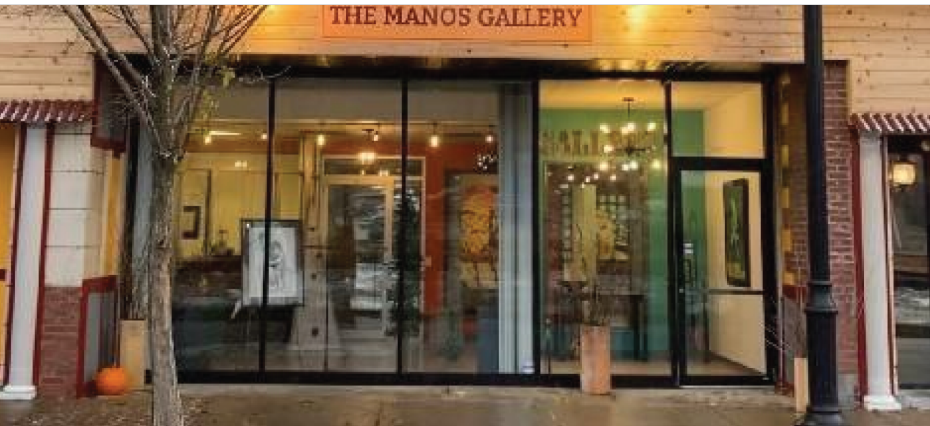 Photo credit: The Manos Gallery website
Radiant Hall
Radiant Hall has three locations:
|R| LAWRENCEVILLE, 4514 Plummer St., Pittsburgh, PA 15201
|R| MCKEES ROCKS, 734 Thompson Ave., McKees Rocks, PA 15136
|R| HOMEWOOD, 7800 Susquehanna St., Pittsburgh, PA 15208
Primarily studio spaces for artists, Radiant Hall is dedicated to providing a safe and inclusive workspace for artists to develop their skills, portfolios, and engage in collaborations, shared resources and learning from each other.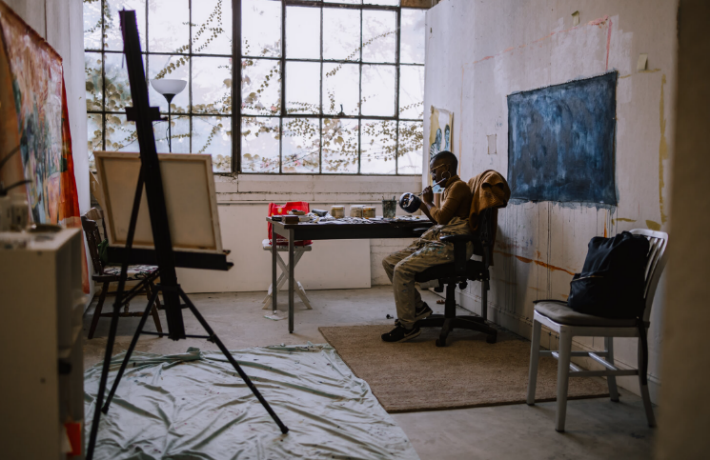 Photo credit: Radiant Hall website
Twice a year they hold Open Studios tours, where the public is welcome to come in, meet the artists, learn about their creative processes, and purchase artwork directly from the artists. Building relationships is crucial to artistic and professional development. It's a safe and authentic way for neighbors and the general public to see how artists work and to see that they are real people, not some weird stereotype or preconceived outsider stigma to be feared. Breaking down societal and professional barriers is crucial to building sustainable careers, uplifting individuals and neighborhoods, and Radiant Hall is deeply dedicated to that mission.
If you have ever been curious about seeing how an artist actually works in real life, this is an excellent destination to do that. Oh, and Radiant Hall is highly respected in the Pittsburgh art community, not an easy accomplishment!
The Ohringer
The Ohringer is housed at 640 Braddock Ave, Braddock, PA. It is an apartment and studio space for artists providing a safe, modern living option and a gallery on the first floor with other amenities. The building itself has been beautifully renovated, and was originally home to the Ohringer Home Furniture Company, built in 1941 when Braddock was a thriving steel town in the Mon Valley.
Oftentimes the arts begin the revitalization of distressed communities. Although Braddock has significant challenges, the Ohringer is one step in the right direction, breathing life and positive energy into the area.
Do stop by whenever you are heading through the Mon Valley, it is a shining jewel once again!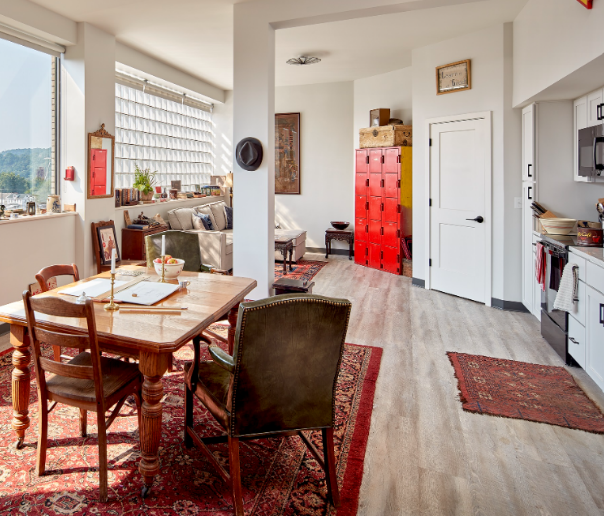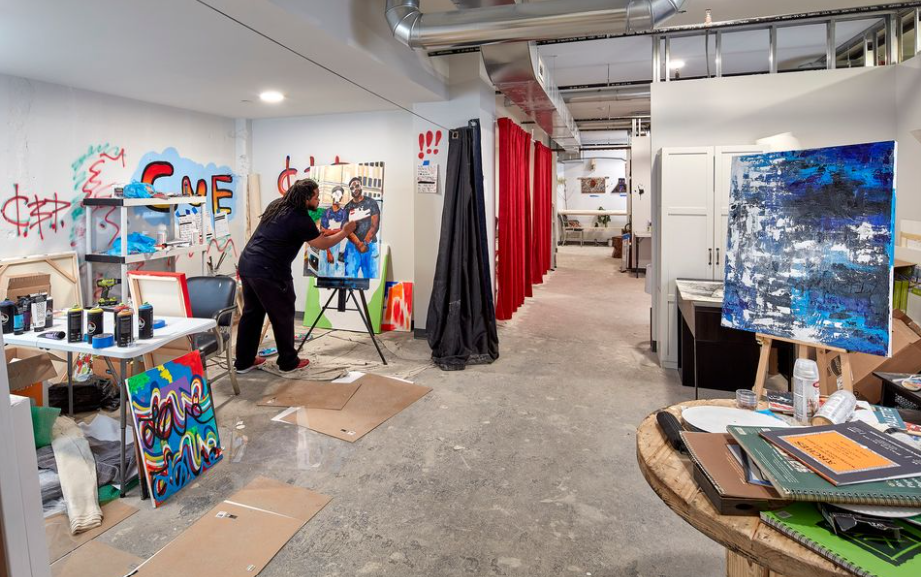 Photo credit for both: The Ohringer website
Conclusion
These are only a few venues that I found, and there are plenty more hidden gems. My next post will highlight some more of these galleries and artist collectives, and of course some more events.
Check out their websites, follow them on Instagram and Facebook, visit when you can and support your favorites!
Happy Fall!!