RADical Days: Free Activities to Have a RAD Fall In Pittsburgh
Posted by Tarasa Hurley on Thursday, September 14, 2023 at 9:16:26 PM
By Tarasa Hurley / September 14, 2023
Comment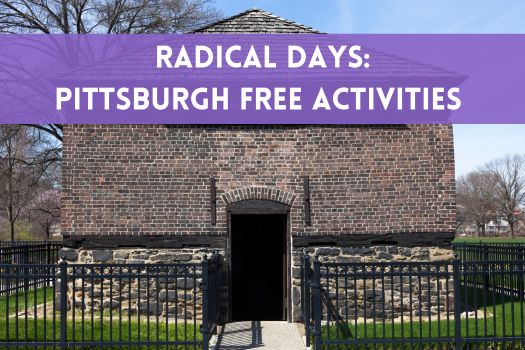 The Allegheny County Regional Asset District, or RAD, is the bureaucratic office that manages over $4 billion of the county's collected taxes and distributes the funds to various municipalities and institutions – from parks (have you noticed the many wonderful parks around here?) to libraries, to public transportation entities. Every year, they thank the county's taxpayers in various ways. One example is "3 for Free," when three of the city's museums offered free admission for a month.
RADical Days is another way that they give back. During this period each year, they partner with various cultural institutions around the region to offer free admission to a wide range of unique experiences, sometimes offering a special presentation or learning opportunity that's not available any other time of the year (like skating on the same rink as our hockey stars). Checking out these locations without having to buy tickets is a way to have fun while being thrifty – something that many try to do while saving up for that down payment!
This is a great way to experience different organizations without making a big commitment.
However, if you visit these places and find one you'd like to visit over and over, you might want to support it with a membership – which often provides a great savings if it's somewhere you plan to visit several times a year. Many families find this is a great option to keep kids engaged and learning year-round. And it helps these organizations keep doing what they're doing, to keep the vibrant culture in our region alive!
This is one of the best things about choosing to live in or near a city. There's so much to learn and do, so many artisans and talented people eager to share their skills and expertise. The weather is cool, but not yet cold – it's a perfect time to explore Allegheny County before the hectic holiday season. So how do you make the most of the 70 events taking place over the 2023 RADical Days? Check our summary below to help you organize your time – and note that some attractions will have admissions caps, so be sure to register early for those requiring pre-registration.
Author: Jessica Manack
Learn the History of Our Region – and the World
There are several opportunities to learn about history from a first-person perspective.
September 18 - Oscar Singer is a Holocaust survivor who lives in Pittsburgh with his daughter. Hear directly from him about his incredible experience of surviving time in five concentration camps.
October 14 - Enjoy free admission to the Fort Pitt Museum (one of our most unique places to visit in Pittsburgh), which details the history of the land surrounding Pittsburgh's Point, and the confluence of Native American life with that of the European settlers.
October 14 - Enjoy free admission to Henry Clay Frick's Pittsburgh home, Clayton, a tourable relic showing the life of the upper-class industrialists of a bygone era, including the Car and Carriage Museum. For a limited time, a special exhibit shares 1600s editions of the works of William Shakespeare.
Family Fun For Free
While some of the free events are meant for older audiences, there are plenty that the whole family can enjoy, too. Give the kids in your life experiences they will never forget.
September 17 - People came from all over the world to settle in Pittsburgh. The Otets Paissii Performance Folk Ensemble has been keeping Bulgarian Macedonian culture alive for 93 years. Take a look at their museum in West Homestead, and watch a rehearsal of their dance troupe – you can even try a few steps!
September 22 - Dance is a big part of many communities in Pittsburgh. The Hill Dance Academy Theatre, which conducts classes for youths between the ages of 3 and 17, offers a jazz performance from Thomas Wendt & Trio uptown.
September 27 - Is your family a football family? Get a behind-the-scenes tour of Acrisure Stadium, including the Steelers locker room!
October 1 - If you missed the summer's 3 for Free promotion, you can visit the Smithsonian's Heinz History Center in the Strip District, with 7 floors of artifacts and history from around our region, including the original set from Mister Rogers Neighborhood!
October 7 - Tour the North Side studios of longtime family radio institution Saturday Light Brigade as they broadcast their weekly Saturday morning show, and have a chance to be on the radio yourself!
October 8 - Frosty fun! Bring your ice skates and be a Penguin for a day by skating at the PPG Paints Arena!
October 17 - Take an interactive tour of PNC Park, learning both about the history of the stadium as well as Pittsburgh's long history of baseball.
Try Something New
Pittsburgh is home to a number of institutions devoted to furthering different arts and crafts, from dance to jazz to glassblowing. Getting to see how these artists master their craft, and what goes into making the beautiful creations they make, is a great opportunity. HAving the chance to try some techniques yourself is something you will not want to miss!
September 20 – Have you often admired the graceful, flowing motions of professional ballet dancers, and wonder what goes into the art? Try it out for a couple of hours with classes at the Pittsburgh Ballet Theater in the Strip District.
September 23 – Been wanting to play with clay? Learn from the ceramics experts at The Union Project, and work on some fall-themed creations of your own!
September 30 – Tour the North Hills Art Center and try two different art projects, painting and collaging with fabric.
Culture In All Corners
Visiting one of the programs in an area you're not familiar with can be a great way to check out a new neighborhood – whether you're shopping for a new home, or trying to get out of a rut. There are several opportunities to explore different parks and institutions around the county – not just in the Pittsburgh city limits.
September 16 - Watch a rehearsal of the Chatham Baroque ensemble on the beautiful Beechwood Farms Nature Preserve - and explore the grounds before or after.
September 22 - Head to the south suburbs to see the theater production "Three Viewings" at South Park Theatre.
October 4 - Enjoy free admission to the Mattress Factory, a unique museum of avant-garde installation art in the North Side.
October 9 - Head to Carnegie to watch a dress rehearsal of Iolanthe, the fall show of the Pittsburgh Savoyards, a theater company devoted to the works of Gilbert and Sullivan.
With over 70 opportunities on the RADical Days calendar, there truly is something for everyone. Take a look at the full list and make your plan. And don't forget to check back around this time next year, to see what new experiences are offered.
Which attractions are on your list? Will you visit a place you've been meaning to check out, or get out of your comfort zone and take this risk-free opportunity to do something you've never done before?