The Ultimate Guide to Relocating to Pittsburgh: Tips for a Smooth Move
Posted by Tarasa Hurley on Thursday, November 2, 2023 at 8:21:25 PM
By Tarasa Hurley / November 2, 2023
Comment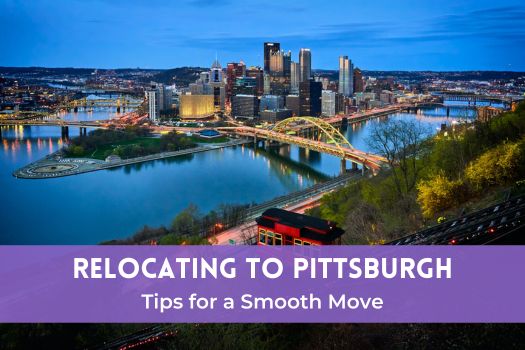 Relocating to a new city is a wild mix of excitement and stress. Pittsburgh, with its awesome history, cool culture, and friendly vibes, is a hot spot for folks starting fresh. But to ensure your move to the 'Burgh goes down smoothly, you have to plan smart.
In this ultimate guide, we've got your back with some top tips and advice to make your Pittsburgh relocation a breeze.
Tips That Will Make Your Move to Pittsburgh Smooth
Get to Know Your New Home

Pittsburgh is a city of neighborhoods, each with its unique charm. Before you start packing, research different areas to find the one that suits your lifestyle. From the trendy Strip District with its vibrant markets to the family-friendly Squirrel Hill, known for its cultural diversity, understanding these neighborhoods will make sure you're not just moving, but moving right. It's all about finding your sweet spot in the Steel City, where you'll create new memories and enjoy the best of what Pittsburgh has to offer. So, explore, ask the locals, and get ready for a fantastic journey!

Create a Budget

Moving can be a wallet-drainer, so it's crucial to set up a budget. Factor in expenses like hiring movers, travel costs, housing deposits, and setting up utilities. Having a clear budget not only prevents overspending but also guarantees a smooth financial transition. It's like having a roadmap for your money, ensuring you navigate your move without hitting any unexpected financial bumps along the way. So, jot down your expenses, plan it out, and you'll be moving into your new place stress-free and financially savvy.

Hire a Reliable Moving Company

Choosing the right Pittsburgh local movers is paramount for a hassle-free move. Take the time to read reviews, compare quotes, and verify licenses and insurance. A reputable moving company ensures your belongings are handled with utmost care, making the entire relocation process much smoother. Entrusting your move to professionals not only guarantees the safety of your possessions but also provides peace of mind. With experienced Pittsburgh local movers by your side, you can focus on settling into your new home, knowing that your cherished items are in good hands. Make your move a breeze by partnering with trustworthy local experts!

Plan Your Packing Strategically

Moving is exciting, but the packing part? Not so much. Here's a tip: start early! According to experts from Three Movers Pennsylvania, the key is to plan strategically. Label your boxes clearly, packing the essentials separately. Creating an inventory list might sound tedious, but it's a game-changer when you're searching for that one specific item. Oh, and don't forget the golden rule – declutter! Moving is a perfect chance to Marie Kondo your life, donate what you don't need, and make your new place feel fresh and clutter-free.

Connect with the Community

Moving to Pittsburgh isn't just about finding a new place; it's about finding your people. Building a social network can make a world of difference. Dive into the local scene by attending community events, joining neighborhood groups, and exploring Pittsburgh's vibrant cultural and recreational offerings. Whether it's a farmers' market, a local art show, or a sports game, being part of the community creates a sense of belonging. These connections will not only help you settle in faster but also ensure you feel right at home in the Steel City. Get out there and make those connections – your new friends and favorite spots are waiting!

Set Up Your Utilities in Advance

Here's a pro-tip for your move to Pittsburgh: sort out your utilities beforehand. Don't wait until the last minute! Coordinate with utility providers, setting up disconnection at your old place and activation at your new home well in advance. Trust us; you don't want to be left in the dark, literally, on moving day. Having water, electricity, and the internet ready to go means you can focus on unpacking and settling in, without any unexpected hiccups. So, make those calls, schedule those appointments, and ensure your new place is cozy and fully functional from the moment you step in.

Explore Job Opportunities

Considering a move to Pittsburgh without a job? No worries – there are plenty of opportunities waiting for you. Dive into the local job market; research potential employers, and don't forget to update that resume of yours. Reach out to your professional network and tap into job search platforms. Being proactive in your job hunt is key. By taking the initiative, you pave the way for financial stability in your new city. Pittsburgh is a vibrant hub with a plethora of career options, so put yourself out there, and you might just find the perfect job that aligns with your skills and ambitions.

Familiarize Yourself with Public Transportation

Pittsburgh boasts a robust public transportation system, encompassing buses, light rail, and iconic inclines. To simplify your daily commute, get to know the ins and outs of the city's public transit network. It's more than just routes and schedules; it's about saving time and money in the long run.

The U.S Department of Transportation acknowledges the city's commitment to providing accessible and efficient public transportation. By mastering this network, you not only reduce your carbon footprint but also gain convenient access to the city's many treasures. So, grab a map, learn the routes, and hop on board to explore the wonderful sights and sounds of Pittsburgh.

Embrace the Pittsburgh Culture

When in Pittsburgh, do as the Pittsburghers do! Immerse yourself in the city's vibrant culture and rich traditions. Catch a game at one of the sporting events, savor the local delights like pierogies and Primanti Brothers sandwiches – they're a must-try! Don't forget to wander through the city's museums and art galleries, soaking in the creative spirit that defines Pittsburgh.

By embracing the local culture, you not only treat your taste buds and senses but also forge a deeper connection with your new home. It's more than just exploring; it's about becoming a part of the lively tapestry that makes Pittsburgh so unique. So, dive in, experience the city's heartbeat, and let the Steel City charm you!
Picking a Neighborhood in Pittsburgh
Pittsburgh isn't just a city; it's a mosaic of unique neighborhoods, each with its own character and charm. Whether you're drawn to the vibrant energy of Downtown or the cultural melting pot of Squirrel Hill, there's a perfect spot for everyone. Let's explore the heartbeat of Pittsburgh through its diverse neighborhoods.
List of Pittsburgh Neighborhoods
Squirrel Hill: Known for its tree-lined streets and cultural diversity, Squirrel Hill is a welcoming enclave with a rich history. Explore local eateries, boutiques, and theaters, and embrace the harmony of different cultures.
Oakland: Oakland buzzes with academic fervor, being home to prestigious universities and museums. Here, intellect meets artistry, creating an atmosphere perfect for students and lifelong learners.
South Side: A vibrant nightlife, trendy shops, and a youthful spirit define South Side. Experience the lively energy of this neighborhood, filled with music venues, pubs, and a dynamic social scene.
Lawrenceville: Artistic and hip, Lawrenceville boasts a thriving arts community and a plethora of cafes. Dive into galleries, live performances, and eclectic shops that make this neighborhood a creative hub.
East Liberty: Undergoing a renaissance, East Liberty combines modern living with historic charm. Explore the fusion of old and new in its architecture, restaurants, and boutiques.
Shadyside: Upscale shopping, elegant Victorian homes, and a sophisticated ambiance characterize Shadyside. Enjoy a leisurely stroll amidst boutiques, dine in style, and revel in the refined atmosphere.
Downtown: The heartbeat of Pittsburgh, Downtown offers a bustling business district, cultural landmarks, and an array of entertainment options. Experience the city's pulse, surrounded by skyscrapers and historic sites.
The Strip District: A food lover's paradise, The Strip District is a bustling market area offering everything from fresh produce to unique finds. Immerse yourself in the aroma of local cuisines and indulge in culinary delights.
Mount Washington: Perched atop hills, Mount Washington provides breathtaking panoramic views of the city. Enjoy the serene residential atmosphere and savor unmatched vistas of Pittsburgh's skyline.
North Side: Home to stadiums, museums, and historical landmarks, North Side offers a blend of sports enthusiasm and cultural richness. Explore museums, catch a game, and dive into the city's history.
Living in Pittsburgh
Before committing to your move, it's essential to familiarize yourself with Pittsburgh's lifestyle. Understand the financial aspects, such as the cost of living in your desired neighborhood, employment opportunities, the process of obtaining a driver's license, and research the best schools for your children. Being well-informed will help you make an informed decision about your relocation.
Renting a Home in Pittsburgh

Securing your ideal home is crucial. Utilize local experts and explore neighborhoods during different seasons to find a perfect match for your lifestyle.

Obtaining a Driver's License and Buying a Car

Familiarize yourself with Pennsylvania's driving regulations. Ensure you have a valid license and appropriate insurance, especially considering Pittsburgh's unique bridge-filled landscape.

The Cost of Living in Pittsburgh

Pittsburgh offers an affordable cost of living, allowing you to enjoy city life without breaking the bank. Bargain for housing and relish in the city's economic accessibility.

Education in Pittsburgh

Whether you're pursuing higher education or seeking enriching experiences, Pittsburgh's universities and museums provide endless opportunities. Immerse yourself in knowledge and creativity.

Working in Pittsburgh

Pittsburgh's diverse job market offers opportunities in technology, healthcare, education, and more. With over 20,000 employment options, your career can flourish in this thriving city.
Conclusion
Relocating to Pittsburgh is an exciting journey, filled with opportunities to explore a vibrant and welcoming city. By planning your move carefully, embracing the local culture, and being open to new experiences, you can make the most of your time in the Steel City. With the help of local experienced movers, you'll be well on your way to a smooth transition. Remember to take your time, savor the local delights, and, most importantly, enjoy your new life in Pittsburgh!