Scenic View Properties in Pittsburgh: Discover Breathtaking Homes & Neighborhoods
Posted by Tarasa Hurley on Sunday, May 7, 2023 at 10:05:11 AM
By Tarasa Hurley / May 7, 2023
Comment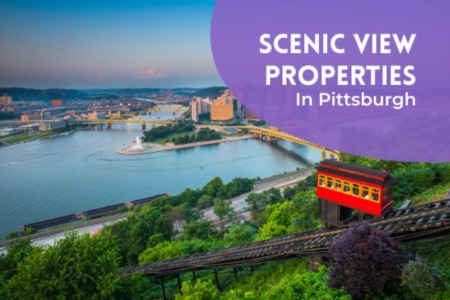 Pittsburgh, renowned for its industrial heritage and dynamic urban atmosphere, is also home to an enchanting natural landscape. Nestled between rolling hills, lush green spaces, and the confluence of three rivers, Pittsburgh and its surrounding areas present a captivating backdrop for scenic view properties. In this article, we will explore some of the most picturesque neighborhoods and locations within the city and its outskirts, where homeowners can appreciate breathtaking vistas from their homes.
Discover Scenic View Properties in Pittsburgh
Mount Washington:

This elevated neighborhood offers unrivaled views of Pittsburgh's skyline and the surrounding rivers. Various housing options, from charming single-family homes to luxurious condominiums, allow residents to enjoy the mesmerizing cityscape from their living rooms.

Fineview:

True to its name, Fineview is a hilltop community north of downtown Pittsburgh, known for its spectacular panoramas. The neighborhood features a mix of traditional brick homes and modern townhouses, many offering striking views of the city and beyond.

"

Fineview

" (

CC BY 2.0

) by

Molly Des Jardin

South Side Slopes:

Located south of the Monongahela River, South Side Slopes is a unique neighborhood with steep streets and incredible vistas. Residents can enjoy river views and sweeping panoramas of the city's skyline.
Picturesque Areas Around Pittsburgh
Sewickley: Just 12 miles northwest of downtown Pittsburgh, Sewickley is a charming suburban village along the Ohio River. The town's riverfront homes offer stunning views of the water and surrounding hills. At the same time, tree-lined streets and historic architecture create a serene atmosphere.
Fox Chapel: An affluent suburb northeast of Pittsburgh, Fox Chapel is known for its sprawling estates and wooded lots. Many homes in this area boast views of the nearby Allegheny River, as well as picturesque landscapes of the surrounding countryside.
Oakmont: Located along the Allegheny River, about 14 miles northeast of downtown Pittsburgh, Oakmont is a quaint borough with a rich history. Riverfront properties in Oakmont provide homeowners with breathtaking views of the water and nearby hills. At the same time, the town's charming main street adds to its appeal.
O'Hara Township

: Nestled along the Allegheny River Valley, O'Hara Township is a picturesque community with a mix of residential properties, from historic homes to newer developments. Many homes in this area feature stunning river views and easy access to recreational activities like hiking and biking trails.
Tips for Buying a Scenic View Property in and Around Pittsburgh
Work with an experienced real estate agent: A knowledgeable agent familiar with Pittsburgh and its surrounding areas can help you find the perfect scenic view property that meets your preferences and budget.
Consider your priorities:

Determine whether you're more interested in cityscape views, river vistas, or panoramic landscapes. This approach will help you focus your search on neighborhoods and areas that offer the views you seek.

Explore different locations:

Visit various neighborhoods in Pittsburgh and surrounding suburbs to get a feel for the scenic view properties available.

Be prepared to pay a premium:

Scenic view properties often have a higher price tag due to their unique location and vistas. Keep this in mind when budgeting for your dream home.
Takeaways
Pittsburgh's diverse landscape and picturesque surroundings make it an ideal city for those seeking scenic view properties. By exploring the city's most captivating neighborhoods and nearby areas and working with a knowledgeable real estate agent, you can find the perfect home that showcases the region's natural beauty from every angle. With the proper guidance and research, you'll soon be able to enjoy Pittsburgh's breathtaking vistas from the comfort of your home.