6 Home-Staging Tips to Sell Your Pittsburgh Home Quickly
Posted by Tarasa Hurley on Friday, September 15, 2023 at 9:06:13 AM
By Tarasa Hurley / September 15, 2023
Comment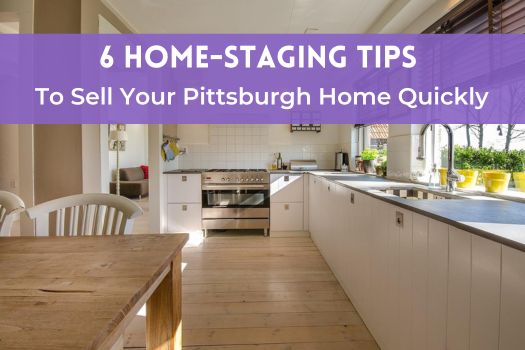 When it comes to the bustling Pittsburgh real estate market, staging your home stands out as a vital step to lure potential buyers. By staging effectively, you can accelerate the selling process and potentially fetch a higher price for your property. Below are some Pittsburgh-centric tips on how to stage your home for a swift sale.
Start Clean. Begin by decluttering and carrying out a thorough cleaning. Pay extra attention to cleaning the carpets, dusting, and ensuring windows are spotless. A clutter-free space looks more significant and inviting.
Showcase a Welcoming Entryway. Pittsburghers pride themselves on their hospitality. When buyers step into your home, the entryway is their first impression. Ensure it's tidy and free from clutter, and add a coat of paint if necessary. A small bench or table for keys would also be a functional addition, mirroring the city's warm, welcoming nature.
Highlight Each Room's Potential. Set the furniture in a conversational layout in the living room, showcasing functionality and coziness. For the kitchen, ensure countertops are clear and all appliances sparkle. Bathrooms should be decluttered with fresh towels, while bedrooms need neatly made beds and organized wardrobes. A nod to the city's local charm in the decor can be a plus.
Minimize Personal Items. To let buyers envision their life in your home, clear out personal items like family photos, collections, and keepsakes. They should see a canvas ready for their own story, not someone else's past.
Brighten Up the Space! Given Pittsburgh's sometimes overcast weather, ensuring your home is well-lit becomes even more crucial. Open all curtains and blinds, allowing natural light to pour in. And don't shy away from turning on lights, even during the daytime. Every room should exude warmth and brightness.
Incorporate Finishing Touches. With the significant tasks out of the way, adding final touches can set your home apart. Consider integrating elements like fresh flowers from local markets, scented candles reminiscent of the area's seasons, or throws and decor items from local Pittsburgh artisans.
Preparing and staging your home for sale in Pittsburgh doesn't just mean tidying up; it means showcasing the potential for buyers to make their memories here. By following these tips, you'll be well on your way to captivating buyers and maximizing your home's selling potential.