Pittsburgh Family Activities: Many Ways to have Family Fun in Pittsburgh
Posted by Tarasa Hurley on Saturday, August 19, 2023 at 10:19:38 PM
By Tarasa Hurley / August 19, 2023
Comment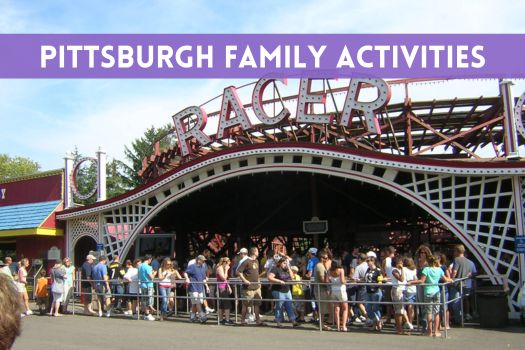 For many years, Pittsburgh suffered from the phenomenon of "brain drain" when young people would complete their higher education in the city, and leave to begin their adult lives and raise families. This is happening less and less, for many reasons, one of which is the fact that the Pittsburgh area is a great place to raise kids, with a broad variety of recreational activities to choose from, to keep both kids and adults healthy and engaged.
Author: Jessica Manack
Family Fun in Pittsburgh Takes All Forms
One of the great things about Pittsburgh is that it offers a little bit of everything: sports, culture, art, history, amusement parks, green spaces, history and technology. You're probably already familiar with a couple of these categories – but what about the ones you're not?
One way to fully enjoy everything Pittsburgh has to offer is to think outside the box. Just because you don't have a high amount of experience in one topic, doesn't mean you can't explore it. Taking advantage of the resources we have here will give your kids a well-rounded childhood, and help prepare them for their higher education and careers.
Theme Parks Are Some of the Best Pittsburgh Attractions For Families
If it ain't broke, don't fix it. That's the philosophy at Kennywood amusement park, which has been a special place for Pittsburgh families since 1898. Sure, they're adding new attractions all the time, with several intense coasters offering gravity-defying thrills for the 52-inches-and-above crowd. But the lasting appeal of Kennywood is its collection of historic rides – some 100 or more years old – that are the same ones Pittsburghers have enjoyed for generations. VIsit here, and your kids will be sharing their memories with their kids someday.
In addition to Kennywood, also southeast of the city, Sandcastle offers thrills of the aquatic variety in a setting that will keep you playing all day.
Outside the city, in the Laurel Highlands, Idlewild Park and Soakzone make a fun day or weekend trip. With two parks' worth of fun for small children, this is another spot that's been open for ages – since 1878 – showing its longevity as a place generations of Western Pennsylvanians return to, to keep making memories year after year.
Pittsburgh Family Activities Can Often Mean Fun in the Sun
There's little better than falling asleep still slightly dizzy from a day of riding coasters and carousels. However, some of the best days our family's experienced have been those with no agenda, packing a picnic and choosing one of the area's great parks or playgrounds, and exploring until we can't anymore. The natural beauty of our region never stops – on a hot day, there's not much better than finding a local swimming hole.
Be A Tourist in Your Own City – Pittsburgh History Is Worth Exploring
Attractions in Pittsburgh for family-friendly fun also include a number of cultural and historical institutions.
The Carnegie Museum complex in Oakland is a great stop, with the museums of art and natural history combined under one roof. It's also connected to the Main Carnegie Library, in case quiet is called for after a day amongst the crowds. In general, the city's 19 libraries are a great place to visit on cold, rainy days – combine a stop with a trip to a restaurant you haven't been to before. In addition to books of all types, they often include play areas for children – and, for whatever reason, there's often a magnetic appeal to toys that are not the ones you have at home.
The Carnegie Science Center is another place where everyone from tots and retirees can all find something interesting, whether it's the water play areas or the historic submarine, the USS Requin. After your visit, walk up and down the North Shore for some exercise and great views of the city and river traffic. You might even decide to rent a kayak from the Venture Outdoors outpost on the Allegheny River (ages 13 and up), or hop on a boat for a Rivers of Steel industrial tour.
(Pro tip: The Carnegie Museums membership is a fantastic value for families, allowing unlimited visits to the Museums of Art and Natural History, the Science Center, and the Andy Warhol Museum, so you always have something to do, and also don't have to worry about wasting your tickets if a meltdown cuts your trip short.)
The Heinz History Center and the Children's Museum are other attractions, both a few minutes from downtown, with a mix of permanent displays and rotating exhibits, making them a great destination a couple times each year.
Check the RAD Days website periodically to see what attractions are offering free admission, an amenity Allegheny County offers to the region several times a year.
There are several other unique sights to take in in Pittsburgh, when you've checked out the main attractions. Choosing activities off the beaten path is a good way to avoid crowds and have a more personalized experience.
Pittsburgh Family Fun in Festivals Throughout the Year
Visiting the city's various cultural institutions and theaters throughout the year is a great idea. However, sometimes live performances require more patience than little ones can muster. That's why the Cultural Trust's Children's Theater Festival is a great choice. Taking place every spring, it's a multi-day event presenting several shows geared toward kids. It's a great way to get children used to the proper behavior to take in live performance.
Open Streets is a series of summer Sundays during which key streets in the city are closed to vehicular traffic, enabling families to walk, bike, skate or otherwise navigate paths not usually traversed on foot.
Some of the outdoor attractions are creative in staying open year-round, like the Pittsburgh Zoo's special events around Halloween and the winter holiday season, and fall's Asian Lantern Festival.
First Night is another way that families can celebrate holidays together with planned activities for all ages. There's even a small fireworks display taking place earlier in the evening, for those who aren't yet able to stay up until midnight.
Pittsburghers love their food, and several festivals are popping up, centered around tasty treats, like summer's Vegfest and the super-popular Picklesburgh.
The holiday season is a special time for so many reasons – and downtown Pittsburgh's Holiday Market is one of them. From shopping for gifts and holiday decorations, seasonal treats, and more, to ice skating at the sparkling PPG Plaza, this is a place to make a new tradition for your family.
Handmade Arcade is another unmissable holiday event. A sale of crafts from independent makers taking place in the Convention Center, this has turned into a days-long extravaganza, with DJs, food, and a makerspace offering visitors the chance to learn about and try different craft and art making techniques.
After You Feed Their Minds, Feed Their Bellies
Appreciate the diversity found in Pittsburgh – one of its greatest assets – by taking your kids to eat a variety of cuisines. Here's a fun way to approach it: for a year, take one day a month to try the cuisine from a country your kids have never experienced before – Japan, India, Trinidad, Brazil, Hungary, Korea…the only question is where to start first!
Buffet-style eateries are a great way to try many flavors in one trip. Allow your children to see the different ways people around the world eat their meals, whether it's handheld tacos, ramen and chopsticks, or injera, the Ethiopian bread used to scoop up bites of food, taking the place of utensils.
There are also American-style restaurants that are inherently better for families with kids, because of the general tolerance for noise and room to move around. Federal Galley and Church Brew Works are two standbys. Mad Mex is another place my family's always been happy to patronize (and their kids' meals are great).
With all the Pittsburgh, PA family activities available, it won't be hard to find something to do on your next family fun day. The hardest part might be deciding what to try first!