6 Tips for Buying Your First Home in Pittsburgh
Posted by Tarasa Hurley on Friday, September 15, 2023 at 9:38:14 AM
By Tarasa Hurley / September 15, 2023
Comment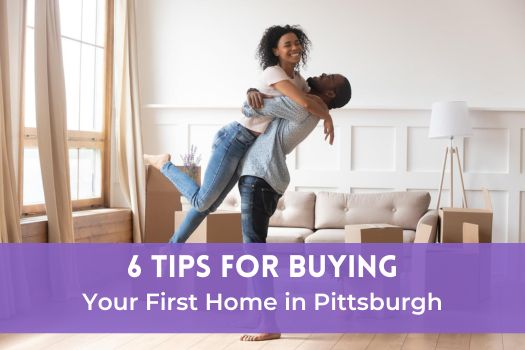 Congratulations on taking your inaugural step toward homeownership in Pittsburgh! Acquiring a home in or around the Steel City is a monumental achievement and a thrilling new chapter in your life. As with any significant life decision, there's a roadmap to follow for a smooth and rewarding journey.
Use this article as your compass in navigating Pittsburgh's real estate market. From pinpointing your ideal residence in one of the city's iconic neighborhoods to sealing the deal, here are our top recommendations for first-time homebuyers:
Kickstart with Mortgage Pre-Approval Before diving into Pittsburgh's diverse housing market, secure a pre-approval. This step estimates your borrowing capacity and fortifies your position with sellers and realtors. In the competitive Pittsburgh scene, this tells them you're not just window shopping—you're serious and prepared.
Familiarize Yourself with Pittsburgh Neighborhoods and Suburbs. Before committing to a particular house, invest time exploring different Pittsburgh neighborhoods. Whether it's the historic charm of Lawrenceville, the bustling streets of Shadyside, or the quiet allure of Squirrel Hill, get a feel for each area's distinct vibe. Maybe the space and amenities of a Pittsburgh suburb might be more your speed. Chat with locals to understand their perspective on living there if you can.
Be Ready to Compromise. It's rare to find a home that ticks every box. So, be open to compromises, especially in a city as varied as Pittsburgh. Determine your non-negotiables, but be flexible on other aspects. A shorter commute to downtown Pittsburgh trumps having an extra bedroom.
Engage a Reputable Pittsburgh Real Estate Agent. An experienced local agent is critical to navigating Pittsburgh's unique property landscape. They can introduce you to hidden gems, negotiate terms, and provide indispensable guidance. When evaluating agents, inquire about their familiarity with Pittsburgh neighborhoods, their working style, and seek testimonials from previous clients.
Pause Before Placing an Offer. When a Pittsburgh area home captures your heart, the impulse to act quickly is natural. However, tread wisely. Ensure a thorough inspection of the property and feel confident about every facet of the deal before proceeding.
Align Your Finances. Beyond pre-approval, having your finances primed for the purchase is vital. Set aside funds for inspections, potential repairs, closing costs, and other unforeseen expenses. Being financially prepared minimizes surprises and stress later.
Embarking on your home-buying journey in Pittsburgh can seem daunting, but it's achievable with the right approach. Approach the process with patience, comprehensive research, and tap into local expertise like realtors who know the city inside and out. With these guidelines as your foundation, you're on your way to discovering your dream home in Pittsburgh!