6 Unique Date Night Ideas in Pittsburgh
Posted by Tarasa Hurley on Tuesday, June 6, 2023 at 10:25:16 PM
By Tarasa Hurley / June 6, 2023
Comment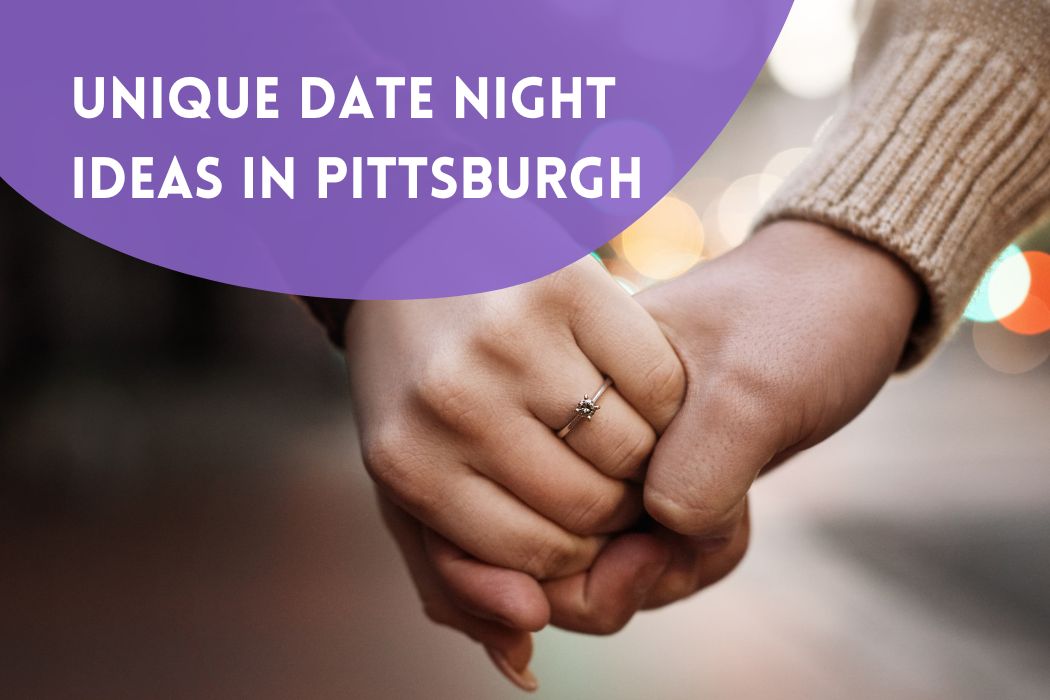 While the typical date might be dinner and a movie, you don't have to look far to find unique date night ideas in Pittsburgh. This guide will get you started on a list of extraordinary things to do in Pittsburgh you may have missed or overlooked in your search for date night ideas.
Whether this is a first date where you're looking to make the perfect first impression or you want to knock the socks off the love of your life, these are among the top Pittsburgh date night ideas — though you can do plenty of these during the day, too.
Pittsburgh Glass Center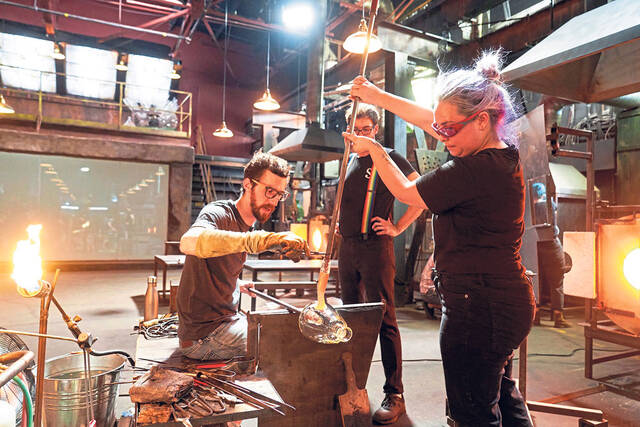 5472 Penn Avenue, Pittsburgh, PA 15206
Phone Number 412-365-2145
The Pittsburgh Glass Center offers various date night experiences, including glass blowing demonstrations, hands-on glassmaking classes, and gallery exhibitions. These activities provide an opportunity to witness the mesmerizing process of glass creation and even try it yourself. There is even a "Make It Now" Date Night option which allows a couple to create their own work of art. Check out the current events being offered. Although there is no cost to visit Pittsburgh Glass Center, the "Make It Now" classes do have a fee.
Pittsburgh Glass Center is a nonprofit, public access school, gallery and state-of-the-art glass studio dedicated to teaching, creating and promoting glass art. World-renowned artists come here to make studio glass art. People interested in learning more about glass come here to take a class, explore the contemporary gallery and watch live hot glass demonstrations. The Pittsburgh Glass Center also has a gift shop where you can find unique glass items created by local artists. It's a great place to browse for souvenirs or special gifts.
Pittsburgh Glass Center is centered between the East End neighborhoods of Friendship and Garfield, about 3.5 miles east of the Strip District, near the corner of Penn and Negley Avenues. While PGC is public access and admission is free, there is a $5 suggested donation. Hours for Summer 2023 are as follows: Monday–Friday 10am–7pm and Saturday + Sunday 11am–4pm.
Beechwood Farms Nature Reserve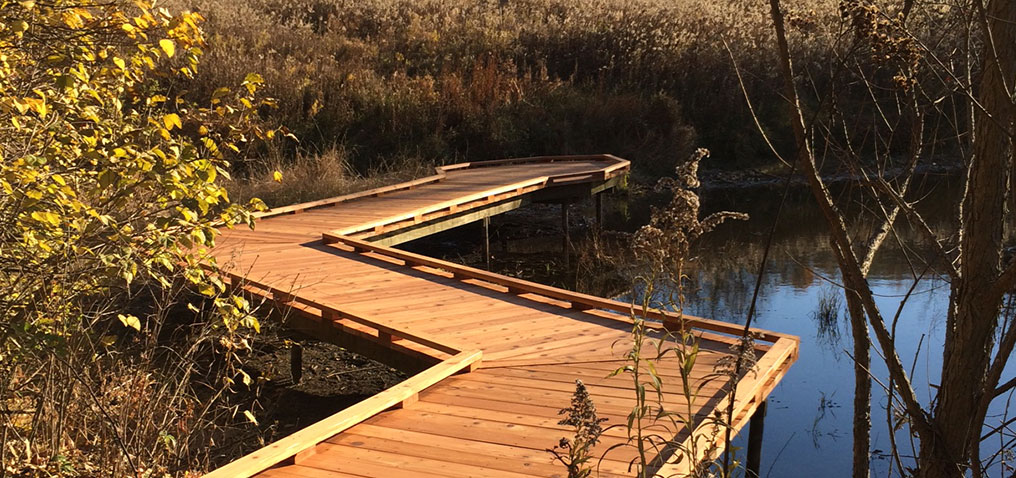 614 Dorseyville Road, Pittsburgh PA 15238
Phone Number (412) 963-6100
Beechwood Farms Nature Reserve is a 134-acre protected area for flora, fauna, and wildlife in Fox Chapel, Pennsylvania, a Pittsburgh suburb. Beechwood Farms Nature Reserve is the headquarters of the Audubon Society of Western Pennsylvania. ASWP manages and operates the five miles of trails and 134 acres of sanctuary at Beechwood Farms under a lease agreement with property holder, Western Pennsylvania Conservancy. Its facilities include Educational Classrooms, the Audubon Nature Store, the Teacher Resource Center, a Natural History Library, the Evans Nature Center auditorium. The newest addition to Beechwood is the Audubon Center for Native Plants. Beechwood is also the site of our unique Outdoor Discovery field trip programs for school children. Beechwood Farms Nature Reserve is highly regarded as a popular destination for birdwatching. It offers excellent opportunities to observe a wide range of avian species, particularly during migration seasons. The reserve has well-maintained trails and bird blinds where visitors can quietly observe and learn about the local birdlife.
Next to the parking lot on Dorseyville Road is the Audubon Nature Store which has many gift items as well as gear and guides for birdwatching and even birdfeeders. Also in the building is a nursery where you can purchase native plants with the help of native plant experts on site. The walking trails pass through a variety of habitats including meadows, hardwood forests, and pine forests. There's even a little pond with an adjacent covered picnic area.
The trails start behind the parking lot and nature center. For a short 20-30 minute walk try looping around the pond via Spring Hollow Walk and the Goldenrod trail.
The longest trail (takes about one hour) is the Pine Hollow trail which you reach by taking the Spring Hollow trail to the Meadowview trial.
Beechwood Farms is open from dawn to dusk year round. Please note that dogs and bikes are not allowed on the trails. Grab a trail map from the visitor center or download the map from their website here.
Allegheny Observatory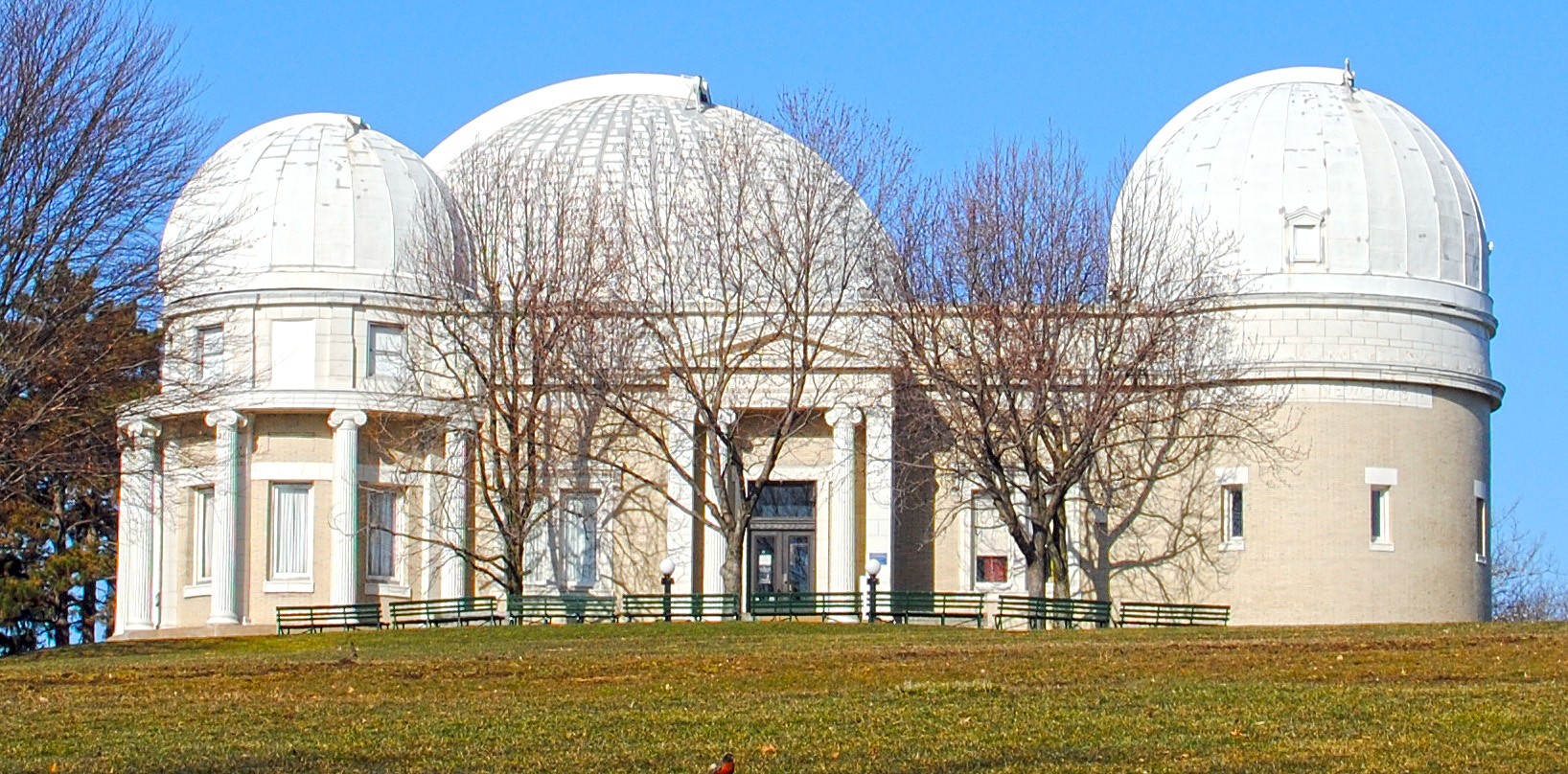 159 Riverview Avenue
Pittsburgh, PA 15214
Phone Numbers 412-321-2400 or 412-321-2401
Get an up-close view of the stars by visiting the Allegheny Observatory. Although the observatory is located in a public park the building is owned and operated by the University of Pittsburgh. The observatory is a private research laboratory and therefore not open to the public except for the tour program. Tours of the building are offered April through the end of October. The tour group spends a considerable part of the tour inside the telescope domes and the temperature inside the dome is the same as the outdoor air. During the winter months the cold air can be a problem for most people. Even in the summer months clear nights can be quite chilly, dress warm!
Thursday night tours will be held from April through the end of August and the Friday night tours will be held from April through October. All tours begin at 8 p.m. and last until approximately 10 p.m. A short slide or film presentation is shown, followed by a walking tour of the building, finally ending up at the 13" Fitz-Clark refractor. If it's a clear night you would be shown whatever celestial objects are within range of the telescope that night.
The tours are free of charge but you must have a reservation. To make a reservation call 412-321-2400 or 412-321-2401 between the hours of 1:00 p.m. and 5:00 p.m. Monday through Thursday. If the tour is not full you can make reservations up to the day of the tour, however no reservations will be accepted after 5:00 p.m.
Every third Friday of the month (except December) there is a public lecture. The public lecture nights start at 7:00PM with some light refreshments. The lecture starts at 7:30PM and lasts approximately one hour. After the lecture there is a tour of the building. Reservations are required and may be made by calling one of the two reservation phone numbers.
Rolling Hills Ranch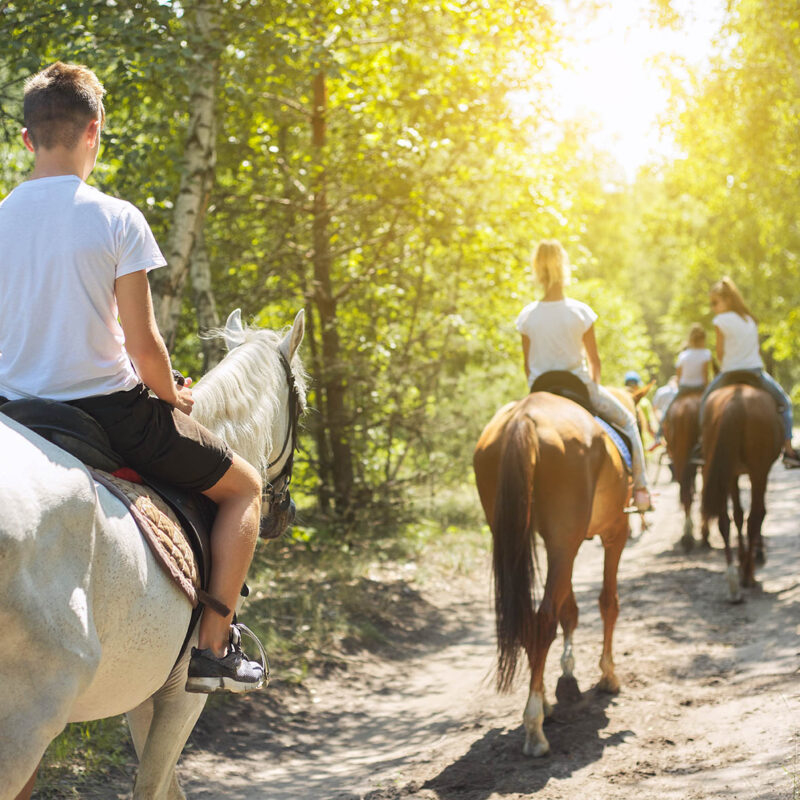 677 Hickory Grade Rd.
Bridgeville, PA 15017
Phone Number 412-221-9926
Enjoy an hour of horseback riding on Rolling Hills Ranch in Bridgeville, PA, 20 minutes outside of Pittsburgh. The ranch accommodates large groups and provides a guide for trips, who will leave the group for some time as the horses know the route so that you can enjoy the trip alone with family and friends. You will begin your ride looking at a hill and descending into a forest. In the forest, you will circle up the mountain. When you reach the top, you will enjoy a beautiful view (where you can see the skyline of Pittsburgh) as the horses rest.
Rolling Hills Ranch is open for rides seven days a week, 9am to 5pm. Rates are $37 an hour with a one hour minimum. Reservations are necessary and can be made by calling 412-221-9926.
Chatham University Arboretum and Labyrinth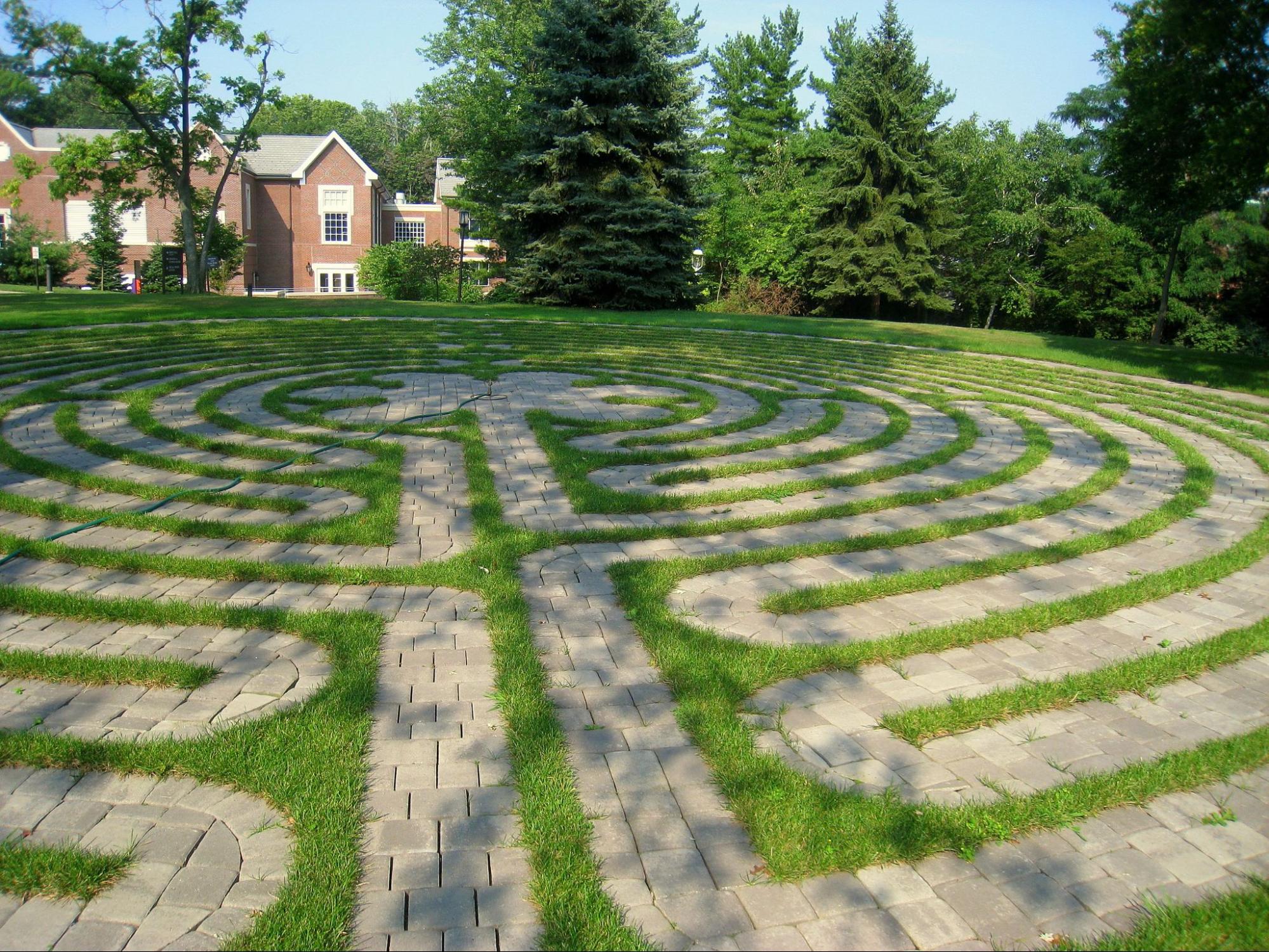 Woodland Rd.
Pittsburgh, PA 15232
Phone Number (412) 365-1100
Chatham University Arboretum and Labyrinth is a beautiful and tranquil outdoor space located on the campus of Chatham University in Pittsburgh, Pennsylvania. The campus dates to 1869, and includes elements of the original Andrew Mellon estate.
The Arboretum is a designated area of the campus that showcases a diverse collection of trees, plants, and gardens. The arboretum is home to over 115 species of trees, including Japanese flowering crabapple, river birch, Kentucky coffeetree, and eleven species of maple. It provides an opportunity for visitors to explore and learn about different types of trees, their ecological significance, and their role in creating a sustainable environment. Before you go, download the Tree Guide and Walking Map here.
Adjacent to the arboretum, you'll find the labyrinth—a contemplative space designed for peaceful reflection and meditation. Labyrinths have been used for centuries as a spiritual tool for relaxation, centering the mind, and promoting a sense of well-being. Chatham University's labyrinth offers a circular path with winding pathways that lead you to the center, providing a calming and introspective experience.
At 60 feet in diameter, the twisting, circular stone pathway at Chatham University's Shadyside campus is the largest outdoor labyrinth in Pittsburgh. The entrance to the circle—which is also the exit—faces Berry Hall, Chatham's admissions building, on Woodland Road, while a plaque nearby tells the visitor the labyrinth is dedicated to Jessica Davant, a Pittsburgh native who passed away in 2006. Although "labyrinth" is sometimes used as a synonym for "maze," this traditional pathway design should not be confused for a maze with forks and dead ends. There are no decision points; the path leads the visitor on a slow, winding journey to the center, turning back on itself several dozen times before opening out onto the six-petaled rosette at the heart of the labyrinth.
The arboretum is not only a place for quiet contemplation but also a space where visitors can enjoy outdoor activities. The well-maintained trails and pathways are perfect for leisurely walks, jogging, or simply immersing oneself in nature. The arboretum also hosts events and workshops related to gardening, sustainability, and environmental education.
The arboretum and labyrinth are open to the public and accessible year-round. The area is free to visit and provides parking for visitors. There are benches and seating areas throughout the arboretum where you can relax and enjoy the natural surroundings. Visiting hours are Monday thru Friday: 9:00am to 7:00pm and Saturday and Sunday: 9:00am to 5:00pm.
Randyland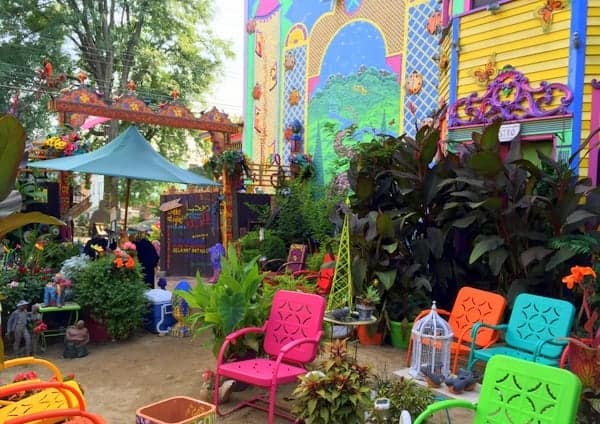 1501 Arch St.
Pittsburgh, PA 15212
Phone Number (412) 342-8152
Randyland is a vibrant and eclectic outdoor art installation located in the Mexican War Streets neighborhood of Pittsburgh, Pennsylvania. In 1995, a formerly homeless community activist and waiter named Randy Gilson bought a dilapidated Pittsburgh house for $10,000 on a credit card. That house was slated for demolition, but Randy's purchase pulled it from destruction, and through tireless work and design, into fame.
Over the subsequent decades, Randy used paint, found objects, and superhuman creativity to transform the walls and garden into one of the most remarkable public art displays in America. Randyland is a colorful, whimsical, and constantly evolving art environment. The entire space is adorned with a kaleidoscope of vibrant colors, sculptures, mosaics, murals, and found objects. It's a visual feast that exudes joy, positivity, and a spirit of artistic expression. Randyland was born out of the artist's desire to create a space that would bring joy to the neighborhood and foster a sense of community. It's open to the public, welcoming visitors from all walks of life to experience the beauty and creativity within. Randy Gilson, often found on-site, is known for his warm hospitality and eagerness to engage with visitors, sharing stories and spreading positivity.
Over the years, Randyland has become an iconic cultural landmark in Pittsburgh. It has been featured in numerous media outlets, attracting both locals and tourists alike. The vibrant exterior draws people in, encouraging exploration and creating a memorable experience. Randyland is primarily an outdoor space, consisting of a front yard and courtyard filled with art installations. The exterior walls, fences, and even the sidewalk are adorned with colorful murals and intricate details, creating a visually stimulating environment.
Randy Gilson's mission goes beyond art; he is committed to improving the community. Through Randyland, he has initiated various philanthropic efforts, such as neighborhood clean-ups, gardening projects, and supporting local artists. Randyland serves as a catalyst for positive change and artistic inspiration.
Randyland is usually open every day. Randy is often around in the afternoon. There is a suggested donation of $5.00 to tour.