What's Tasty in the Burgh?
Posted by Tarasa Hurley on Monday, April 17, 2023 at 11:30 PM
By Tarasa Hurley / April 17, 2023
Comment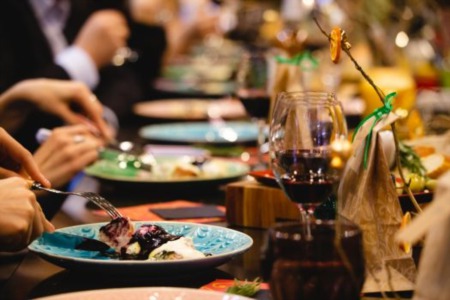 Are you looking for popular yet tasty foods in Pittsburgh, PA? Want to avoid breaking the bank for a 5-star meal? Then you have come to the right place. In this article, I will be sharing great restaurants in the steel city area that have food that looks great and tastes delicious.
Whether you're looking for breakfast, lunch, or dinner, there are many options. Let's talk about the different cuisines that you can choose from. What's excellent about Pittsburgh is you can choose from so many different categories of cuisines.
Written by: Savannah Jackson
Fashion – Graphic Designer & Writer
Greek Foods
Greek cuisine has increased in the Pittsburgh area. Most Greek restaurants in the Burgh have a rich family heritage passed down from generation to generation. The influence of Greek food has migrated to many styles of food cuisines.
Try a bite of the Simple Greek in downtown Pittsburgh's heart. The Simple Greek is a quick, easygoing eatery that offers a build-your-own meal experience. Including legitimate flavors and good recipes from the Mediterranean, their menu provides various proteins, new vegetables, and flavors and is produced using scratch sauces. The open kitchen idea lets you make your bowl or pita with fixings to feel good about. In addition to Simple Greek's fantastic menu, they have one of the best views of downtown. Just take a seat and enjoy the tasty food.
Mike and Tony's Gyros has been a Pittsburgh staple starting around 1973. They have five locations to get your gyro fix: South Side, Downtown, Bridgeville, Moon Twp, and Dormont. They are a family-owned business that invests heavily in what they do! Mike and Tony's Gyros team wants to give you delectable food and reasonable costs in an inviting climate. What's great about Mike and Tony's Gyro is their excellent customer service and affordable prices.
Old Village Grille passes down family customs and traditions to their families to serve authentic Greek cuisine in the Pittsburgh region, Penn Hills area. The Papageorgiou family, who own the restaurant, have served Pittsburgh for over 30 years. This restaurant prides itself on quality and Greek friendliness.
Italian cuisine
The Steel City has a lot of tasty Italian places for any event — arranging a special night out with a friend, family, or companions. Or maybe you just deeply desire house-made bread and pasta dishes.
In Oakland, the pulsating heart of Pittsburgh university life, Lucca Ristorante is ideal for supper while chatting with loved ones, assuming one of your friends and family goes to Pitt or CMU. Sit inside, where a burbling wellspring will welcome you as you stroll in, or sit on the patio under their merry blue overhang. The food emerges from the kitchen hot and fresh. The gnocchi is pillowy, the scallops liquefy in your mouth, and the delectable determination of reviving mark mixed drinks will entice you as well.
An example of fine Italian food is in Allentown: Alla Famiglia. The staff is exceptional, and the food is fantastic. The menu highlights steaks and veal arranged in various ways, with garnishes and sauces sprinkled. A serving of mixed greens and pasta accompanies all dishes. Their must-have dish is the Fallen Angel pasta, highlighting bone marrow and dark Périgord truffles.
Pleasure Bar is an Italian restaurant and bar in Bloomfield, Pittsburgh's Little Italy. Pleasure Bar has been a family-run since its founding in 1941.
Chinese Cuisine
At Everyday Noodles in Squirrel Hill, feasts accompany a show. Tables are situated so patrons can watch the activity behind a reinforced glass window, where a cook works their magic.
Established in 2006, Jimmy Wan's in either Fox Chapel or Cranberry is the perfect spot for contemporary Asian cooking. Setting up an assortment of conventional and inventive Asian dishes, new sushi, and imaginative mixed drinks, Jimmy Wan's conveys a great experience with every visit.
Bonus Restaurant
Founded in Pittsburgh's historic Strip District in 1933, Primanti Bros is a Pittsburgh staple. Primanti Bros has many locations, including the strip district, downtown Pittsburgh, and Monroeville.
The menu comprises carefully assembled sandwiches heaped high with house-made coleslaw and impeccably prepared fresh-cut fries. Drop by for a super cold brew and their renowned Primanti Brothers pizza.
Having a slice of variety is the key to happiness. Pittsburgh has some of the most tasty and affordable places to eat. Tell your friends, family, and more about these fantastic restaurant spots.