Selling a Home in the Pittsburgh Area
Your Home, Your Goals, Your Story - All Part Of Our Sales Approach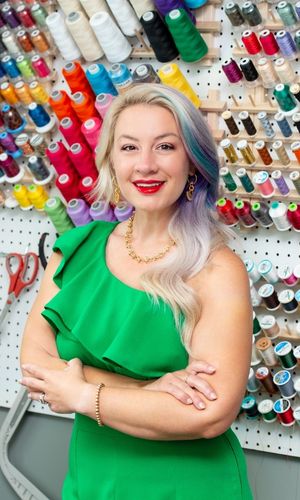 Hi! I wanted to write a little something to give you an idea of what my real estate team is about. For me, working with you is not just a "sale." Each person, couple, or family I work with has their own reasons and goals in life. It's my job to understand your story so we can decide the best plan together.
Understanding what is most important to you guides the best way to list your property. For example, selling your house as quickly as possible is different from selling your house for the most amount, or selling your house for the easiest transition for you. I am really eager to learn more about you and your plans and dreams.
I excel at selling homes fast. I also excel at selling them for the best possible price. Why? Reach! I have gigantic reach when advertising your home. I spend several thousand dollars per month on advertising alone. Thus I can guarantee over a period of just a few days thousands of people will see both video and image ads for your house. Selling is a numbers game, so more people that see this advertising directly leads to higher tours and more competition. Competition drives up prices and reduces time to sell. I also directly advertise to my database of buyers. The team that I lead is currently working with over 200 active buyers, and we have another 4000+ in our database that have longer term plans. Running effective real estate ads is rare and difficult, and that's why I employ an actual expert in digital marketing. I'm happy to show you examples.
I also excel at making this pretty straightforward and easy. I am the lead of a real estate team of 9 people, of which 7 are licensed agents. I personally have a Masters degree in which I trained as a clinical counselor. We have a transaction coordinator to take care of all the fine details. We also have an engineer whose full time job is working for Google (our advertising and data analysis guru). Additionally, I have a whole list of vendors that I've worked with on several occasions for just about any type of home challenge you might encounter: cleaning, junk removal, handyman services, movers, etc.
Our entire team is here to make the process as smooth and stress free as possible for you. We are also flexible with your needs. For us, it's not just one transaction. It's helping you with life's most important next steps.
Have a great day and I hope to have the opportunity to work with you,
-Tarasa
What do you get working with Tarasa Hurley Realty?
Let's face it, there are thousands of agents out there and you have lots of options. So why pick us? What do we do that's different from other agents or real estate teams? We'll say it again: REACH. More eyeballs on your property means more in-person showings. The more showings we have, the more likely we are to get an offer, or two, or three. We are able to bring this to you because we invest in your home.
We have the resources and marketing prowess to attract the most and best buyers to your property. In addition to Tarasa and several licensed agents, the Tarasa Hurley Realty team includes a marketing director and technology officer who also works at Google. His unique expertise in ads and SEO, combined with our substantial marketing budget, allows us to reach significantly more buyers with our marketing than other real estate professionals. This is not fluff. We are happy to show you the numbers and data directly from our systems.
However, it's not just about spending money, it's having a strategy, and executing on that strategy. You deserve more than just an agent or team who is going to put your listing on the MLS and "hope." We use a strategy to drive significant local traffic beyond the MLS. This is a reliable and predictable process but it requires significant technical skill and planning for each property.
Pillar #1: Superior Photos
We pay professional photographers to capture images of your home.
A listing's photos are often the first and sometimes only opportunity to attract a potential buyer. Most buyers find their homes online, and photos are the first impression of your home. Pictures are the key to getting a home noticed, showings scheduled, and your property sold. We will show your listing in its best light. Buyers often have already decided if they are interested in your home just from the pictures online, without ever stepping inside your home.
Quality photos enjoy 118% more online views
Qrofessional shot listings can sell for up to 19K more
Potential buyers look at professional shot photos 10 times longer than non-professional photos
What makes professional photos better? Wider angle lenses, better equpiment, more lighting, experience to take the right shots, tools and ability to improve shots with editing.
We also offer aerial photography, drone photography, 3D Matterport tours, and digital staging. More details and photos can be found in our FREE downloadable seller's guide.
Whether you work with us or not, please do not settle for poor photography. Blurry, outdated, poorly lit cellphone photos are not okay. You deserve better our of your agent.
Pillar #2: Video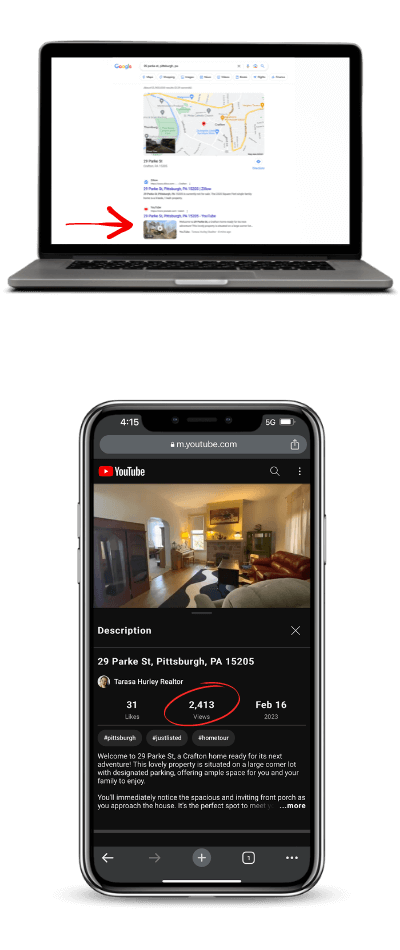 We create extensive 10-20 minute video tours of your home that we place on Youtube. These are complete walkthroughs of the entire property.
Google heavily favors Youtube videos in search results. Utilizing video allows us to rank your property in the first few search results on Google on day one. This approach is the only way to rank quickly for your property's search terms.
Providing a video tour lets us set the stage and expectations for your home. Through feature benefit sales, we can highlight your property's best features or explain away any objections a buyer might have before they think about them. This opportunity is a unique way to show what we want and to control the process before a buyer's agent can contribute. Because this is our listing, we are more knowledgeable than any buyer's agent about your property. Other agents or teams do not have this ability to sell directly to already represented buyers.
It sounds crazy, but we are the only ones in our market doing videos like this. Sometimes you'll find a short 1-minute flythrough of a home set to music. Occasionally there are silly gags to elicit a laugh or help brand the listing agent. These videos are impressive but do not provide much value to the buyer. Sadly, the typical real estate video is a slideshow of the images available online everywhere. In contrast, Tarasa Hurley Realty videos deliver tremendous value to buyers. We do not use the videos we produce to brand ourselves or get leads. Our goal is to showcase your house and bring buyers to tour.
Our videos provide unprecedented reach. We can achieve engagement from thousands of views, 10 to 100 times the typical real estate video tour. Why? We drive traffic through paid advertising to those videos.

Check out some examples below. Notice how many views a lot of these videos have: several hundred to several thousand per video!
Pillar #3: Paid Advertising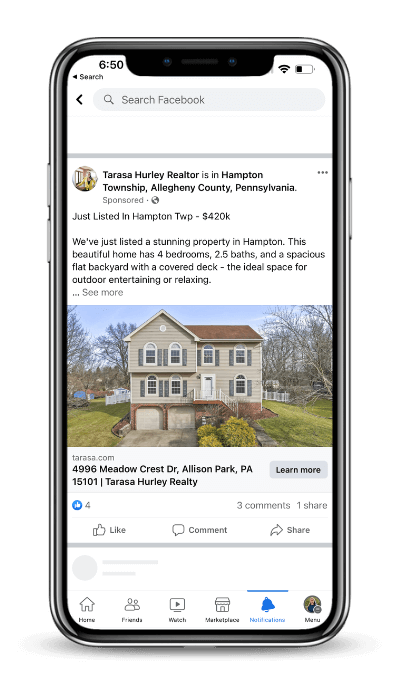 In addition to free social media advertisting, we spend thousands of dollars advertising monthly to increase our buyer pool and directly market your listing. This budget is split between Google properties (Google ads / Youtube) and Facebook properties (Facebook / Instagram).
It is not well known, but free social media advertising has limited reach. It basically just reaches the near network of the agent who posts. The only way to expand that reach is by paying for ads. After all, social media networks exist to make profit and they make their money off of advertising.
By advertising, we get several hundred new potential buyers per month (300+) out of our huge quantity of website visitors (6200+ per month). We actively communicate with those leads. For example, we set 200 appointments in just 90 days. We also use email marketing to send listings to the buyers who enter our database.

We run extensive Facebook and Instagram advertising to drive users to see your property website and video tour. Typically, while advertising your home, we receive several hundred property clicks per day (Results) and thousands of unique ad views (Reach) daily. This advertising reach ensures a lot of engagement and the best chance of scheduling tours for your property.

Our advertising capability means our houses sell much faster on average. The listings above went under contract in 2 to 5 days (while the median days on the market was 39 days). Also, over 70% of our listings have sold above listing prices due to competition from multiple offers.